---
2022-23 Executive Committee
President: Margie Corwin
Co-VP for Communications: Ronnie Kweller
Co-VP for Communications: Wendy Kates
Treasurer: Ellen Snyder
Co-VP for Education/Programming: Rona Walters
Co-VP for Education/Programming: Ozana Papados
VP for Membership: June Kress
Parliamentarian: Marian Fox
Corresponding Secretary: Robin Berman
Recording Secretary: Helen Kramer
Immediate Past President: Jill Jacob
Gift Shop Co-Managers: Jean Bernard, Marian Fox, Susan Winberg
Torah Fund Co-Chairs: Rona Walters, Elissa Barpal
Contact Us
Follow us on Social Media!
Sisterhood offers quality events and programming focused on accomplished women, arts and culture, Jewish life, women's health, social get-togethers, Weekday Torah with Sisterhood, culinary arts, and social action / tzedakah issues & opportunities. It is our intention to hold our events at Adas for the coming year, depending on DC guidance at the time, however, we are prepared to make adjustments as required.
We are a Community of Sisterhood, joined by the bonds of friendship.
Please join us!
For more information email VP of Membership, June Kress.
---
Special Events
Sisterhood 2022-23 Closing Event
ISRAEL AT 75: CELEBRATING ISRAELI WOMEN, PAST AND PRESENT
June 4, 10:30 am – 1:00 pm, Kay Hall
Click here and scroll down to Calendar of Events to register. The fee is $18 (no charge for Chavera members).
"Israel is a feminist utopia – especially the kibbutzim!" "Look at all those 'girl' soldiers!"
"Women can lead the country – look at Golda!"
The State of Israel – and the pre-state Yishuv – boast a long list of accomplished, path-breaking women whose stories form an integral part of the Jewish narrative. But the status of women throughout Israel's history is often a mirror that reflects tensions between state prerogatives and individual identity.
All are welcome to join our closing event surveying different eras and sectors of Israeli society and celebrating incredible Israeli women. Dr. Lauren B. Strauss will explore the history of women in Israel, and a panel discussion will feature Israeli women leaders in various fields, including medicine and science, the military, and food and culture.
Dr. Strauss is senior professorial lecturer and director of undergraduate studies in American University's Jewish Studies Program. A scholar of American Jewish political and cultural history, Dr. Strauss lectures widely and is a commentator at Jewish cultural events and in the press. Her museum work includes curating an exhibition on the history of modern Israel, serving as consultant to the Library of Congress exhibit "From Haven to Home," and advising the forthcoming Capital Jewish Museum in Washington, DC. Dr. Strauss co-chairs the Greater Washington Forum on Israeli Arab Issues and is a board member of the Association for Jewish Studies and the Jewish Women's Encyclopedia. She is also a founding member of Heart of a Nation, a group that encourages dialogue among Americans, Israelis, and Palestinians.
The panel discussion, moderated by Liat Arditi, a long-time educator currently teaching at the Charles E. Smith Jewish Day School, will include:
Dr. Shaked Lev-Ari, a post-doctoral research fellow at Lombardi Comprehensive Cancer Center, Georgetown University, and a medical oncologist at Israel's Sheba Hospital;
Vered Guttman, an Israeli chef and food writer living in Washington, DC, who brings modern Israeli and Middle Eastern flavors to private parties, diplomatic events, and even to the White House 2014 Passover Seder; and
A lieutenant colonel (name withheld) who is a career soldier in the Israeli Intelligence and the highest-ranking military attaché at the Israeli Embassy in Washington, DC.
Brunch, featuring Israeli food, will be served beginning at 10:30 am. A brief Sisterhood General Membership meeting to elect next year's officers and board members will be held immediately preceding the formal presentation.
Click here and scroll down to Calendar of Events to register. The fee is $18 (no charge for Chavera members).
Join us for the Final 2022-23 "Sisterhood in Your Community" Brunch hosted by Rona Walters
June 11, 10:30 am to 12:00 pm
Click here and scroll down to Calendar of Events to register.
As we gather in Rona Walters' beautiful garden to celebrate an eventful and successful year of Sisterhood programs, we will also have the opportunity to brainstorm about programming for 2023-24/5784.
All are welcome, so consider introducing a friend or prospective member to our "Community of Sisterhood, Joined by the Bonds of Friendship." Space is limited, so don't delay – register yourself (and perhaps also a friend) now.
Sunday, June 11, 10:30 am, Forest Hills, NW DC
Brunch hosted by Rona Walters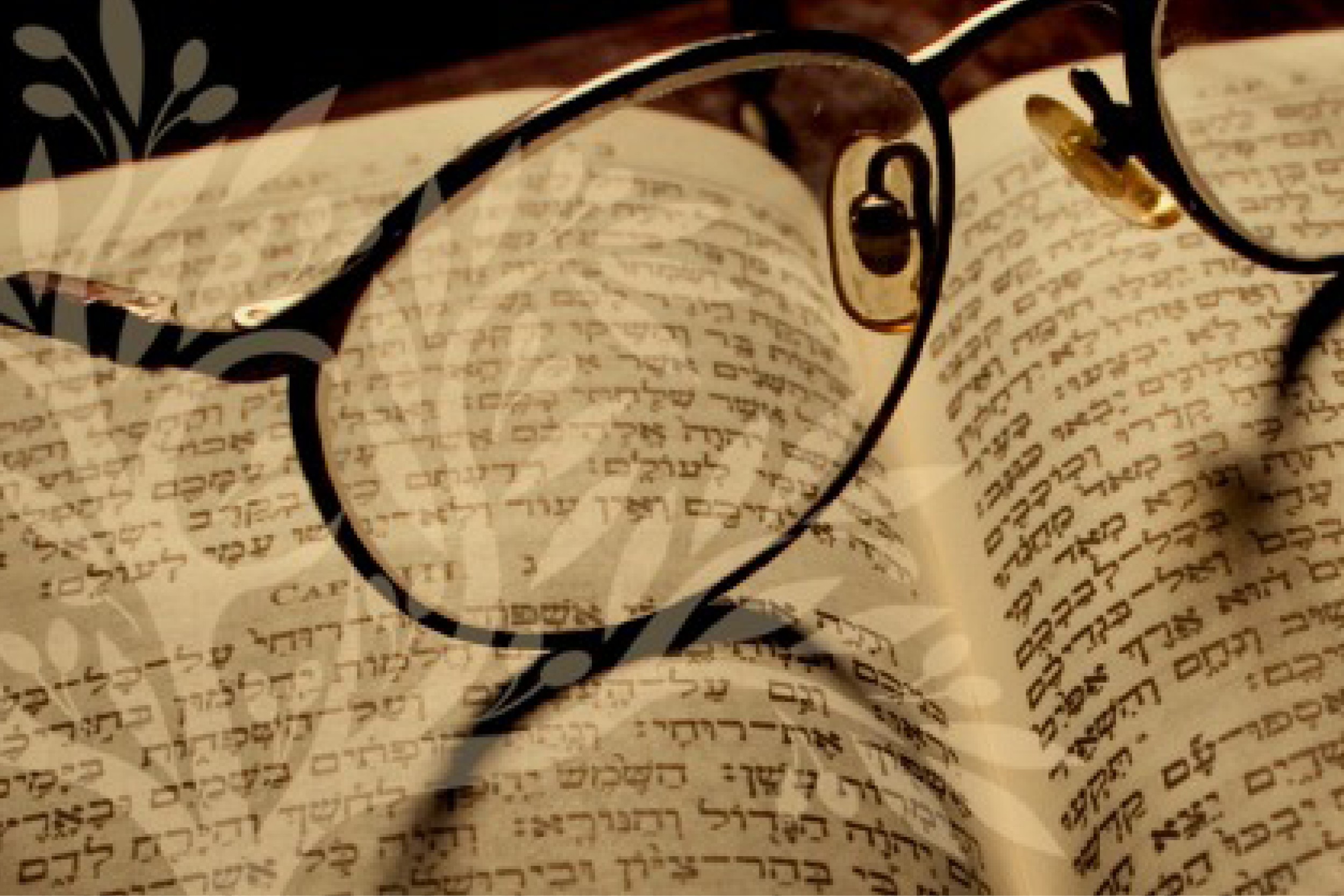 Weekday Torah with Sisterhood
Monthly, 3rd Tuesday at 10:30 am via Zoom
Next up: June 20
Weekday Torah with Sisterhood is an engaging approach to traditional text study that offers participants the opportunity to study and discuss challenging texts and ideas. Students of all levels and backgrounds are welcome. Please contact Marilyn Cooper (MarilynCCooper70@gmail.com) with questions, or if you would like a link to the Zoom Torah study class.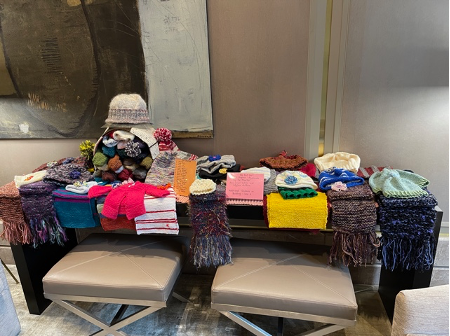 Knitting, Sewing, and Craft Circle
Please contact Lesley Frost for details about meetings.
Adas Knitting Circles include about 22 knitters. Some are members of Adas Israel, others are residents of Somerset House in Friendship Heights or the Whitney in Bethesda, as well as other friends who love to knit. Our dedicated knitters have completed as many as 130 items for donation in one week!
We have cancelled all Wednesday meetings for the rest of the year. Knitters are meeting at Rita Segerman's home on a regular basis, and the sewers are beginning a project to make rice pillows for out of state patients seeking abortion services. Please contact Lesley Frost for details: lesleyfrost0@gmail.com
In photo: Knitters Sharon Curry, Carolyn Goldman, Julie Hoffman, Marcia Miller, Rita Segerman, Rebecca Smith, Lea Stern.
Sisterhood Cares
To mark simchas and milestones and for condolences, contact Robin Berman (robinrberman@gmail.com).
Adas Israel Book Club
Rose Ruth Freudberg Memorial Sisterhood Library
Facilitated by Librarian Robin Jacobson, the Book Club meets periodically (in-person or via Zoom) to host authors and discuss books of Jewish interest. For further information, please contact Robin Jacobson.
If you would like to mark your calendar with the current schedule of book programs or access recordings of past programs please check the Library page.
---
Special Past Events
2023 Garden of the Righteous Honoree: José Ignacio Burbano, Grandfather of Past Sisterhood President Betty Adler
On April 18, 2023, Adas Israel Congregation inducted José Ignacio Burbano into the synagogue's Garden of the Righteous, which honors non-Jews who risked their lives to save Jews during the Holocaust.
Burbano was the grandfather of Betty Adler, a long-time Adas Israel member and a Sisterhood past president. With help from others, including her cousin Mariamelia from Equador, Betty eloquently told her grandfather's story.
José Ignacio Burbano (1890-1973), an Ecuadorian diplomat, was a man whose actions spoke of him as a humanist. During his mission as Consul of Ecuador in Bremen, Germany, from 1937 to 1940, Burbano worked diligently to save the lives of Jews, breaking the rules and challenging Ecuador's anti-immigration policies. Putting his career and life at risk, he stood up to the Ecuadorian authorities, granting more than 200 visas to Jewish families and saving the lives of many German Jews whose lives were in extreme danger from the Nazi regime. Burbano courageously continued saving Jewish families until he was relieved of his duties and relocated to the Ecuadorian consulate in Houston, Texas.
Many years after Burbano's actions in Bremen, his eldest daughter married Federico Adler, an Austrian Jew who had found refuge in Quito, Ecuador. Betty is their daughter. Thus – bringing Burbano's heroic actions full circle – by saving Jewish families, Burbano unknowingly also saved his own future son-in-law, grandchildren, and great-grandchildren.
Sisterhood's members are so pleased that our former President Betty Adler was able to celebrate this well-deserved family honor. Please click here for a link to Betty Adler's speech.
Torah Fund
Mazel Tov to TORAH FUND on its 80th Anniversary!!
As part of the Women's League for Conservative Judaism (WLCJ), Adas Israel raises dollars for Torah Fund, which supports five Conservative seminaries across the globe, educating clergy, cantors, scholars, and lay leaders. Your donation helps provide housing, tuition scholarships, and university infrastructure for the next generation of Jewish leaders.
The WLCJ 2022-23 Torah Fund Campaign is called Chazak v'Ematz, Hebrew for "be strong and courageous." The Torah Fund Campaign supports scholarships and programming at five Conservative/Masorti institutes of higher Jewish learning:
Jewish Theological Seminary (New York)
Ziegler School of Rabbinic Studies (Los Angeles)
Schechter Institute of Jewish Studies (Jerusalem)
Seminario Rabinico Latinoamericano (Buenos Aires)
Zacharias Frankel College (Potsdam, Germany)
Help strengthen Jewish education and ensure the vibrancy of the Jewish people for decades to come with your gift to Torah Fund.
Individual donors to Torah Fund at the Benefactor level ($180) or higher receive the distinctive WLCJ Torah Fund pin in recognition of their gift. Your Torah Fund Chair, Rona Walters, will deliver the 2022-23 pin to your door. And this year, please consider an additional pledge of $80 in honor of Torah Fund's 80th Birthday!
The Torah Fund Pin 5783 (2022-23):
You can make donations online at the button below, or send a check payable to:
"Torah Fund"
c/o Rona Walters, Torah Fund Chair
5117 Linnean Avenue NW
Washington, DC 20008
Donations may not be charged to your Adas Israel account.
You can also send a greeting with e-cards to support Torah Fund. Cards can be purchased on the JTS Torah Fund website (click here), and customized for any occasion. The Torah Fund e-cards benefit the general campaign. If you prefer a hard copy of a card, please contact Rona Walters by email at ronawalters@gmail.com or by phone/text at 202-744-2854.
RUTH & SIMON ALBERT SISTERHOOD GIFT SHOP


Just because it's almost summer, don't think we have nothing new to share! We recently received several orders, including these gorgeous handmade challah covers. Please stop by and check out a number of new mezuzot and tallitot as well.
And don't forget that if you became a Sisterhood member at the Chavera level in 2022-2023, you are still entitled to your one-time store credit. So be sure to come in and shop before it expires on June 30.
Please note that we have shifted to summer store hours: Tuesday, Wednesday, and Friday, 10:00 am-12:30 pm. If these times are not convenient for you, please email us at adasgiftshop@gmail.com, and we'll set up a special appointment for you. Finally, we're heading back to NY Now, the famous summer gift show in New York City, in August, where we'll shop 'til we drop – literally!
2850 Quebec Street, N.W.
Washington, DC 20008
202-364-2888
adasgiftshop@gmail.com
All purchases benefit Adas Israel Congregation.
Tue, June 6 2023 17 Sivan 5783