---
2022-23 Executive Committee
President: Margie Corwin
Co-VP for Communications: Ronnie Kweller
Co-VP for Communications: Wendy Kates
Treasurer: Ellen Snyder
Co-VP for Education/Programming: Rona Walters
Co-VP for Education/Programming: Ozana Papados
VP for Membership: June Kress
Parliamentarian: Marian Fox
Corresponding Secretary: Robin Berman
Recording Secretary: Helen Kramer
Immediate Past President: Jill Jacob
Gift Shop Co-Managers: Jean Bernard, Marian Fox, Susan Winberg
Torah Fund Co-Chairs: Rona Walters, Elissa Barpal
Contact Us
Follow us on Social Media!
Sisterhood offers quality events and programming focused on accomplished women, arts and culture, Jewish life, women's health, social get-togethers, Weekday Torah with Sisterhood, culinary arts, and social action / tzedakah issues & opportunities. It is our intention to hold our events at Adas for the coming year, depending on DC guidance at the time, however, we are prepared to make adjustments as required.
We are a Community of Sisterhood, joined by the bonds of friendship.
Please join us!
For more information email VP of Membership, June Kress.
---
Special Events
Adas Families: Make a Miriam's Cup & Benefit Torah Fund
Sunday, March 12, 12:00 pm – 1:30 pm (Note that the Adas Israel parking lot will be closed)
3rd Floor Youth Lounge
Click Here to Register
Adas Israel Sisterhood and the Education Department invite families to create a Miriam's Cup for your Passover Seder! Craft supplies will be provided for this fun, educational, hands-on craft program where you can design your own Miriam's Cup and learn more about the Miriam's Cup tradition. All ages are welcome, and snacks will be served! Children must be accompanied by an adult.
This program will benefit Torah Fund, the dedicated philanthropy of the Women's League for Conservative Judaism, as it celebrates its 80th year of supporting programs in worldwide Conservative/Masorti institutes of higher Jewish learning. Learn more about the Torah Fund here.
A minimum donation of $18 is required to participate in this event. Donations are made directly to Torah Fund. You can either bring a check to the event, payable to the Torah Fund, or donate online here.
---
Let's Get Social: Sisterhood In Your Community Returns
Come in From the Cold and Say Hello, Have Some Refreshments, and Get to Know the "Sisterhood in Your Community."


Join us for this in-person gathering this winter to get to know one another, welcome newer members, and introduce your friends to the "Community of Sisterhood, Joined by the Bonds of Friendship."
Space is limited, so register yourself, and invite your friends to register.




Sunday, March 19, 11 am - 2 pm, Upper Northwest Washington
CLICK HERE TO REGISTER
Brunch hosted by Patricia Manasevit

Please note, there will be additional Sisterhood in Your Community events scheduled for Spring.
---
Celebrate National Reading Month with Sisterhood! Bring Your Child, Grandchild, and/or Another Young Friend
Featuring Award-Winning Local Jewish Author Erica S. Perl (and pizza!)
Sunday, March 26, 1:00 pm – 2:30 pm (Pizza served starting at Noon)
Registration by March 19 is required if you want to join us for pizza.
Click Here to Register
Bring your child, grandchild, or another young friend to Sisterhood's first-ever celebration of National Reading Month program with local Jewish author Erica S. Perl, who has authored more than 40 popular and critically-acclaimed books for children and teens. Her middle grade novels include All Three Stooges (National Jewish Book Award, Sydney Taylor Silver Medal), When Life Gives You O.J. (Sydney Taylor Bronze Medal), and the forthcoming White Bird: A Novel, which she co-wrote with R.J. Palacio. Erica also writes picture books, books for early readers, and chapter books.
Erica has received fellowships from the Virginia Center on the Creative Arts, the DC Commission on the Arts and Humanities, the Yiddish Book Center, and PJ Library. A former criminal defense attorney and ice cream truck driver (though not at the same time!), she now lives in Washington, DC. Visit ericaperl.com and follow @ericaperl on social media.
This program is best for the preschoolers to 3rd graders in your life. Come for pizza starting around 12 pm, with the formal program starting at 1 pm. Join us in the Gewirtz Beit Am and share your love of reading with that special little someone!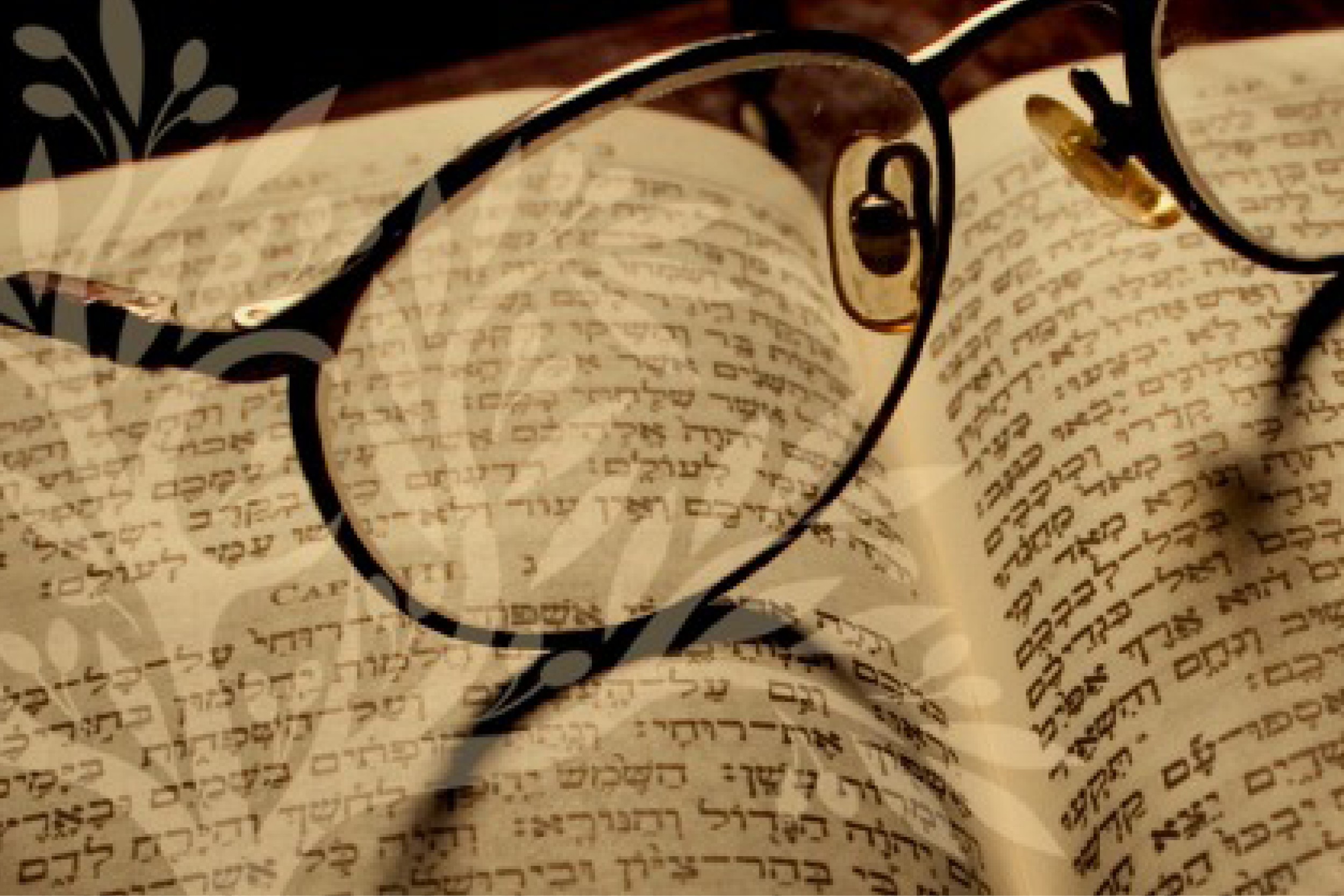 Weekday Torah with Sisterhood
Monthly, 3rd Tuesday at 10:30 am via Zoom
Next up: March 21
Weekday Torah with Sisterhood is an engaging approach to traditional text study that offers participants the opportunity to study and discuss challenging texts and ideas. Students of all levels and backgrounds are welcome. Please contact Marilyn Cooper (MarilynCCooper70@gmail.com) with questions, or if you would like a link to the Zoom Torah study class.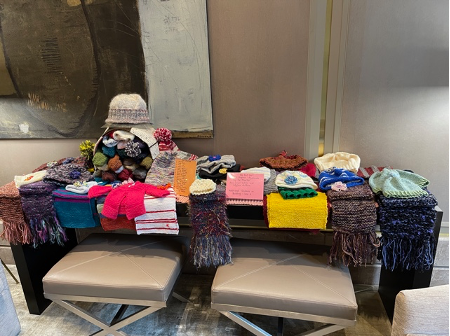 Knitting, Sewing, and Craft Circle
Monthly, 3rd Wednesday, at 7:30pm via Zoom
Next up: March 15
Adas Knitting Circles include about 22 knitters. Some are members of Adas Israel, others are residents of Somerset House in Friendship Heights or the Whitney in Bethesda, as well as other friends who love to knit. Our dedicated knitters have completed as many as 130 items for donation in one week!
Please email Lesley Frost at lesleyfrost0@gmail.com if you would like to receive meeting notices and the Zoom link, as well as for any other information, including where to drop off completed items or pick up requested yarn in the Adas coatroom.
Rita Segerman manages a large supply of donated wool. Please contact Rita (rsegerman@comcast.net; 301-654-2304) regarding wool or suggested yarns, patterns, and needle sizes for your group projects.
In photo: Knitters Sharon Curry, Carolyn Goldman, Julie Hoffman, Marcia Miller, Rita Segerman, Rebecca Smith, Lea Stern.
Sisterhood Cares
To mark simchas and milestones and for condolences, contact Robin Berman (robinrberman@gmail.com).
Adas Israel Book Club
Rose Ruth Freudberg Memorial Sisterhood Library
Facilitated by Librarian Robin Jacobson, the Book Club meets periodically (in-person or via Zoom) to host authors and discuss books of Jewish interest. For further information, please contact Robin Jacobson.
If you would like to mark your calendar with the current schedule of book programs or access recordings of past programs please check the Library page.
Legal Scholars Brad Snyder & Jeffrey Rosen in Conversation
Sunday, March 26, 10:00 am | Register here for this Zoom program
Click here for Robin's review of "Democratic Justice"
Legal scholars Brad Snyder and Jeffrey Rosen will discuss Democratic Justice, Snyder's acclaimed new biography of Felix Frankfurter – Jewish immigrant, Harvard law professor, civil rights activist, Zionist leader, advisor to multiple presidents, and Supreme Court Justice. The remarkable, indefatigable Frankfurter participated in the seminal events of his time – involving race discrimination, anti-Semitism, workers' rights, the US-Israel relationship, politically-charged court decisions, and so many other issues that continue to challenge us. What can we learn from Frankfurter's life that illuminates today's fierce partisan divides on the Supreme Court and in the country at large?
Brad Snyder is a Professor of Law at Georgetown University Law Center and Jeffrey Rosen is the President and Chief Executive Officer of the National Constitution Center, a Professor of Law at George Washington University Law School, and a contributing editor of The Atlantic. Both are authors of multiple books.
Meet Author GennaRose Nethercott
Sunday, April 16, 11:00 am | Register here for this Zoom program
Click here for Robin's review of "Thistlefoot"

Writer and folklorist, GennaRose Nethercott will introduce her acclaimed novel, Thistlefoot - a finalist for the 2023 Jewish Fiction Award and one of NPR's and the Wall Street Journal's "Best Books of the Year." This rollicking adventure story of magical realism centers on two siblings who receive an unusual inheritance from Ukraine. Witty and wise, the novel explores profound issues, including the way the past intertwines with the present.
Torah Fund
Mazel Tov to TORAH FUND on its 80th Anniversary!!
As part of the Women's League for Conservative Judaism (WLCJ), Adas Israel raises dollars for Torah Fund, which supports five Conservative seminaries across the globe, educating clergy, cantors, scholars, and lay leaders. Your donation helps provide housing, tuition scholarships, and university infrastructure for the next generation of Jewish leaders.
The WLCJ 2022-23 Torah Fund Campaign is called Chazak v'Ematz, Hebrew for "be strong and courageous." The Torah Fund Campaign supports scholarships and programming at five Conservative/Masorti institutes of higher Jewish learning:
Jewish Theological Seminary (New York)
Ziegler School of Rabbinic Studies (Los Angeles)
Schechter Institute of Jewish Studies (Jerusalem)
Seminario Rabinico Latinoamericano (Buenos Aires)
Zacharias Frankel College (Potsdam, Germany)
Help strengthen Jewish education and ensure the vibrancy of the Jewish people for decades to come with your gift to Torah Fund.
Individual donors to Torah Fund at the Benefactor level ($180) or higher receive the distinctive WLCJ Torah Fund pin in recognition of their gift. Your Torah Fund Chair, Rona Walters, will deliver the 2022-23 pin to your door. And this year, please consider an additional pledge of $80 in honor of Torah Fund's 80th Birthday!
The Torah Fund Pin 5783 (2022-23):
You can make donations online at the button below, or send a check payable to:
"Torah Fund"
c/o Rona Walters, Torah Fund Chair
5117 Linnean Avenue NW
Washington, DC 20008
Donations may not be charged to your Adas Israel account.
You can also send a greeting with e-cards to support Torah Fund. Cards can be purchased on the JTS Torah Fund website (click here), and customized for any occasion. The Torah Fund e-cards benefit the general campaign. If you prefer a hard copy of a card, please contact Rona Walters by email at ronawalters@gmail.com or by phone/text at 202-744-2854.
RUTH & SIMON ALBERT SISTERHOOD GIFT SHOP
As the weather warms, we begin to contemplate the spring holidays. First on the calendar is Purim in early March. We have a cart full of Purim items stationed right outside the shop during the hours we are open. In addition, we have a mobile bookshelf of Purim books. And check out our crowns, beads, groggers, and masks! Our Haman groggers are especially popular. Stock up in preparation for the Adas Purim events. And later in March, come and see our gigantic new Passover cart!


Hours of Operation in March*:
Sunday-Monday & Wednesday-Friday, 9:30 am to 12:30 pm
Tuesday, 9:30 am to 3:00 pm
*Please check the monthly calendar sign in the shop window to ascertain what dates we are closed for holidays.
If these hours are not convenient for you, please email us at adasgiftshop@gmail.com to arrange a visit.
2850 Quebec Street NW
Washington, DC 20008
202-364-2888
All purchases benefit Adas Israel Congregation.
Wed, March 22 2023 29 Adar 5783