---
Sisterhood, affiliated with Women's League for Conservative Judaism, seeks to perpetuate the values of Conservative/Masorti Judaism through quality programs, social action, ritual and spirituality. We provide multiple avenues for women to solidify their Jewish identity in a rapidly changing world. Most importantly, we are a community---providing mutual support and bonds of friendship for our members.
We are a Community of Sisterhood, joined by the bonds of friendship.
Please join us!
For more information email Co-Vice Presidents of Membership, June Kress or Ozana Papados.
Frankly Feminist: Susan Weidman Schneider and Rabbi Lauren Holtzblatt In Conversation
Sunday, October 22 at 2:00pm
Click here and scroll down to Calendar of Events to register. The fee is $18 (no charge for Chavera members).
What happens when you put women at the center of every story – as Lilith magazine has been doing for more than 45 years? Join Susan Weidman Schneider, Editor in Chief of Lilith magazine, and our own Rabbi Lauren Holtzblatt in conversation about Lilith's groundbreaking Jewish feminist fiction collection, Frankly Feminist: Short Stories by Jewish Women. Don't miss these two frank feminists discussing the power of fiction and what that means for Jewish women. Edited by Schneider and Yona Zeldis McDonough, Frankly Feminist will be available for purchase, and Schneider will be signing books after the talk. Feminist fare (afternoon refreshments) will be served.

Frankly Feminist (Brandeis University Press; 2022), the first-ever anthology from Lilith magazine, is a unique amalgam of insight and activism that reflects Jewish women's lives today. The collection explores transgressive loves; deepening connections; political turmoil; abortion; fear of loss; and struggles with fertility, finding community, and decoding family life.
Susan Weidman Schneider, one of Lilith's founding mothers, has been Editor in Chief since the magazine launched. Her writing about Jewish women's philanthropy, the Jewish stake in abortion rights, the persistence of gender stereotyping, and more have been credited with moving the needle on feminist change in the Jewish world. She is the author of Jewish and Female: Choices and Changes in Our Lives Today and Intermarriage: The Challenge of Living With Differences Between Christians and Jews; and co-author of Head and Heart: A Woman's Guide to Financial Independence.
Rabbi Lauren Holtzblatt, ordained at the Jewish Theological Seminary, is Co-Senior Rabbi at Adas Israel Congregation in Washington, DC. Among many accolades, Rabbi Holtzblatt has been celebrated by the Forward as one of the 32 most inspiring rabbis in the country and was named one of Jewish Women's International's "Women to Watch". She serves on the national board of Avodah and the joint steering committee of the United Synagogue of Conservative Judaism. Rabbi Holtzblatt's many achievements at Adas include revitalizing the caretaking (Hesed) and bereavement efforts, co-creating the acclaimed MakomDC adult learning curriculum, launching and leading the wildly successful "Return Again" worship services, and directing the nationally recognized Jewish Mindfulness Center of Washington.
Click here and scroll down to Calendar of Events to register. The fee is $18 (no charge for Chavera members)
---
Ongoing Programs
Scroll down to view the full Calendar of Events for all ongoing programs.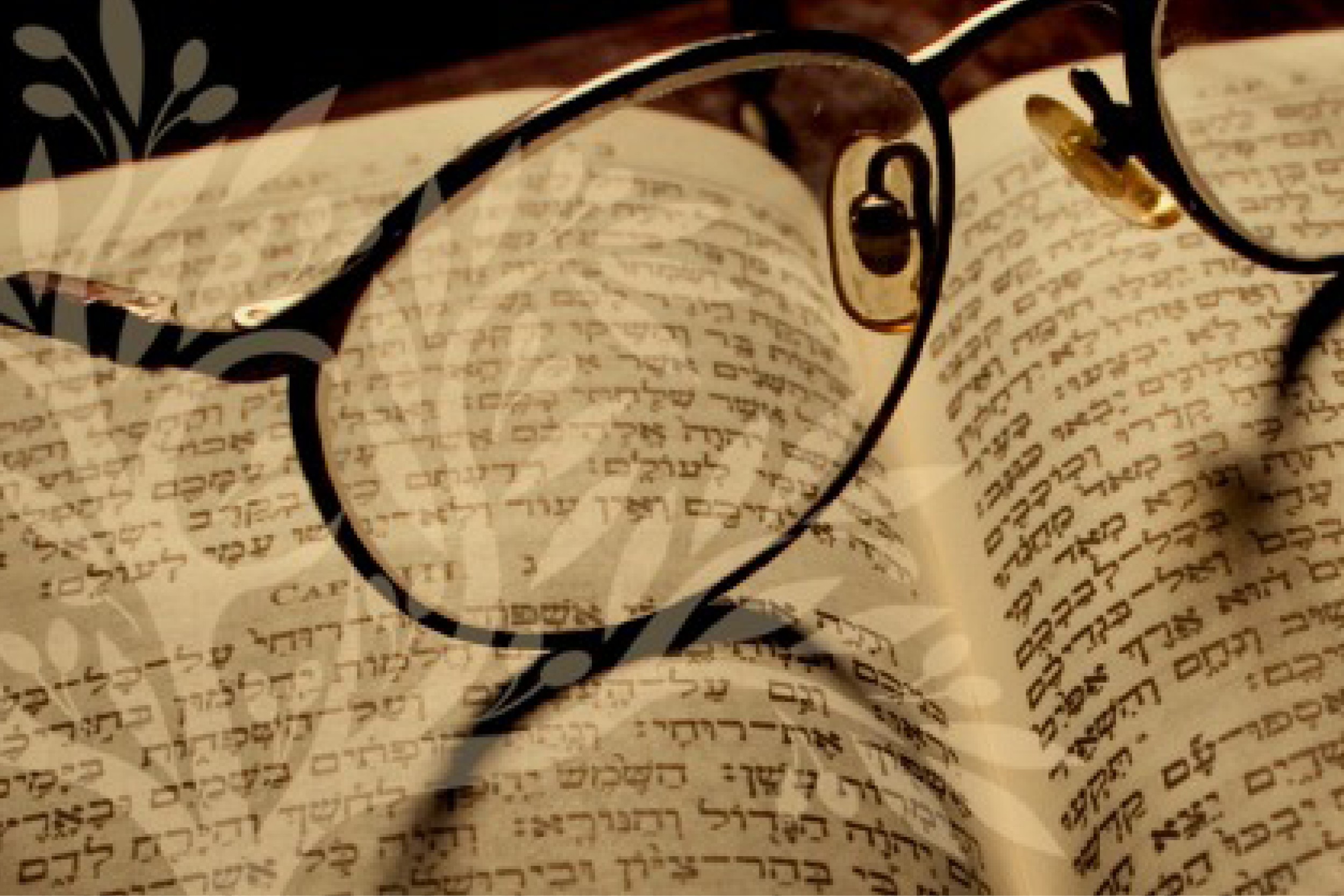 Weekday Torah with Sisterhood
Monthly, 3rd Tuesday at 10:30 am via Zoom
Weekday Torah with Sisterhood is an engaging approach to traditional text study that offers participants the opportunity to study and discuss challenging texts and ideas. Students of all levels and backgrounds are welcome. Participants can find class dates, times, and other relevant information on the Sisterhood Calendar of Events. Please contact Marilyn Cooper with questions and concerns.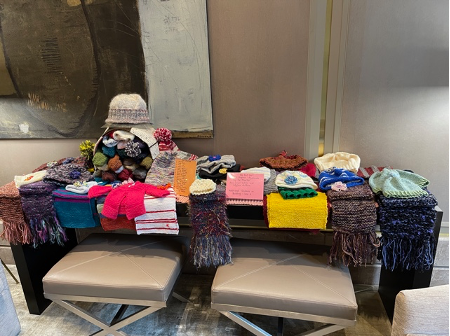 Knitting and Sewing Circle
Please check the Sisterhood Calendar of Events or Lesley Frost for details about meetings.
Adas Sisterhood Knitting and Sewing Circle includes knitters of different skill levels. Some are members of Adas Israel, others are friends who love to knit. We supply hats, scarves, and similar items for the Edlavitch DCJCC Knitting for the Homeless project. Our dedicated knitters have completed as many as 130 items for donation in one week! We can supply wool, needles, and patterns and can teach the basics of knitting. We meet to share patterns, showcase our work, and socialize. Join us as we knit up a storm ready to help clothe our neighbors for the winter.
Sisterhood Cares
To mark simchas and milestones and for condolences, contact Robin Berman (robinrberman@gmail.com).
Adas Israel Book Club
Rose Ruth Freudberg Memorial Sisterhood Library
Facilitated by Librarian Robin Jacobson, the Book Club meets periodically (in-person or via Zoom) to host authors and discuss books of Jewish interest. For further information, please contact Robin Jacobson.
If you would like to mark your calendar with the current schedule of book programs or access recordings of past programs please check the Library page.
---
Torah Fund
As part of Women's League for Conservative Judaism (WLCJ), Adas Israel Sisterhood raises dollars for Torah Fund, which supports five Conservative seminaries across the globe, educating clergy, cantors, scholars, and lay leaders: Jewish Theological Seminary (New York); Ziegler School of Rabbinic Studies (Los Angeles); Schechter Institute of Jewish Studies (Jerusalem); Seminario Rabinico Latinoamericano (Buenos Aires); and Zacharias Frankel College (Potsdam, Germany).
The WLCJ 2023-24 Torah Fund Campaign is called "Kol Yisrael Arevim Zeh Ba'Zeh", Hebrew for "All the people of Israel are responsible for one another". This year's Torah Fund Pin highlights the word "Arevut", responsibility.
By contributing to Torah Fund, we assume that responsibility. Together, our donations help provide housing, tuition scholarships, and university infrastructure for the next generation of Jewish leaders.
Individual donors to Torah Fund at the Benefactor level ($180) or higher receive the distinctive WLCJ Torah Fund pin in recognition of their gift.
You can make donations online at the "Donate" button below, or send a check payable to:
"Torah Fund"
c/o Susie Sorrells, Torah Fund Chair
4508 Sunflower Drive
Rockville, MD 20853
Help strengthen Jewish education and ensure the vibrancy of the Jewish people for decades to come with your gift to Torah Fund. Thank you!
Donations may not be charged to your Adas Israel account.
You can also send a greeting with e-cards to support Torah Fund. Cards can be purchased on the JTS Torah Fund website (click here), and customized for any occasion. The Torah Fund e-cards benefit the general campaign.
RUTH & SIMON ALBERT SISTERHOOD GIFT SHOP


With a trace of fall in the air, we know that it's holiday time. Please stop by the Gift Shop! We have a large selection of holiday cards, both individual and in packages, and numerous children's books introducing youngsters to the holidays. And don't miss our myriad honey dishes.
For the first time since the pandemic we attended the international gift show held every year in New York. Stay tuned for new merchandise that we hope will pique your interest.
Hours of Operation Update:
Through September 1: Tuesday, Wednesday, and Friday, 10:00 am - 12:30 pm.
September 2-4: Closed
Beginning September 5:
Sunday, Monday, Wednesday, Thursday, Friday: 9:30 am - 12:30 pm
Tuesday: 9:30am - 3:00 pm
If none of these times is convenient for you, please email us at adasgiftshop@gmail.com, and we can set up a special appointment.
Please visit our website for special announcements: adasisrael.org/adas-gift-shop.
Ruth & Simon Albert Sisterhood Gift Shop
2850 Quebec Street, NW
Washington, DC 20008
202-364-2888
adasgiftshop@gmail.com
Special Past Events
2023 Garden of the Righteous Honoree: José Ignacio Burbano, Grandfather of Past Sisterhood President Betty Adler. Click here for more information.
---
2023-24 Executive Committee
President: Margie Corwin
President-Elect: Elissa Barpal
VP for Communications: Wendy Kates
Treasurer: Ellen Snyder
Co-VP for Education/Programming: Rona Walters
Co-VP for Education/Programming: Patricia Manasevit
Co-VP for Membership: June Kress
Co-VP for Membership: Ozana Papados
Parliamentarian: Marian Fox
Corresponding Secretary: Robin Berman
Recording Secretary: Helen Kramer
Immediate Past President: Jill Jacob
Gift Shop Co-Managers: Jean Bernard, Marian Fox, Susan Winberg
Torah Fund Chair: Susie Sorrells
Contact Us
Follow us on Social Media!
Mon, October 2 2023 17 Tishrei 5784