Welcome to Adas Israel!
Click Here to view our Membership Curriculum!
The doors of our K'hilla K'dosha (sacred community) are wide open to you. We very much look forward to welcoming you, answering any questions you may have, and guiding you through the start of your journey in our congregation. Adas Israel seeks to create a unique, shared space where we can discover what it means to be human and to be part of a sacred community. Through the medium of Judaism, we foster moments that celebrate the joy and wonder of being alive, and of finding intimacy & connection in the presence of each other
What are the benefits of becoming a member?
Arguably one of the most important and rewarding benefits of joining a k'hilla k'dosha (sacred community) is the warmth and meaning derived from marking all of life's milestones with the beauty of Jewish tradition and community support. No matter what stage of life you find yourself, we are here for you in whatever way you need.
Additional membership benefits include:
• High Holy Day tickets for all family members
• Access to the clergy for pastoral counseling
• Tuition discounts for Gan HaYeled PreSchool and Religious School
• Lifelong Learning opportunities
• Multiple services with different worship styles to choose from
• Reduce priced tickets to community-wide events (ex. Shabbat dinners, community Seder, etc.)
• Discounted rates to rent Adas Israel facilities for private events (ex. Wedding reception, B'nai Mitzvah party, etc.)
• The opportunity to serve on a committee to help guide the mission of the synagogue
Ready to join, but have a few questions? Connect with us here!
How can I get involved?
There are many ways to become involved with the Adas Israel community and to meet with other congregants. New members will be invited to meet with clergy and other new members over coffee and to one of our new member oneg receptions which are held three times a year. Being a member at Adas Israel also affords you endless opportunities to be immersed in a wealth of Jewish experiences, learning opportunities, and daily chances to go deeper into your Judaism and your community.
How do I meet the professionals who serve Adas?
Our members are the heart of our community and we are always here to answer any questions that you may have. Give us a call – We'd love to get to know you! To schedule a meeting with one of our clergy members, request a tour of the synagogue or to discuss membership, please contact Marcy Spiro, Director of Membership Engagement at 202-362-4433 or e-mail marcy.spiro@adasisrael.org.
What is the financial membership commitment?
To help us fulfill our mission, serve our members, educate our children, and involve ourselves in the community, we appreciate and rely upon the financial commitment of our members. To see the suggested membership commitment and schedule of payments click here.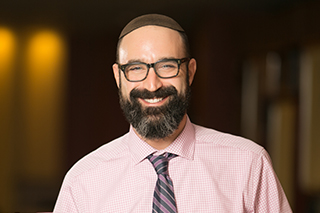 A Greeting From Rabbis Holtzblatt and Alexander
Hello! We want to take this opportunity to introduce ourselves and to tell you about our wonderful community at Adas Israel Congregation. We are a vibrant, dynamic, multi-generational synagogue that offers access to Jewish life and community for people of all backgrounds.
For almost 150 years, Adas Israel Congregation has been a flagship synagogue in American Jewish life, and that tradition of leadership and excellence continues today in an atmosphere of depth, warmth and welcome. The greatest strength of Adas Israel is the community itself. Our synagogue members care about each other and about what goes on here. We care about having meaningfully Jewish experiences and work together to ensure each of us has multiple entry points to those moments. We also care about the wider world and appreciate how our location in Washington provides unique pathways for social impact.
At Adas Israel Congregation, we draw from the wisdom of the Torah for insight and strength in all that we do. Every service, every class, every program, and every meeting at Adas Israel is filled with potential for connection—to Torah, God, each other, and the world.
Adas Israel Congregation is a place for us all to come home and to celebrate the joys of Jewish life together. We very much look forward to meeting you and to answering any questions you may have. We look forward to seeing you here!
L'Shalom,
Rabbis Lauren Holtzblatt & Aaron Alexander
Pray
Inspired Religious services are at the heart of Adas.
Whether it's our meaningful daily minyanim or our wide variety of Shabbat and holiday services, there is an inspirational moment waiting for you at Adas. Women and men are encouraged to take part equally. Shabbat is the Jewish People's eternal oasis in time. At Adas Israel, members can celebrate Shabbat with a variety of different service experiences – some clergy-led, some lay-led – each with a unique flavor all its own. Our services are traditional and experimental, contemplative and joyful. They are a fusion of spirit and purpose, old and new, people and prayer.
Religious School
Learning for all ages.
Our nationally recognized religious school provides an education designed to inspire our students to lead their lives as identified, committed Jews and ethical human beings. Our purpose is to instill Jewish values and a sense of pride in all our pre-K thru 12th grade students. The Gan at Adas Israel Congregation is a warm and welcoming, NAEYC Accredited preschool known for its strong community of students, faculty & parents. Offering a unique play-based curriculum, our students, aged 6 months to Pre-K, are part of a vibrant community of learners, parents, and superior staff.
MakomDC
Learning & engagement in the Biran Beit Midrash (House of Study).
MakomDC features monthly thematic programming, welcoming innovators, and innovative ideas in 21st century Jewish life. This is a one-of-a-kind synagogue initiative that can't be found anywhere else, and offers regular opportunities to go deeper into a variety of Jewish concepts and issues with community leaders and clergy. MakomDC is primarily housed within our new Biran Beit Midrash (House of Study), which boasts comfortable seating and tables for lively discussion, books and technology, coffee and snacks, speaker jams, art, engaging sessions, free Wifi, and even interactive prayer services. It's a place where people, ideas, and Jewish experiences collide.
Tikkun Olam
Social action projects.
Adas Israel offers its members many ways to participate in the mitzvah of Tzedakah (charity), Tikkun Olam (repairing the world) and Gemilut Chasadim (acts of loving kindness) under the leadership of our Social Action Council. Through our many projects which take place all year, there are many opportunities for you to join with the community to make our world a better place
Jewish Mindfulness Center of Washington
Live mindfully.
The JMCW @ Adas is a cutting edge, one-of-a-kind project at Adas. Offering programs and workshops to help deepen our experience of the spiritual, and create connections to foster a vibrant, diverse spiritual community. Experience Jewish Meditation, Yoga, Mindful Learning, and spirited Shabbat & Holiday programs… all within a uniquely Jewish context.
Life Cycle
Marking life's milestones with the beauty of Jewish tradition.
No matter what stage of life you find yourself, we are here for you in whatever way you need. From babies, to Bar/Bat Mitzvah, to weddings and bereavement, Adas is a place to call to home.
Mon, October 2 2023 17 Tishrei 5784