Inclusion
Everyone is welcome at Adas Israel Congregation.
We strive to be a fully inclusive community. and to remove all barriers to participation. We
define Inclusion as a core Jewish value and make every effort to accommodate everyone. Below
are examples of ways that we accommodate many different types of requests.
Please email inclusion@adasisrael.org to request accommodations for any of our programs, services, or events.
Inclusion Celebration Month
Shabbat Service, February 13 at 9:30am | Click to Join Live
This February, Adas Israel will mark Jewish Disability Awareness and Inclusion Month with two events that highlight the value of inclusion in our community. On Shabbat Mishpatim, Feb 13th, we will be joined during Shabbat morning services by Rabbi Rebecca Dubowe of Bloomington, IL who is the first female deaf rabbi ever to be ordained.
Sunday, February 14 at 10am
The next day, on Sunday Feb 14th, the Inclusion Task Force will host a panel discussion with three activists for disability justice: Sheryl Grossman, Joe Shapiro and Jim Weisman, moderated by Rabbi Lauren Tuchman. This panel will be addressing the tremendous and often overlooked and underreported impact the COVID-19 pandemic has had on people with disabilities. People with disabilities, including elderly people, are the most likely to die. Many who do survive are left with lingering, possibly even life-long, disabilities. Yet, people with disabilities are not always prioritized in this pandemic. Some people with significant disabilities were turned away from hospitals or didn't get treatment like ventilators. People with intellectual disabilities who live in group homes did not get the same priority to personal protective equipment and vaccination that was guaranteed to residents of nursing homes.
Ohr Shalom Synagogue JDAIM Panel We All Belong: A Discussion about Inclusion & Accessibility
with Adas Member Judy Heumann
Sunday, February 21 at 1pm
Click Here to Join Live (Passcode: myshul)
Join us as representatives of three very different congregations discuss how they have promoted awareness and inclusion of disabled people in their services, programs and outreach. Judy Heumann, a national and international disability rights leader, will share the Jewish element of her life-long campaign to create a society that welcomes and includes people with disabilities. From her childhood struggles to attend Jewish schools and participate in services to her leading role in encouraging her own synagogues to become places of belonging, Judy is a pathfinder for inclusion in Jewish life as well as a disability leader on the national and world stage.
Judy's synagogue, Adas Israel in Washington, DC, is a 140-year-old Conservative congregation with a history of disability inclusion--but years of experience are not necessary to begin the journey toward inclusion. Ohr Shalom, a smaller Conservative synagogue in San Diego, CA, and Kol Ami, a small Reconstructionist congregation in Arlington, VA, have made headway in awareness and inclusion through commitment, judicious use of resources and creative attention to the issue. Rayna Aylward and Toni Popkin of Kol Ami, Jeanne Argoff of Ohr Shalom, and Judy will have a wide-ranging discussion about what all three congregations have done, what they plan to do, and how we can all learn from each other. Please send your questions in advance to office@orhshalom.org.
Inclusion
Speaker and Panel Bios
Rabbi Rebecca Dubowe
A native of Los Angeles,CA. Rabbi Rebecca L. Dubowe was ordained by Hebrew Union College- Jewish Institute of Religion, Cincinnati, Ohio and was the first female deaf rabbi ever to be ordained. She holds a B.A in Jewish Studies from the American Jewish University formerly known as the University of Judaism and an M.A. in Hebrew Letters from HUC. Rabbi Dubowe has served several synagogues including Thousand Oaks, CA, Hollywood, CA and in New Brunswick, New Jersey. Currently, she is serving as the rabbi for the Moses Montefiore Congregation in Bloomington, Illinois. An inclusion advocate, she speaks often on the subject of inclusion and acceptance of families with special needs, especially within the Reform Movement and the Jewish community-at-large.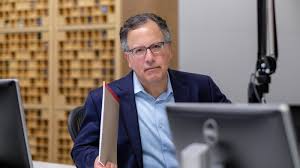 Joe Shapiro
Joseph Shapiro is a NPR News Investigations correspondent. Shapiro joined NPR in November 2001 and spent eight years covering health, aging, disability, and children's and family issues on the Science Desk. He reported on the health issues of veterans returning from Iraq and Afghanistan and helped start NPR's 2005 Impact of War series with reporting from Walter Reed Army Medical Center and the National Naval Medical Center. Shapiro studied long-term care and end-of-life issues as a participant in the yearlong 1997 Kaiser Media Fellowship in Health program. In 1990, he explored the changing world of people with disabilities as an Alicia Patterson Foundation fellow. Among honors for his investigative journalism, Shapiro has received an Alfred I. duPont-Columbia University Award, George Foster Peabody Award, George Polk Award, Robert F. Kennedy Award, Edward R. Murrow Award, Sigma Delta Chi, IRE, Dart, Ruderman, and Gracie awards, and was a finalist for the Goldsmith Award. Shapiro is the author of the award-winning book NO PITY: People with Disabilities Forging a New Civil Rights Movement (Random House/Three Rivers Press), which is widely read in disability studies classes. Shapiro attended the Columbia University Graduate School of Journalism and Carleton College. He's a native of Washington, DC, and lives here now with his family.
James Weisman
James Weisman is now General Counsel of United Spinal Association, after years of service as President/CEO. He joined United Spinal (then called Eastern Paralyzed Veterans Association) as an attorney in 1979. Eleven years before the passage of the Americans with Disabilities Act (ADA), Weisman sued NYC's transit system and won bus access, key subway and rail station access and the creation of a paratransit program to supplement mass transit for those whose disabilities prevent them from using bus and rail systems. He also sued Philadelphia's transit system yielding similar results by 1988. Weisman was a key negotiator with members of Congress promoting the passage of the ADA, and the Act's transportation provisions applied the agreements in NYC and Philadelphia to the whole country. He's a founding board member of the American Association of People with Disabilities (AAPD). His suit against NYC for curb ramps has resulted in a $400 million expenditure to date, and over 1 billion dollars during the next ten years. United Spinal, led by Weisman, is active in the disability rights movement, and was successful in getting NYC to agree to make 50% of its yellow cabs accessible by 2020. He is routinely consulted by advocates, attorneys, employers, real estate developers and others seeking to include people with disabilities in their workforce, programs and customer bases. He is a 1977 graduate of Seton Hall University Law School. United Spinal Association's members were particularly vulnerable to COVID. United Spinal received a $1 million grant from the Neilsen Foundation to provide emergency assistance mini-grants to people with spinal cord injury and disorder, as well as distributing thousands of pieces of PPE, purchased by United Spinal for people with disabilities and their caregivers. We run support groups and Zoom social sessions, and so do our chapters to relieve those suffering from COVID-related isolation stress. Our Resource Center intervened--and is still intervening--on behalf of people whose homecare services were interrupted by COVID-related problems. Video on United Spinal Association's history.
Sheryl Grossman
Sheryl Grossman has spent a quarter century working to improve the lives of disabled people. From education access to voting rights; from housing to transportation. She is most proud of her work to towards ending the institutional bias that keeps disabled people trapped in congregate settings. She has honed her work over the last decade, focusing on rare and non-standard disability access issues and multiple minority group issues. Additionally she founded and facilitates Bloom's Connect, the international support group for people with Bloom Syndrome. In her spare time, she serves on the board of Accessible Resources for Independence a Center for Independent Living in Glen Burnie, Maryland and also serves as Board Chair for Yad HaChazakah, the Jewish Disability Empowerment Center.
---
ACCOMMODATIONS WE PROVIDE
Parking & Metro information
We are located 1.5 blocks north of the Cleveland Park metro station on the same side of Connecticut Avenue as the station elevator. There are 3 reserved spots in our parking lot for cars with the handicap placard. If you would like to reserve parking without having a placard, please email inclusion@adasisrael.org.
Live streaming & Dial-In
M​​​​​any people who are unable to travel to Adas Israel for programs or services participate via live-streaming. Please see adasisrael.org/serviceslive for current livestreams or adasisrael.org/adaslive for an archive of recordings. To dial in and listen to services in the Smith Sanctuary over the telephone, call 202-686-8405. There are a limited number of phone lines available, so it's best to call before the service begins.
Interpretation & Assistive Devices
Hearing loops are available at the front desk and are located outside of each service location.
ASL Interpretation or captioning is provided upon request for any service or event. Please email inclusion@
adasisrael.org at least 24 hours in advance. In every service, we have large print copies of the Lev Shalem
siddur for Shabbat and holidays and the Lev Shalem Machzor for High Holidays. We also have a Braille set of
the Sim Shalom Siddur. Please ask an usher for help in finding these books.
Food Allergy Information
Please email our Food and Beverage Events Manager, Juliana.Nieto@adasisrael.org with questions about specific allergens.
Prayer & Program Spaces
The Charles E. Smith Sanctuary has several features to accommodate our community:
Ramps go up to the Bimah on both sides. People in wheelchairs can sit in several aisle locations around the
sanctuary. There are bookstands in the cutouts. There is an elevator to/from the sanctuary from other levels.
The Amud (lectern) on the Bimah can be lowered and raised.
General Building Accessibility Information:
The Quebec Avenue sidewalk in front of the building was repaved in 2016. There is a curb cut in front of the
Quebec Street entrance. Elevators and ramps connect all the rooms in the building. The Biran Beit Midrash and
the lobby restrooms have automatic doors. Mezuzot are at two different heights on all main-level doors.
LGBTQ Inclusion
Everyone is welcome here. Full stop. There is an all-gender restroom on the main floor which is wheelchair accessible. Additionally, there is an all-gender restroom on the third floor which is not wheelchair accessible.
Flexible Dues
Finances aren't an obstacle to joining Adas Israel Congregation. Please contact Marcy.Spiro@AdasIsrael.org to have a confidential conversation about joining our community.
Low Sensory Accommodations
A Quiet Room can be opened on request by an Adas staff person. There is a basket of noise cancelling headphones in various sizes at the front desk.
Mikvah
Every body is welcome at the Adas Israel Community Mikvah. The preparation room has been recently remodeled and now meets/exceeds ADA standards. An Aquatic Lift is available on request by emailing Mikvah@adasisrael.org at least 24 hours in advance of a Mikvah appointment.
Job Training Programs
We have a partnership with Outcomes Service to provide meaningful volunteer opportunities. Additionally, we purchase sweets for many of our weekly programs from Sunflower Bakery, a training school for bakers with learning differences.
Gan HaYeled Preschool
Our preschool employs a Full Time Developmental Support Coordinator with specialties in Early Detection, Early Intervention and Best Practices in Inclusion. The preschool has a dedicated Sensory Space to accommodate student needs for self-regulation, maintains a full inventory of assistive technology to support individual student needs, and collaborates with on-site Speech/Language Pathology, Occupational Therapy and Behavioral Therapy practices. A professional staff member administers a bi-annual developmental checklist to monitor children's development.
Religious School
Our educational programs take a collaborative approach with families around individualized classroom needs. Our Assistant Director participated in the 2017-2018 Matan Institute for Education Directors. Students have access to noise canceling headphones and other technologies and techniques are employed to support individual needs of each student. Additionally, students learn Hebrew in small learning groups in grades 3-6 with individual support as needed.
Community Awareness
Adas Israel Congregation celebrates Jewish Disability Awareness and Inclusion Month every year in February, in addition to inclusion-themed programs throughout the year. Our clergy and leadership participate in the annual Jewish Disability Advocacy Day on Capitol Hill. We are a founding member of the USCJ-Ruderman Family Foundation Inclusion Action Community. Our Inclusion Task Force meets regularly. To get involved, send an email to inclusion@adasisrael.org.
Please email inclusion@adasisrael.org to request accommodations for any of our programs, services, or events.
Wed, December 1 2021 27 Kislev 5782