Garden of the Righteous
1992 | 1993 | 1994 | 1995 | 1996 | 1997 | 1998 | 1999 | 2000 | 2001 | 2002 | 2003 | 2004 | 2005 | 2006 | 2007 | 2008 2009 | 2010 | 2011 | 2012 | 2013 | 2014 | 2015 | 2016 | 2017 | 2018 | 2019 | 2020-21
The Garden of the Righteous Program was initiated in 1992 by Rabbi Jeffrey A. Wohlberg to honor non-Jews who risked their lives to save Jews during the Holocaust. The honor takes the form of the dedicating a plaque each year on the Sunday morning closest to Yom HaShoah, dedicated to a particular "Righteous Gentile" in an area near the front of the synagogue known as The Garden of the Righteous. The honoree or, if the honoree is deceased a representative of the honoree's family or country, receives an engraved memento of the occasion. When possible, the rescued family member or descendent participates in the ceremony.
The Garden of the Righteous Program, which has become an annual event, was intended to present a different type of public undertaking through which to commemorate the Holocaust. The program has a dual purpose: to teach and to honor. The teaching component is intended to show children and adults that the lesson of the Holocaust is not only one of sadness, but also a lesson in courage, honor, compassion, and heroism. It emphasizes that during the Holocaust there were righteous non-Jews who actually helped, rather than hurt, Jews. The other component is designed bring to the Synagogue a non-Jew who risked his or her life to save Jews. This program in our nation's capital is an adaptation of The Garden of the Righteous at Yad Vashem in Israel's capital. The use of a garden, specifically the planting of a tree to honor the recipient selected each year, was intended to symbolize the choice of life in the face of death.
As Rabbi Wohlberg explains in a letter to our Religious School families:
"Even now it is difficult to know how best to remember the Holocaust. It is especially difficult to know how to teach it to children in a way that will give them strength and so that the Holocaust will be appropriately remembered. One special element in that education process is teaching about the non-Jews who risked their lives and dared to try to save Jews during World War II. Yad Vashem, the Memorial Museum and Archives to the Six Million in Jerusalem, has identified 50,000 such "righteous gentiles", many of whom it has recognized by planting trees in their honor in a Garden of the Righteous. I believe that it is crucial that we do the same. It is vital that children learn not only about the bad things which have happened in history, but that they be taught about those who exemplify courage, compassion, humaneness and sensitivity so that they will be moved to follow those examples. The stories of these extraordinary people are an important element in building character, teaching ethics and in motivating moral responsibility."
Adas Israel Garden of the Righteous garden, designed and installed by John Harrison of Yard Art Design, was generously donated by Judy and Saul Strauch in memory of Judy's mother, Beatrice Lachman, in memory of her father, Irving Lachman and in memory of Saul's sister, Estelle Strauch.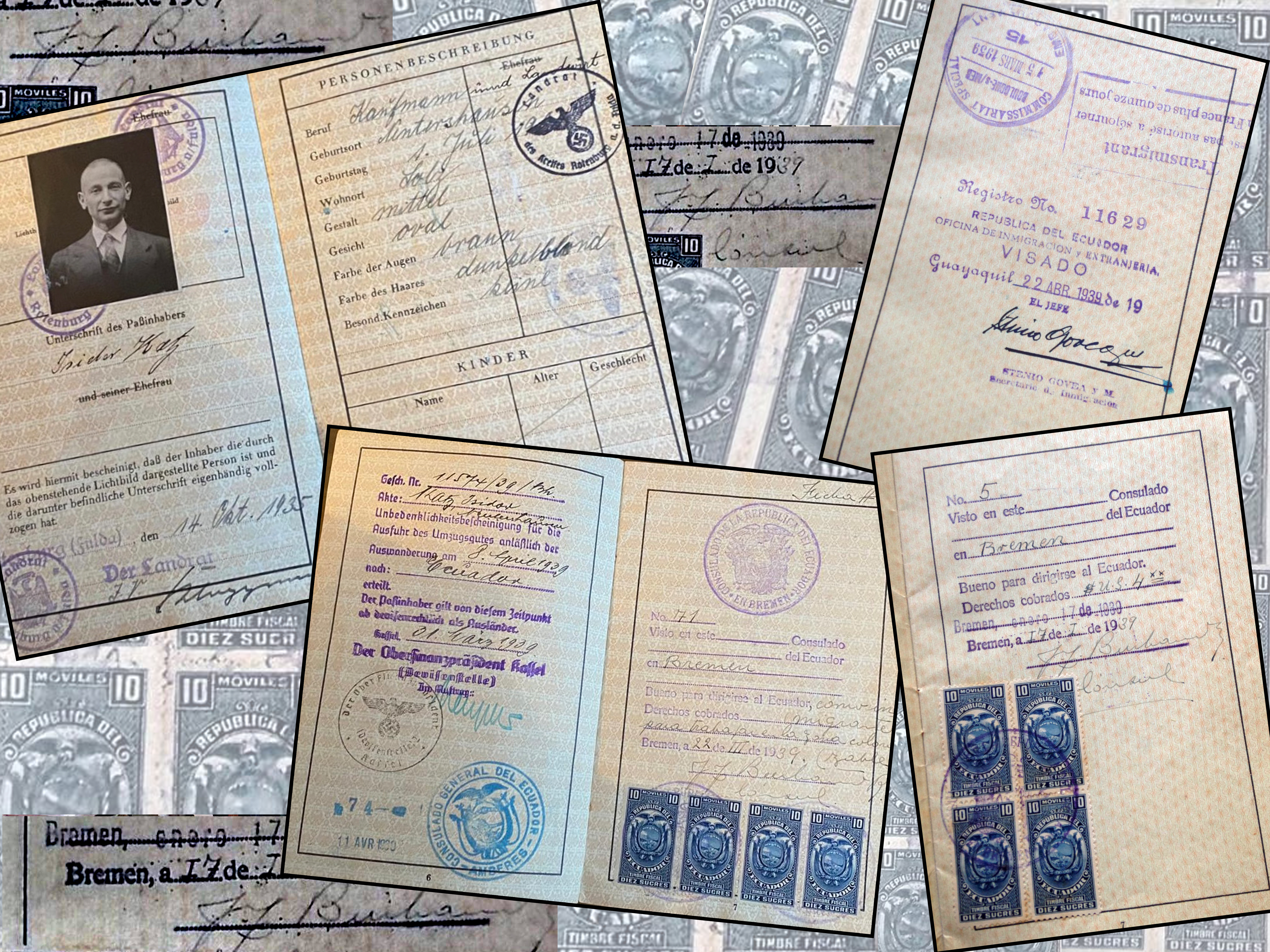 Yom HaShoah, April 18, 2023, 7 pm
Honoring José Ignacio Burbano from Ecuador
Charles E. Smith Sanctuary or Click Here to Livestream
Please join us on Yom HaShoah, Tuesday, April 18 at 7 pm, as we honor José Ignacio Burbano as our Garden of the Righteous honoree. This year we will welcome Adas Israel member Betty Adler and her family, who will tell their grandfather's story.
José Ignacio Burbano (1890-1973) was an Ecuadorian diplomat, member of the Royal Spanish Academy, poet, linguist, journalist, educator, intellectual, but most of all, a man whose actions spoke of him as a humanist.
During his mission as Consul of Ecuador in Bremen, Germany from 1937 to 1940, José Ignacio Burbano worked diligently to save the lives of Jews, breaking the rules and challenging Ecuador's anti-immigration policies. He defended the granting of visas to Jewish families before the Ecuadorian authorities, endangering his career and his life. He succeeded in granting more than two hundred visas and saved the lives of many German Jews, whose lives were in extreme danger because of the Nazi regime. Burbano courageously saved Jewish families until he was relieved of his duties and relocated to the Ecuadorian consulate in Houston, Texas.
Many years after Burbano's actions during his mission in Bremen, his eldest daughter Betty, married Federico Adler, an Austrian Jew who had found refuge in Quito, Ecuador, in 1939 (their daughter is long-time Adas Israel member Betty Adler), thus bringing Burbano's actions full circle. By saving Jewish families, Burbano unknowingly also saved his own future son-in-law, grandchildren, and great-grandchildren.
Please join us as we honor the righteous on Tuesday, April 18 at 7 pm for this moving ceremony, followed by dessert reception.
Erev Yom HaShoah, April 27, 2022 at 7:30pm
Please join us virtually on Wednesday, April 27 at 7:30 pm as we honor The Village of Le Chambon-sur-Lignon. This year we welcome Nelly Trocmé Hewett, Pierre Sauvage and Peter Feigl who will tell the story of this isolated French community that banded together to offer sanctuary and shelter to about 2,000 Jews in the throes of World War II.
In Nazi-occupied countries during the Second World War, many courageous and righteous individuals risked their lives to provide shelter to people fleeing persecution and death. These rescuers knew that at any time, they might be discovered by friends or informants, and turned in to the authorities. But from December1940 until September 1944, an entire town in France and the nearby villages gave shelter to every refugee, including thousands of Jews: never once turning anyone away or over to the Nazis.
The story of Le Chambon-sur-Lignon, located in the mountains of south-central France, begins with its pastor, Andre Trocmè, and his wife Magda. Always a pacifist, Trocmè practiced a quiet but firm resistance to the Vichy government, refusing both to recognize the Vichy head of state and to obey any orders from the Nazis and he encouraged his parishioners to do the same. Le Chambon, a town of around 5,000 people, doubled in size as it took in every refugee who arrived and provided refuge for an estimated 5,000 people. That number included about 2,000 Jews (many of them children) who were fleeing from the Vichy authorities and the Germans.
When the deportations began in France, Pastor Trocmé urged his congregation to give shelter to any Jew who should ask for it. Trocmé reminded the villagers the day after France surrendered to Nazi Germany, "The responsibility of Christians is to resist the violence that will be brought to bear on their consciences through the weapons of the spirit."
The village and its outlying areas were quickly filled with hundreds of Jews. Some of them found permanent shelter in the hilly region of Le Chambon, and others were given temporary asylum until they were able to escape across the border, mostly to Switzerland. Despite the danger, Jews were housed with local townspeople and farmers, in public institutions and children's schools, often given false names and papers. Children and young people continued their education at the school founded by Trocmè and assistant pastor, Reverend Edouard Theis.
All these endeavors which frustrated Vichy's anti-Jewish policies were implemented under the sponsorship and encouragement of Pastor Trocmé. The Vichy authorities suspected what was taking place and demanded that the Pastor cease his activities and give names of the Jews that he knew were living in the area. His response was clear-cut. He said, "These people came here for help and for shelter. I am their shepherd. A shepherd does not forsake his flock... I do not know what a Jew is. I know only human beings."
These actions of rescue were unusual as they involved the majority of the population of an entire region. Nowhere else did a persistent, successful and collective rescue effort develop on a scale approaching what happened in the area of Le Chambon. Defying the Nazis and the French government that was collaborating with the Nazis, the villagers of the area of Le Chambon provided a safe haven throughout the war for whoever knocked on their door. This community provided the most successful, longest-lasting haven of refuge from the Holocaust anywhere in occupied Europe.
On January 5, 1971, Yad Vashem recognized the Pastor Trocmé and on May 14, 1984 his wife, Magda, as Righteous Among the Nations. On March 18, 1976, Daniel Trocmé (the Pastor's nephew and principal of a school for Jewish refugee children) was recognized as Righteous Among the Nations. Yad Vashem has also awarded 40 individuals from Le Chambon and its environs the designation of Righteous Among the Nations.
Wed, April 7 at 7:00pm (Erev Yom HaShoah) 2020-2021
Please join us virtually on Erev Yom HaShoah, Wednesday, April 7 at 7pm as we honor Master Sergeant Roderick "Roddie" Edmonds as our Garden of the Righteous honoree. This year we welcome Pastor Chris Edmonds, the son of Sergeant Edmonds, who will tell his father's story.
Master Sergeant Roderick "Roddie" Edmonds (1919-1985) of Knoxville, Tennessee, served in the US Armed Forces during World War II, in the 106th Infantry Division of the 422nd Regiment. In late 1944, after being captured during the Battle of the Bulge, Sgt. Edmonds was the highest ranking non-commissioned officer among the 1,275 American POWs that were taken to Stalag IXA, a German POW camp near Ziegenhain, Germany. On their second day in in the camp, January 27, 1945, the German camp commander instructed that only the Jewish POWs were to present themselves at roll call the next morning.
Sergeant Edmonds and his men knew of the German atrocities against Jews and believed that following the instruction would mean certain death for the Jewish soldiers. Edmonds told the men—Jews and non-Jews alike—that they would stand together. He said "We are not going to do that, we are all falling out." The next morning all 1,275 American soldiers appeared at roll call. The camp commander shouted, "They cannot all be Jews!" To which Edmonds brazenly pronounced, "We are all Jews here."
The German commander rushed up to Edmonds, placed his pistol against his head and demanded that Edmonds identify the Jewish soldiers under his command, threatening, "You will order the Jews to step forward or I will shoot you on the spot." Edmonds responded, "If you shoot me, you will have to shoot all of us, and after the war you will be tried for war crimes." The German backed down, turned around, and walked away.
Edmonds' actions that day are credited with saving 200 Jewish-American soldiers from possible death. Edmonds survived 100 days of captivity and returned home after the war, but kept the event at the POW camp to himself.

The story remained untold for long after Edmonds' death in 1985. It was years later when one of Roddie's granddaughters decided to create a video about her family as a college project, that Roddie's widow gave her a diary that Roddie had kept during his imprisonment at Stalag IXA.
Pastor Chris Edmonds read through his father's diary and also decided to google his father's name thinking it would lead him to a website with Army records. Instead, the first link was to a New York Times article titled, "Richard Nixon's Search for a New York Home." Perplexed by this result, Pastor Edmonds read an account of New York City attorney Lester Tanner's sale of his home to the former president. The article also mentioned Tanner's background as a World War II veteran and quoted him as crediting Master Sergeant Roddie Edmonds with saving his life. When Pastor Edmonds and Tanner finally met, Edmonds heard first hand of how his father had saved the lives of the Jewish POWs, and how this one act of incredible bravery had become a lifelong inspiration for fellow POWs who witnessed the event. In the diary, Pastor Edmonds also found the names and addresses of soldiers who were at the POW camp with his father, who corroborated the story and provided witness statements to Yad Vashem.

On February 10, 2015, Yad Vashem recognized Master Sergeant Roddie Edmonds as Righteous Among the Nations. In January 2016, 71 years after that fateful day in the German POW camp, in a ceremony attended by Israeli Ambassador to the United States Ron Dermer, Yad Vashem Council Chairman, Rabbi Lau and President Barack Obama, Yad Vashem named Master Sergeant Roddie Edmonds as Righteous Among the Nations, the highest honor given to non-Jews who risked their lives to save Jews during the Holocaust. Edmonds became the fifth American to be honored by Yad Vashem, the first and only US soldier and the first of the Righteous Among the Nations to save American Jews. Sergeant Edmonds has also earned the Medal of Valor from the Simon Wiesenthal Center and the Yehi-Or Award from the Jewish Foundation for the Righteous.
Wednesday, May 1 at 7:00pm (Erev Yom HaShoah) 2019
Sir Nicholas Winton from Great Britain
This year on Wednesday evening May 1, 2019 at 7 pm, Adas Israel Congregation will honor the memory of Sir Nicholas Winton (1909-2015) from Great Britain. Sir Nicholas was a 29-year-old stockbroker who in 1939 organized trains out of Prague to secure the safe passage of children, most of them Jewish, from Czechoslovakia to England at the dawn of World War II in an operation later known as the Czech Kindertransport. Winton raised money to fund the transports of the children and also the 50 pound per child guarantee demanded by the British government to fund the children's eventual return ticket. He also had to find British families willing to care for the refugee children. In all, Winton was able to bring 669 children out of Czechoslovakia to England. The world found out about his work over 50 years later, in 1988, and the British press dubbed him the "British Schindler". Taking into the account the children and grandchildren of those he saved, there are estimated to be around 6,000 people in the world today who owe him their lives. To this day they call themselves 'Nicky's children'. Winton has received many honors, including a knighthood from Queen Elizabeth II in 2003 for his services to humanity. He died on July 1, 2015, at the age of 106.
Garden of the Righteous Program - Live Transcription Access
Provided by the Adas Israel Inclusion Task Force Click for the Link
This year's Garden of The Righteous program will be transcribed via CART (Communication Access Real-Time Translation) services. You can access the live transcription via your phone, tablet or laptop at the event itself (or from anywhere else) using this link. Please note: the live text feed will not be projected onto a screen at the event—the only way to read the text is on your own device. We are piloting this service and welcome your input following the event. Please email inclusion@adasisrael.org with any feedback or questions. Thank you to Adas Israel's Inclusion Task Force for supporting this pilot and to Vital Signs LLC for providing this service.
2018
Captain Gustav Schroeder of Germany
On Sunday April 15, 2018, Adas Israel Congregation will honor the memory of Captain Gustav Schroeder from Germany. Gustav Schroeder was captain of the fateful voyage of the St. Louis, which, in May 1939, set sail from Hamburg to the Americas with more than 900 Jewish passengers aboard. After crossing the Atlantic, the fugitives from Nazi Germany - many of whom already had been arrested once in the wake of Kristallnacht in November 1938 - were denied entry by both the Cuban and the American authorities. The pariah ship was forced to turn back to Europe. However, instead of heading straight back to a German harbor, Captain Schroeder stalled on the voyage back, refusing to return to Germany until he had found a safe haven for his Jewish passengers. He even went so far as to develop a contingency plan by which the St. Louis was to be spectacularly shipwrecked near the English coast in order to force the British authorities to take some action. Finally, however, a solution was found, and the passengers were allowed to disembark in Antwerp, after Belgium, Great Britain, and France had come to an agreement with the American Jewish Joint Distribution Committee to each take in a certain number of people. Had the St. Louis headed straight back to a German harbor, its Jewish passengers would have all certainly ended up in Nazi concentration camps. It was, thus, primarily thanks to Captain Schroeder's courage and determination not to abandon his Jewish passengers to their fate that many of them were able to escape the Nazi death trap. On March 11, 1993, Yad Vashem posthumously recognized Captain Gustav Schroeder as Righteous Among the Nations. (www.yadvashem.org)
Adas Israel Garden of the Righteous is a beautiful reminder of numerous acts of decency and daring performed by many non-Jews in the midst of one of the most tragic moments in human history. This program, initiated in 1992 by Rabbi Jeffrey A. Wohlberg to honor non-Jews who risked their lives to save Jews during the Holocaust, is supported in part by Peter Dreyer Memorial Fund, Scott Dreyer Fund, and The Ryna & Melvin Cohen Senior Rabbi Program Fund. entire community is cordially invited for this moving event. We look forward to seeing you there.
2017
The Veseli Family – Vesel and Fatima and their sons: Refik, Hamid and Xhemal Veseli
On Sunday April 23, Adas Israel Congregation will honor the Veseli Family from Albania: Vesel and Fatima and their sons: Refik, Hamid and Xhemal and their daughters: Hyrije and Deshire. The Veseli Family sheltered the families of Moshe Mandil and Josef Ben Joseph from Yugoslavia. Albania was the only country in Nazi-occupied Europe that ended World War II with more Jews living in it than before the war started. For the Veseli Family and for all Albanians, protecting Jews during the Holocaust was part of "besa," which literally means "to keep the promise". This Albanian code of honor requires that individuals protect anyone in danger regardless of religious or political affiliation, to extend hospitality and to treat them as part of their family.

The Adas Israel Garden of the Righteous is a beautiful reminder of numerous acts of decency and daring performed by many non-Jews in the midst of one of the most tragic moments in human history. The entire community is cordially invited for this moving event.
We are pleased to present Raif Hyseni and Merita Halili as performers at this year's Garden of the Righteous ceremony. Raif Hyseni is the most famous Albanian accordion player. He graduated from Caldwell College in 1999, as well as Master in Music from Montclair State University in New Jersey, where he is now an Adjunct Professor and teaches Albanian Ensemble. Merita Halili is one of Albania's top performers. Born in the capital city of Tirane, her nationwide debut came in 1983, at the age 16, when she sang at The National Folk Festival in the town of Gjirokaster. Soon afterwards she began to perform on Albanian Radio and Television and as a soloist with the State Ensemble for Folk Songs and Dances.
2016
Ioakim Alexopoulos
Adas Israel Congregation honored the memory of His Eminence, Ioachim Alexopoulos (1873–1959), Greek Orthodox Bishop of Volos for Garden of the Righteous this year. His courage and faith during World War II were little known until his posthumous recognition in 1997 by the State of Israel, for saving the lives of 700 people who were hidden by the residents of the villages of Mount Pelion. When the Nazis asked him to hand over the list of Jewish residents, he refused, answering, "I am a Jew." Honored as "Righteous Among the Nations," Father Alexopoulos's name is inscribed in the Holocaust Museum here in Washington and entered on the Righteous Honor Wall at Yad Vashem in Jerusalem.
2015
Aristides de Sousa Mendes
Aristides de Sousa Mendes (1885-1954) was an unlikely hero. Born into an aristocratic family, he attended a prestigious university and received a degree in law. After a few years of teaching, he went into the diplomatic corps. Mendes served in many countries, including the United States, Brazil, Zanzibar, Spain and Belgium. Mendes was the Portuguese Consul-General in Bordeaux, France, when the Germans invaded in 1940. Hundreds of thousands of refugees fled to the French-Spanish border hoping to get Portuguese transit visas for passage through Spain to neutral Portugal. Portugal's fascist dictator, Antonio Salazar, ordered his embassies and diplomats not to issue visas to those seeking temporary shelter in Portugal, especially the Jews. Sousa Mendes, a devout Christian, saw the terrible plight of the refugees. When he received a delegation of refugees at the consulate headed by Rabbi Haim Kruger, Mendes decided to disobey his government's explicit instruction and promised transit visas to everyone in need. In June 1940, Mendes issued some 30,000 visas, including about 10,000 to Jews. This heroic feat was characterized by renowned Israeli Holocaust historian Yehuda Bauer as "perhaps the largest rescue action by a single individual during the Holocaust." For his actions, the Portuguese government fired Mendes and he never worked again. Aristides de Sousa Mendes died in poverty in Lisbon on April 3, 1954. On October 18, 1966, Aristides de Sousa Mendes was posthumously honored by Yad Vashem as "Righteous Among the Nations."
2014
Alicja Szczepaniak Schnepf & Natalia Szczepaniak
On Sunday morning, April 27, 2014 at 10am, Adas Israel Congregation honored Mrs. Alicja Schnepf Szczepaniak and Natalia Szczepaniak from Poland (mother and grandmother of the current U.S. Polish Ambassador). Alicja Szczepaniak Schnepf, along with her younger sister and her mother took in several Jewish families in their one-bedroom apartment, often deceiving their neighbors while risking their own lives. Frequently Mrs. Schnepf had to provide distractions for the German authorities or cover-up for noises or other signs of the many people living in their apartment. Alicja Schnepf was honored by Yad Vashem as Righteous Among the Nations on November 13, 1991.
2013
Irena Sendler
Mrs. Sendler, a Roman Catholic social worker, who died at the age of 98, risked her life and survived torture to help save thousands of Jewish children in Poland. By 1942, when the deadly intentions of the Nazis had become clear, Sendler joined a Polish underground organization, Zegota. Working with a group of volunteers, the majority of them women, they began rescuing Jewish children by smuggling them out of the Warsaw ghetto. The children were given false identities and placed with Catholic families, in orphanages and convents. In the hope of later reuniting the children with their birth parents, Sendler wrote the children's names and new identities and addresses in code, on slips of paper, and buried them in jars in a neighbor's back yard. That hope never came true; most of the parents died in concentration camps. In 1965 Irena Sendler was recognized by Yad Vashem as "Righteous Among the Nations," was made an honorary citizen of Israel in 1991 and in 2003 was awarded Poland's highest distinction, the Order of White Eagle.Irena Sendler's achievements went largely unnoticed for many years until the story was uncovered in 1999 by four young students from Kansas who wrote a play titled, "Life in a Jar", about the heroic actions of Irena Sendler. Adas Israel was honored to host a performance of "Life in a Jar" as part of our Garden of the Righteous ceremony.
2012
Dr. Tina Strobos
Dr. Strobos, who saved Jews during the Holocaust, was born in Amsterdam in 1920 and was a medical student there when the Germans invaded Holland in May 1940. From the first days of the Nazi invasion, Dr. Strobos and her family, who were not Jewish, became actively involved in hiding Jews, providing them food, shelter, and forged documents. Strobos, together with her mother and grandmother, sheltered over 100 Jewish refugees—four or five at a time—at their boarding house, which was only a ten-minute walk from Anne Frank's house in Amsterdam.
2011
José Arturo Castellanos
José Arturo Castellanos, a diplomat from El Salvador, was this year's Garden of the Righteous honoree. Mr. Castellanos was El Salvador's consul in Geneva during the war, when he approved about 40,000 passports and birth certificates for Jews from different countries so they would not be caught by the Nazis and sent to death camps. José Arturo Castellanos, who died in 1977 at age 83, was honored on July 15, 2010 by the Embassy of El Salvador in Israel and the Yad Vashem Holocaust Museum as a "Righteous Gentile" for saving thousands of Jews during World War II. See Channel 9's coverage of this event.
2010
Mr. Hiram Bingham
Our 19th Garden of the Righteous Honoree is Mr. Hiram (Harry) Bingham, IV of The United States. Mr. Bingham entered the US diplomatic service and in 1939 was posted to Marseilles, France as American Vice-Consul. He found the policy of not granting visas to Jews immoral and, risking his career, did all in his power to undermine it. In defiance of his bosses in Washington, he granted over 2,500 US visas to Jewish and other refugees, including the artists Marc Chagall and Max Ernst and the family of the writer Thomas Mann. He also sheltered Jews in his Marseilles home and obtained forged identity papers to help Jews in their dangerous journeys across Europe. He worked with the French underground to smuggle Jews out of France into Spain or across the Mediterranean and even contributed to their expenses out of his own pocket. In 1941, Washington lost patience with him and he was sent to Argentina, where later he continued to annoy his superiors by reporting on the movements of Nazis there. Eventually, he was forced out of the American diplomatic service completely. He died almost penniless in 1988. Little was known of his extraordinary activities until one of his children found some letters in his belongings after his death. He has now been honored by many groups and organizations including the United Nations and the State of Israel, but for over fifty years, the U.S. State Department resisted any attempt to honor Bingham. After his death, he has been officially recognized as a hero and in 2002 Secretary of State Colin Powell gave a posthumous award for "constructive dissent" to Hiram Bingham IV.
2009
Father Bruno (Henri Reynders) and Mr. Georges Ranson
Our 18th honorees were Mr. Georges Ranson and Father Bruno (Henri Reynders) of Belgium. Industrialist and resistance fighter Georges Ranson (pictured far left) provided jobs, false identification cards and a place to live in his factory for Jews during the German occupation of Belgium. He also took Jewish children, one of whom was Flora Singer, z"l (a resident of Potomac, MD), to an orphanage where they made contact with Father Bruno. Father Bruno, a Benedictine Monk, presided over the lives of between 300 and 400 Jews, most of them children. For months after the war Father Bruno searched for surviving parents to reconnect them with their children who had been under his care. Both Georges Ranson and Father Bruno have been recognized by Yad Vashem as one of the "Righteous Among the Nations." Georgette Ranson and Yves Pierseaux (Ranson's daughter and grandson) will be here to represent him.
2008
Khaled Abdul-Wahab
Our 17th honoree, Khaled Abdul-Wahab (1911-1997) of Tunisia, is likely to become the first Arab honored as a Righteous Gentile by Yad Vashem. In 1942, the Germans arrived in Mahdia, Tunisia and expelled Jewish families from their homes in order to transform them into barracks. Mr. Abdul-Wahab determined that he would save the Boukris and Ussan families. Making many trips throughout the night, Abdul-Wahab managed to move the entire family to his farm. The Boukris' left the farm once a week to visit a Jewish owned farm four miles away. Thus according to the testimony, Abdul-Wahad rescued two-dozen Jews. Abdul-Wahab visited the Boukris and the Ussan families almost every day while they remained on the farm. They lived there for four months before the British took Mahdia in April 1943.
2007
Heinz Drossel
Honoring Heinz Drossel of Germany. Heinz Drossel, Adas Israel's 16th Garden of the Righteous Honoree, was a German officer during WWII. The son of ardent anti-Nazis, Mr. Drossel was forced to serve in the German army but continued to refuse to join the Nazi party. Mr. Drossel fought first in the campaign against France in 1940, then from 1941 to 1945 against Russia. In the summer of 1941 Heinz Drossel's unit captured a Russian officer. His commander told him to take the prisoner back to the battalion where Mr. Drossel knew that the prisoner would be shot; rather, he took the prisoner in the opposite direction. Mr. Drossel, who speaks Russian, urged the officer to go into the woods, sending him off towards the Russian troops. While on leave in 1942, Mr. Drossel was walking through Berlin when he noticed a woman by the railing of a bridge who, seeing his uniform, grew increasingly agitated at his approach. As she tried to leap from the bridge, Mr. Drossel caught her and soon discovered that she was Jewish. He calmed the woman, took her to his apartment, and gave her money so that she could find a safe place to stay. In 1945 Mr. Drossel was later reunited with this women, Marianne, and they married in 1946. Also in 1945, Mr. Drossel helped four of his neighbors who had been living with forged papers (Ernst and Margot Fontheim, and Jack and Lucie Hass) to find shelter when they were in immediate danger of being reported to the authorities. The Gestapo came to look for them the day after they relocated. In May 2000, Yad Vashem honored Mr. Drossel, as did the German government in 2001, awarding him its highest civilian medal. Mr. Drossel, of blessed memory, passed away in April of 2008.
2006
Mr. Jaap Penraat
Our 2006 honoree, Mr. Jaap Penraat, grew up in Amsterdam, Holland and became active in the underground there during the war. After the Nazis invaded Holland, Mr. Penraat and his friends began forging identification documents, which helped hundreds of Jews evade arrest. Because of his counterfeiting activities, Mr. Penraat was jailed for two months. Upon being released, he learned that Dutch Jews were being deported to concentration camps. Mr. Penraat, an architect by training, forged a letter from a German construction company authorizing him to bring workers to France to help build bunkers on the Atlantic Wall. He also created fake travel permits and non-Jewish ID cards. After "hiring" Jews to work on the project, Mr. Penraat and his friends began transporting them to France, where they would link up with members of the underground who would take them into neutral Spain. In this manner between 1943 and 1944, Mr. Penraat rescued 406 Jews. The Dutch government awarded Jaap Penraat a war pension in 1974 and honored him again in 1981 with the Cross of Resistance. On June 11, 1998, at a ceremony at the Israeli Consulate in New York, Mr. Penraat was awarded the designation Righteous Among the Nations by Yad Vashem. His name is engraved on the Honor Wall in Yad Vashem's Garden of the Righteous in Jerusalem. In 2000, Mr. Penraat's story became the subject of a children's book, Forging Freedom: A True Story of Heroism During the Holocaust. The book was written and illustrated by Mr. Penraat's friend and neighbor, Hudson Talbott. Mr. Penraat, of blessed memory, passed away in June of 2006.
2005
Dr. Magdelena Stroe
Dr. Magdelena Stroe of Romania was the 2005 Garden of the Righteous Honoree. Participating in the ceremony were representatives of the Romanian and Israeli Embassies, the Adas Israel Clergy, and children from our Melvin Gelman Religious School. Dr. Stroe was honored by Yad Vashem through the Embassy of Israel in Bucharest which granted her the title "The Righteous Among the Nations" for risking her life to save Jews during the Holocaust. In 1944 in the city of Cluj, Magdelena Stroe saved her Jewish friend Hanna Kende. When Hungary was seized by Germany, ghettos were established and Jews were expelled. Magdelena, though she did not know about the existence of death camps in Auschwitz, knew that Hanna was in danger and gave her friend her own identity documents, saving her life. It was Hanna Kende who requested the Yad Vashem Institute to acknowledge Magdelena Stroe's heroism.
2004
Mrs. Giuliana Lestini
The 2004 Garden of the Righteous honoree, Mrs. Giuliana Lestini, is an extraordinary woman from Rome, Italy. Mrs. Lestini assisted her father in anti-fascist activities during World War II. Her father, Pietro Lestini, recognized as "Righteous" as well, was an anti-fascist and worked during the Nazi occupation for the Azione Cattolica (Catholic Action), an organization which provided aid to evacuees, to Italian draft dodgers (after September 8, 1943), to allied soldiers, and to Jews. Mr. Lestini, who occupied an office in St. Gioacchino's Church in Rome, had a "loft" built in the ceiling of the church. For seven months, forty men, of whom ten were Jewish, were hidden there and were helped by Mrs. Lestini and her father. The wives and the mothers of those Jews were hidden in a convent not far from the Church. Mrs. Lestini and her family hosted them at their home. Giuliana Lestini's book, Roma-Israele-Roma, published in Italian discusses her experience. She was interviewed by Yad Vashem in April 1998 when she traveled there on the occasion of the 50th anniversary of the founding of the State of Israel. Mrs. Lestini also provided a 6-hour video testimony to the "Survivors of the Shoah Visual History Foundation." Mrs. Lestini, of blessed memory, passed away on September 30, 2010.
2003
Gauvin Family
Adas Israel honored the Gauvin Family from France in the 2003 Garden of the Righteous ceremony. Mr. Robert Gauvin, one of the children of Louis Gauvin, represented his family and Leon Epsteinas (related to Adas Israel member, Jackie Levinson) was present representing his family who was saved along with twenty other Jewish families saved by the Gauvin Family. Many thousands of Jews of France did not survive the war and were in fact handed over to the Nazis by the French government. The heroism of the Gauvin family is a story of distinction, which we are honored and compelled to share.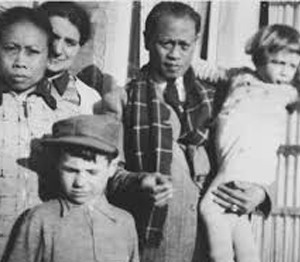 2002
Tole Madna and Mima Saina
In 2002, the congregation honored Tole Madna and Mima Saina from the Netherlands. Mr. Rob Madna, one of the children of Mr. Tole Madna, represented his family and was honored with a plaque in our Garden of the Righteous. Tole Madna and Mima Saina saved Dr. Alfred Munzer, a member of the Washington Jewish community and a member of Adas Israel. As an infant in Holland in 1941, Dr. Munzer's parents hid in a hospital, but were rounded up by the Nazis. His father was killed, but his mother survived. His two sisters, ages 6 and 8, were hidden with a different family, but were denounced and died in Auschwitz in 1944. Alfred was fortunate to have been protected by the Madna Family, who kept him together with their three children. Their housekeeper, Mima Saina, walked miles every day to find milk for him and guarded him with her life. Alfred and his mother were reunited in 1945 when he was 3 ½ years old. Al Munzer never asked "Papa Madna" why he and Mima risked their lives to save his. He knows that they had the ability to hear and answer a human need, which is what it means to be righteous. Mr. Rob Madna, of blessed memory, passed away in 2003.
2001
Bruno Rozentals
The 2001 honoree was Bruno Rozentals from Latvia. In early 1942, 16-year-old Bruno Rozentals, his 13-year-old brother, their father and stepmother began to rescue Jewish people. By the end of World War II, three years later, they had saved 36 Jews. The Rozentals hid and supplied food to 36 Jews who came from the Ghetto and killing camps. They hid them in a series of rooms and tunnels carved beneath their house and barn, and at the farm of neighbors they recruited to help. Every Jew taken in by Bruno's family survived the war. Aside from the obvious Jewish content in teaching children, as well as adult members of the congregation, about the history of the Jews during the Holocaust, many Jewish values are associated with this undertaking. These include remembrance, humaneness, compassion, righteousness, overcoming indifference, brotherhood, honoring others, giving thanks, and choosing life. Equally noteworthy is that this annual event teaches our people's history to our children in a way that emphasizes respect, honor and good deeds, while de-emphasizing the fears often associated with the Holocaust, especially in trying to teach the subject to younger children.
2000
Vasilis Persedis
In 2000, Vasilis Persedis from Greece was the Garden of the Righteous Honoree. Mr. Persedis, who lives in Greece, was joined by his wife and by Isaac Dostis, the son of one of the families he helped to rescue. Mr. Persedis helped many Jews in Greece escape from the Nazis by guiding them over the mountains to a port where they were taken to safety by boat. Vasilis Perseides, of blessed memory, died in July 2004.
1999
Magdalena Horvath
Magdalena Horvath from Budapest, Hungary was the 1999 honoree. Married to Erny Szendrody, a Jewish man, Magdalena risked her own life and that of her two small children to hide many members of her husband's family. When her mother-in-law received her notice to report for deportation, Magdalena asked her own mother for her papers. Her mother, afraid of the consequences for helping a Jew refused. Magdalena, feeling she had no other choice, took her mother's papers and gave them to her mother-in-law. She then took her mother-in-law to an apartment in the mountains where she lived as a gentile until the end of the war. In the last months of the war, when the situation became extremely dangerous, 28 Jews were hiding in Magdalena's small apartment. Magdalena and Erny came to the United States in 1956 after the Hungarian revolution. Her husband died years ago. Magdalena, of blessed memory, passed away in August 2004.
1998
Sabina Kazimierczyk and her daughter Maria Jankowski
In 1998 we honored two extraordinary women from Poland, Sabina Kazimierczyk and her daughter Maria Jankowski, who, during the course of the Holocaust, risked their lives by hiding Felix Zandman and four other Jews for 17 months under the floor of their home. In gratitude, Dr. Zandman, now a resident of Westchester, Pennsylvania, brought his rescuers to the United States and was present that morning to personally thank them and to speak on their behalf.
1997
Mr. Eugene de Thassy
Mr. Eugene de Thassy of Hungary, our 1997 honoree, spent the years of the war attempting to rescue Jews from certain death. Among other heroic deeds, he risked his life in Budapest, Hungary, trying to save a doctor and his wife, who unfortunately eventually perished at Auschwitz. He rescued another family from the Gestapo by hiding them in a convent and by enrolling their son in a boarding school as his own son. After the war, Mr. de Thassy settled in the United States where he has worked for the Voice of America and Radio Free Europe. Mr. de Thassy, of blessed memory, passed away in April 2008.
1996
Dr. Lillian Gaffney and Ms. Germaine Belline
In 1996, Dr. Lillian Gaffney and Ms. Germaine Belline were our honorees. A mother and daughter who now live in New Jersey, during the war Germaine Belline and Liliane Gaffney lived in Belgium where together they saved more than 30 lives.
1995
Dr. Marion Pritchard
Dr. Marion Pritchard was the 1995 Garden of the Righteous honoree. Dr. Pritchard, a practicing psychotherapist in Vermont, is a native of the Netherlands, and has been recognized by The State of Israel at Yad Vashem, the Memorial to the Six Million, as well as by her own state of Vermont. During World War II she not only hid Jews from the Nazi's, but shot a German soldier in order to protect them.
1994
Raoul Wallenberg
In 1994, the Garden of the Righteous program honored the memory of Raoul Wallenbergand also commemorated the 50th anniversary of the destruction of Hungarian Jewish community. The program that year featured the participation of the youth of Adas Israel and included participation of representatives of the Embassy of Sweden and the Embassy of Israel. Dr. Michael Berenbaum of the U.S. Holocaust Memorial Museum was the keynote speaker.
1993
Preben Munch Nielsen
The 1993 ceremony, enhanced by scheduling of the dedication and opening of the Holocaust Museum in Washington, honored Preben Munch-Nielsen of Copenhagen. Fifty years earlier, as a high school student, Mr. Munch-Nielsen was among a number of Danes who risked their lives to ferry their Jewish neighbors in small fishing boats across German-patrolled waters to sanctuary in Sweden. As a result of their heroic efforts, 7,000 Danish Jews (more than 90% of that country's Jewish community) were rescued. Coincidentally, the small boat actually piloted by Mr. Munch-Nielsen was located and donated to the Holocaust Museum as a permanent exhibit. Mr. and Mrs. Munch-Nielsen returned in subsequent years to honor other honorees. Mr. Munch-Nielson, of blessed memory, passed away in 2002.
1992
Dr. Jan Karski
The first year's honoree, in the spring of 1992, was Dr. Jan Karski, Professor of Political Science at Georgetown University. A former Polish diplomat who escaped from capture by both the Russians and the Gestapo, Dr. Karski met during the war with Allied heads of state, alerting them to the condition of European Jewry and urging action by the Allies. The Government of Israel previously honored Dr. Karski, whose efforts have been acknowledged throughout the world. Mrs. Karski, a survivor and well-known dancer, accompanied her husband to the ceremony and was appropriately recognized. Both Mr. and Mrs. Karski are now deceased.
Mon, December 11 2023 28 Kislev 5784