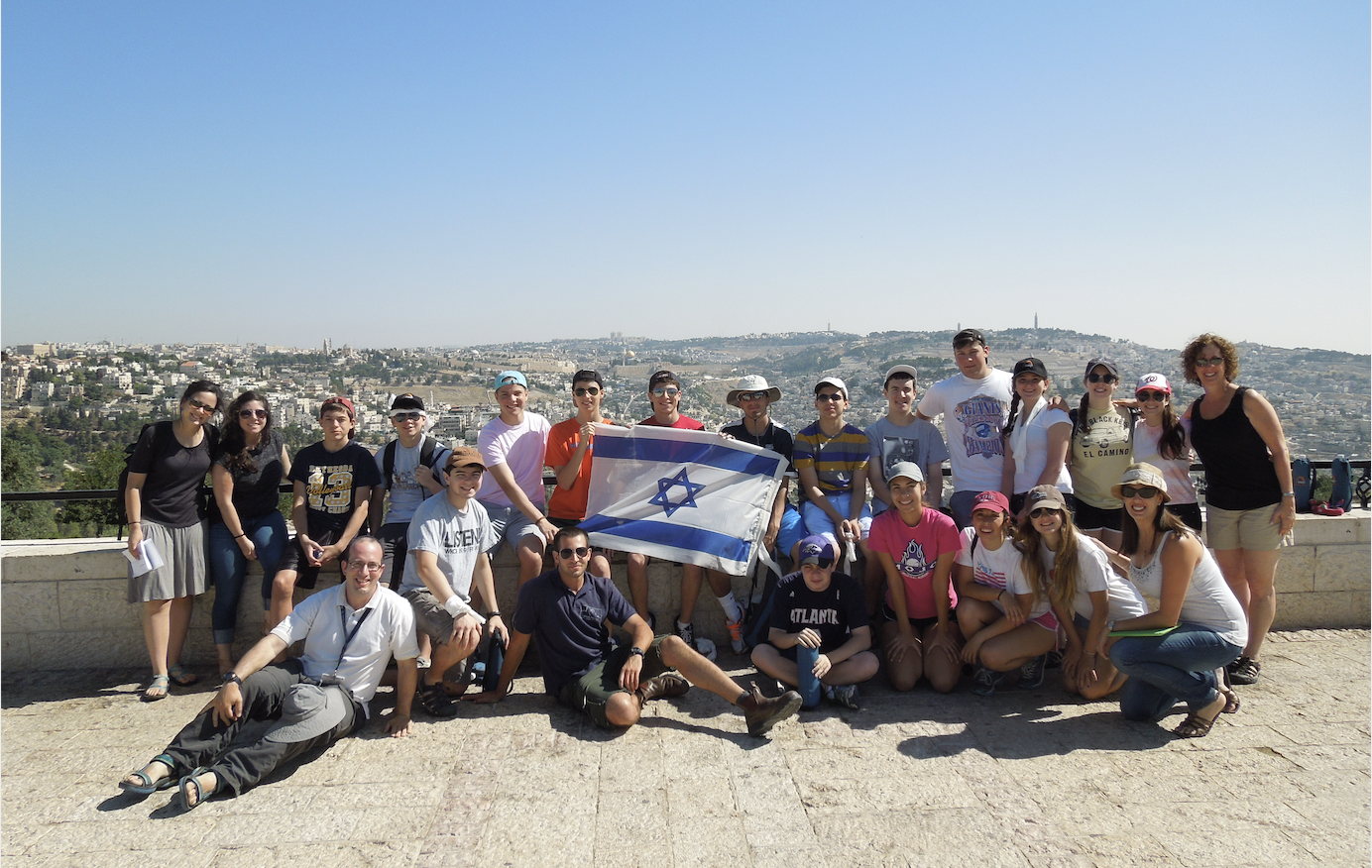 A Message From The Israel Engagement Committee
Affirming our Commitment to Israel and the World
Upcoming Events | Video Archives
We are very excited to share with you some plans in the making to affirm our commitment to Israel through a new Israel Engagement Initiative at Adas—one where we can live up to our congregation's potential as a leader in the Jewish world. We can and must find ways to model a new way of bringing disparate views and narratives together, where we can inspire others to live not at arm's length from Israel, but together—with all our differences—in a relationship of love and respect for one another and for Israel.
Together we'll learn, listen, discuss, grow, experiment and experience—all in service of deepening our individual and congregational relationships with Israel.
L'Shalom,
Rabbis Aaron Alexander and Lauren Holtzblatt, Senior Rabbis
Foodscape (BAMAH - connecting communities through Israeli Culture)
You don't want to miss this 3,000 square foot representation of the Land of Israel in our parking lot. Walk the land, smell the flora from each region, taste its unique flavor, connect to our history. Join us for a guided tour, or just explore this unique artistic treasure.
Foodscape is more than an art exhibit, it's a unique chance to embark on a sensory journey through the diverse and rich ecosystem of Israel, all while staying in Washington, DC.
Created by expert Israeli artists, this traveling multi-sensory experience invites participants to explore the diverse flavors, sights, and aromas of Israel, from Haifa to Eilat. Wander through 3,000 square feet of agricultural "fields" showcasing the soil, herbs, and wildflowers of Israel.
Sisterhood Closing Event: Celebrating Israeli Women, Past and Present With Dr. Lauren B. Strauss
The State of Israel – and the pre-State Yishuv – boasts a long list of accomplished, path-breaking women: teachers, soldiers, lawyers, scientists, performers, and more. Their stories form an integral part of the Jewish narrative, but their status throughout Israel's history is often a mirror that reflects tensions between state prerogatives and individual identity.
All are welcome to join us for our closing event, when Dr. Lauren B. Strauss will explore the history of women in Israel. A panel discussion will follow, featuring Israeli women leaders in various fields, including medicine and science, the military, and food and culture. Dr. Strauss and the panel will survey different eras and sectors of society in Israel and celebrate several incredible women.
Brunch, featuring Israeli food, will be served beginning at 10:30 am.
Book Club with Rabbi Aaron Alexander (Virtual)
Book Club is held every 2nd Tuesday of the month (3rd tuesday in April due to Passover) from 12pm-1pm
Click Here to Register
11/8 — Jerusalem 1913: The Origins of the Arab/Israeli Conflict (Amy Marcus)
1/10 — Israel: A Simple Guide to the Most Misunderstood Country on Earth (Noa Tishby)
2/14 — Can We Talk About Israel?: A Guide for the Curious, Confused, and Conflicted (Daniel Sokatch)
3/14 — In This Place Together: A Palestinian's Journey To Collective Liberation (Penina Eilberg Schwartz with Sulaiman Khatib)
4/18 — Who By Fire: Leonard Cohen in the Sinai (Matti Friedman)
5/9 — To The End of The Land (David Grossman)
6/20 — Of Noble Origins (Sahar Khalifeh)
Over the course of the year we'll explore, discuss, and partner in understanding foundational pieces of literature, philosophy, analysis and narrative covering a broad range of authors, from Early Zionists, to Palestinian storytellers, & modern day scholars.
How do we love Israel? with Rabbi Shira Stutman
In person Wednesdays at 7pm-8:30pm
11/30, 12/14, 1/4 , 1/18, 2/1, 2/15, 3/1
Click Here to Register and Learn More
This group will be formed around individuals who have lots of Israel experience, knowledge and passion, but want to engage productively with those who embody deeply different narratives. Group size limited.
Crossroads and Connections: Collections of the National Library of Israel
Home to the intellectual and cultural treasures of Israel and the Jewish people worldwide, the National Library of Israel (NLI) has recently embarked on a visionary journey of renewal, including a wide range of initiatives to expand its collections and make the Library's resources available to audiences across the globe. As part of this initiative, and in celebration of Israel's 75th anniversary year, Dr. Raquel Ukeles will share highlights from 101 Treasures of the National Library of Israel, a new book published by NLI. Treasures selected from this book are part of a traveling exhibition of high quality images that represent a unique story of cultural and religious creativity in Israel both historically and today. Join Dr. Ukeles as she takes us on a journey through these remarkable treasures. Dr.
Raquel Ukeles is the Head of Collections at the National Library of Israel. She is responsible for the overall development of all the Library's collections and for digital, cultural, and educational initiatives based on the collections. Holding a doctorate from Harvard University with a concentration on Islamic and Jewish studies, Raquel has published and taught on a wide array of subjects related to comparative Jewish and Islamic traditions and on historical currents that shape Israeli society.
This program is presented in special partnership with The Jewish Federation of Greater Washington - Israel at 75
Yom Hazikaron and Yom Haatzmaut at Adas:
Stories of '48
Adas Israel will be hosting a Beit Cafe evening of Israel Tastings, music/singing and personal reflections from our members who will present–in storyform–their diverse memories of 1948 and the critical years that followed. This event will also be livestreamed to our website here.

Join Adas Israel for a special evening of remembrance and celebration as we commemorate Yom Hazikaron and Yom Haatzmaut, two important days in the history of Israel.
Netanyahu Redux: Causes and Implications of Israel's Election with Rob Satloff and Rabbi Holtzblatt
Click Here to Watch the Full Zoom Recording
Rabbi Holtzblatt engages Rob Satloff, Executive Director of The Washington Institute for Near East Policy in a conversation about the Israeli Election (2022). What led to this moment? Why does it matter? What's next? How might we, as an American Jewish community, process these events? And, what could it mean for our communities?
Gadeer Kamal Mreeh: "The Incredible Potential of Israel's Rich Mosaic and Complex Society"
Gadeer Kamal Mreeh discusses Israeli society from her own authentic point of view as an Israeli Druze woman, specifically the social resilience, uniqueness, potentials, and challenges. In April 2019, Gadeer Kamal Mreeh made history by being elected into the Knesset as a member of the Blue and White party, as the first Druze woman. In 2021, Kamal Mreeh became the Jewish Agency's first Druze emissary to the U.S. Based in Washington D.C. Join us on Shavuot as we welcome Kamal-Mreeh to Adas as our keynote speaker.
Can the Trump Peace Plan Lead to Peace?
with Dr. Robert Satloff
On February 5th we welcomed Dr. Robert Satloff, Executive Director of The Washington Institute for Near East Policy, to the Biran Beit Midrash.
Click the video on the left for a playback of his talk on the Trump Peace Plan. "Three years in the making, President Trump has unveiled his blueprint for Israeli-Palestinian peace. At its core, the plan envisions Israel retaining all of its existing settlements and controlling about 30 percent of the West Bank, with the Palestinians potentially creating an independent, demilitarized state on the balance of the land."
---
Participate in Upcoming Israel Events
New Dates to Be Announced Shortly
The Adas Israel Israel Action Committee has planned an array of offerings for this spring. We will delve into three core aspects of Israel- Land (Eretz), People (Am) and State (Medinah), as well as celebrate and mark essential days on the calendar with meaning and music.

Tue, June 6 2023 17 Sivan 5783