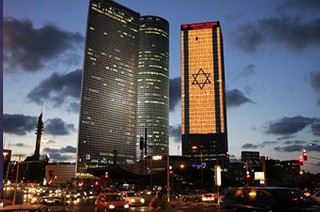 A Message From The Israel Engagement Committee
Affirming our Commitment to Israel and the World
We are very excited to share with you some plans in the making to affirm our commitment to Israel through a new Israel Engagement Initiative at Adas—one where we can live up to our congregation's potential as a leader in the Jewish world. We can and must find ways to model a new way of bringing disparate views and narratives together, where we can inspire others to live not at arm's length from Israel, but together—with all our differences—in a relationship of love and respect for one another and for Israel.
Together we'll learn, listen, discuss, grow, experiment and experience—all in service of deepening our individual and congregational relationships with Israel.
L'Shalom,
Rabbis Aaron Alexander and Lauren Holtzblatt, Senior Rabbis
Israel Engagement
---
Participate in Upcoming Israel Events & Policy Conferences in DC!
Adas Israel's Israel Engagement Committee encourages all members to deepen their involvement with Israel. In the coming months, three leading American Jewish organizations concerned with Israel policy will be having major conferences right here in DC. Take these opportunities to learn and act – whatever your perspective or background!
Aipac Policy Conference
Sunday, March 24 - Tuesday March 26 Register Here
The 2019 AIPAC Policy Conference will be held Sunday, March 24th – Tuesday, March 26th at the Walter E. Washington Convention Center in Washington, D.C. This is between 7th and 9th Streets and N Street and New York Avenue in Washington, D.C. Telephone: 202-249-3000 www.dcconvention.com. Rabbi Holtzblatt will be attending.
The AIPAC Policy Conference is the largest gathering of America's pro-Israel community. Through demonstrations of groundbreaking Israeli innovations, keynote speeches by American and Israeli leaders, inspiring moments on stage, and intimate educational sessions Policy Conference delegates experience the full scale of pro-Israel activism in three powerful days.
3 Weddings and a Statement
A Celebration of Love, Love for Israel, & Freedom of Choice in Marriage
Tuesday, March 26 @ 6:30pm Learn More and Register
Washington Hebrew Congregation
Join us for a celebration of love, love for Israel, and commitment to freedom of choice in marriage in Israel. Three Weddings and a Statement will be a quiet, loving protest, to foster the availability of legally recognized Jewish marriage to all Jews in Israel, to attain for all Jews in Israel a right to be married lawfully in their homeland. Three Jewish Israeli couples who cannot marry at home: will be married at WHC. They will be married by rabbis representing Judaism's different movements, including our own Rabbis Holtzblatt and Alexander. A triple-ly joyous wedding reception celebrating the couples will follow the ceremonies.
Three Weddings and a Statement is presented jointly by Washington Hebrew Congregation, Adas Israel Congregation, the Masorti Foundation for Conservative Judaism in Israel, and more.
Celebrate the Life and Legacy of Amos Oz
At Temple Sinai, Co-sponsored by Adas Israel
Sunday, March 31 at 3:00pm
Adas Israel is pleased to partner with Temple Sinai, J Street and other local and national organizations as we celebrate the life of the legendary writer and activist Amos Oz (z"l).
Join us Sunday, March 31, 3 pm at Temple Sinai as we honor his legacy and a life dedicated to activism and hope. The memorial service will feature remarks from Oz's daughter Fania Oz-Salzberger, New York Times columnist Roger Cohen, Rabbi Jonathan Roos from Temple Sinai, J Street President Jeremy Ben-Ami, video remarks from actress Natalie Portman and more. Register at jstreet.org/ozmemorial.
We will gather together to pay tribute to this amazing man who lifted up the stories of so many and played a crucial role in giving voice to all those fighting for freedom.
Across The Divide
The Generational Divide: Examining the Future of US-Israel, Israel-Diaspora Relations
With Panel: Daniella Greenbaum Davis, Rabbi Jill Jacobs, Yair Rosenberg
Moderator: Amir Tibon
Tuesday, April 16, 2019 7:00PM - 9:00PM Register Here
Too much bickering, too little listening. That's today's conversation about Israel.
This event, co-sponsored by Adas Israel, Israel Policy Forum and ADL, in partnership with the AJC and JCRC of Greater Washington, is designed to change that reality by bringing together prominent voices from along the political, denominational and generational spectrums. Has Israel become just another pawn in the Washington political game? Can we bridge our religious divisions to speak in a single voice about Israel's future? How can we develop common ground between older Jews, who grew up with one vision of Israel, and younger Jews, who have entirely different experiences?
Whether you're a Democrat frustrated with Republican policies or a Republican convinced the Democrats don't support Israel, an Orthodox Jew committed to settlements or a secular Jew who abhors them, a parent who can't mention Israel to your children or a younger person convinced your parents don't have a clue – or someone who defies these stereotypes – please cross the divide with us.
JStreet National Conference
October 26-29, 2019 Register Here

Join thousands of pro-Israel, pro-peace leaders and advocates and make your voice heard in Washington, DC. Rabbi Alexander will be atttending.
At the conference you will learn about what's going on in the region from world-class experts, strategize with innovators and activists working to solve the conflict, connect with other committed supporters from around the country and join us as we send a strong message to Congress.
Tue, March 26 2019 19 Adar II 5779