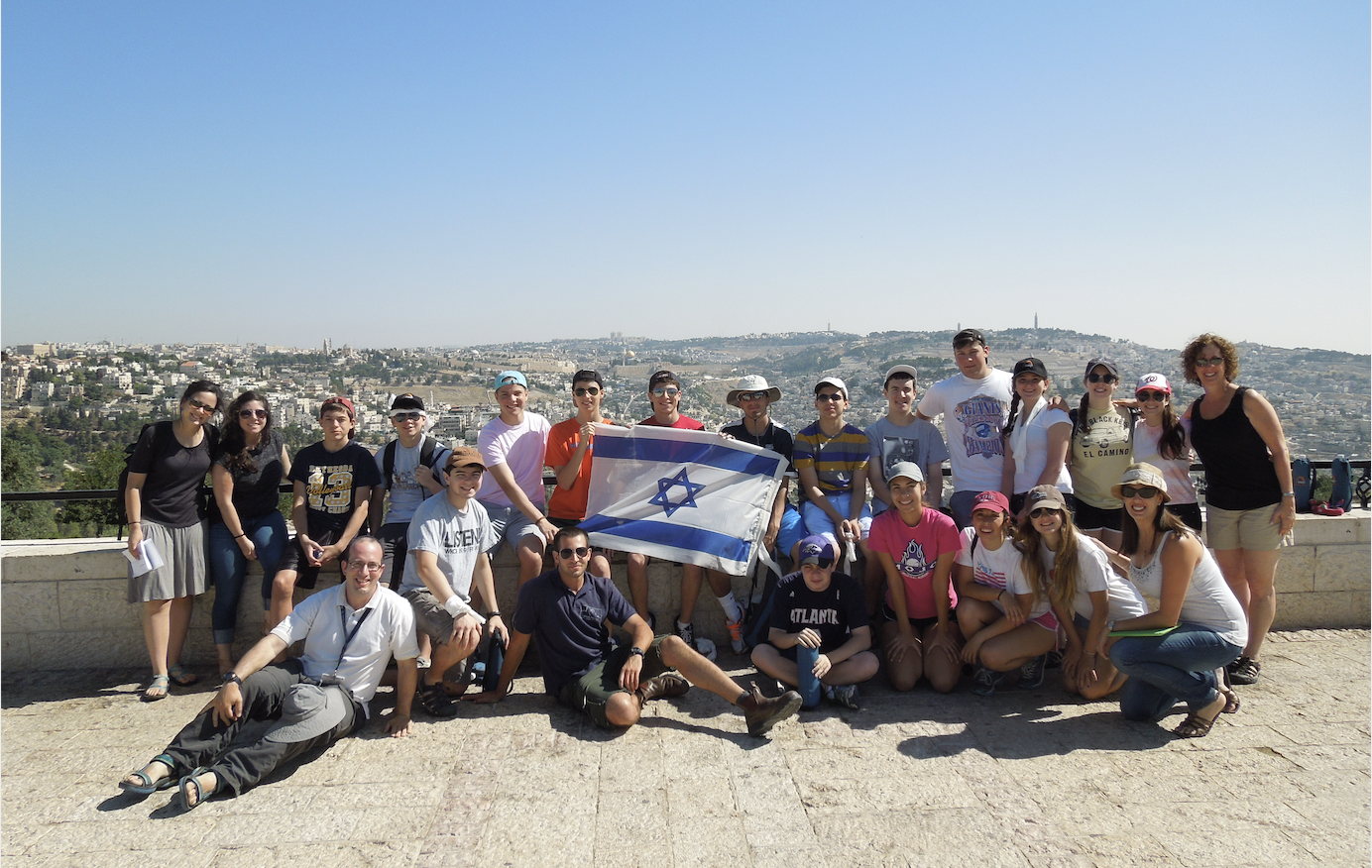 A Message From The Israel Engagement Committee
Affirming our Commitment to Israel and the World
We are very excited to share with you some plans in the making to affirm our commitment to Israel through a new Israel Engagement Initiative at Adas—one where we can live up to our congregation's potential as a leader in the Jewish world. We can and must find ways to model a new way of bringing disparate views and narratives together, where we can inspire others to live not at arm's length from Israel, but together—with all our differences—in a relationship of love and respect for one another and for Israel.
Together we'll learn, listen, discuss, grow, experiment and experience—all in service of deepening our individual and congregational relationships with Israel.
L'Shalom,
Rabbis Aaron Alexander and Lauren Holtzblatt, Senior Rabbis
Gadeer Kamal Mreeh: "The Incredible Potential of Israel's Rich Mosaic and Complex Society"
Gadeer Kamal Mreeh discusses Israeli society from her own authentic point of view as an Israeli Druze woman, specifically the social resilience, uniqueness, potentials, and challenges. In April 2019, Gadeer Kamal Mreeh made history by being elected into the Knesset as a member of the Blue and White party, as the first Druze woman. In 2021, Kamal Mreeh became the Jewish Agency's first Druze emissary to the U.S. Based in Washington D.C. Join us on Shavuot as we welcome Kamal-Mreeh to Adas as our keynote speaker.
Can the Trump Peace Plan Lead to Peace?
with Dr. Robert Satloff
On February 5th we welcomed Dr. Robert Satloff, Executive Director of The Washington Institute for Near East Policy, to the Biran Beit Midrash.
Click the video on the left for a playback of his talk on the Trump Peace Plan. "Three years in the making, President Trump has unveiled his blueprint for Israeli-Palestinian peace. At its core, the plan envisions Israel retaining all of its existing settlements and controlling about 30 percent of the West Bank, with the Palestinians potentially creating an independent, demilitarized state on the balance of the land."
---
Participate in Upcoming Israel Events
The Adas Israel Israel Action Committee has planned an array of offerings for this spring. We will delve into three core aspects of Israel- Land (Eretz), People (Am) and State (Medinah), as well as celebrate and mark essential days on the calendar with meaning and music.

Partnership in Eretz Yisrael (Torat Olam – Aretz)
with MakomDC
Partnership in Eretz Yisrael takes and demands many facets - partners on the ground, partners across borders, partners in America. We will explore these elements and their complexities through monthly cohort-based learning groups that will generally meet on 2nd or 4th Tuesday evenings. Each of the 4 groups will be led by Adas clergy and outside facilitators. A closing siyyum will be held on June 12 for all group participants to gather together.
Conversations L'Shem Shamayim
with Rabbi Lauren Holtzblatt & Rabbi Shira Stutman
This group will be formed around individuals who have lots of Israel experience, knowledge and passion, but want to engage productively with those who embody deeply different narratives. Group size limited.

Hartman iEngage
with Rabbi Elianna Yolkut
Tuesdays, In-Person @ 7:30pm, 11/30, 12/21, 1/25, 2/22, 3/22, 4/26, 5/24, 6/7
Merging a brand new Hartman curriculum, Foundations, focusing on homeland, diaspora and their intersection in Jewish thought with the popular iEngage series participants will explore the meaning of homeland and diaspora, peace and conflict in Israeli/Palestinian reality through a Jewish lens and the multiplicity of values that animate our attitudes and actions. Group size limited.
Book Club
with Rabbi Aaron Alexander
Tuesdays, Virtually @ 12pm, 11/9, 12/14, 1/11, 2/8, 3/8, 4/12, 5/10
Over the course of the year we'll explore, discuss, and partner in understanding foundational pieces of literature, philosophy, analysis and narrative covering a broad range of authors, from Early Zionists, to Palestinian storytellers, & modern day scholars. Group size limited.
*Books to be purchased or Checked out of library by participants:
Israel: A Simple Guide to the Most Misunderstood Country on Earth (Noa Tishby)
Can We Talk About Israel?: A Guide for the Curious, Confused, and Conflicted (Daniel Sokatch)
Jerusalem 1913: The Origins of the Arab/Israeli Conflict (Amy Marcus)
In This Place Together: A PALESTINIAN'S JOURNEY TO COLLECTIVE LIBERATION (PENINA EILBERG-SCHWARTZ and SULAIMAN KHATIB)
The Wondering Jew: Israel and the Search for Jewish Identity (Micah Goodman)
Apeirogon: A novel (Colum McCann)
The Hilltop (Assaf Gavron)

Dancing Arabs (Sayed Kashua)

101 Class
with Rabbi Sarah Krinsky
Thursdays, Virtually @ 12pm, 11/11, 12/9, *Tue 1/11, 2/10, 3/10, 4/14, 5/12
If you've always wanted to enter the conversation, but haven't known where to start, this is for you. We will delve thoughtfully into the historical movements, pivotal events, and foundational ideas from the last 150 years that brought us to this current moment. Group size limited.
Sat, August 13 2022 16 Av 5782