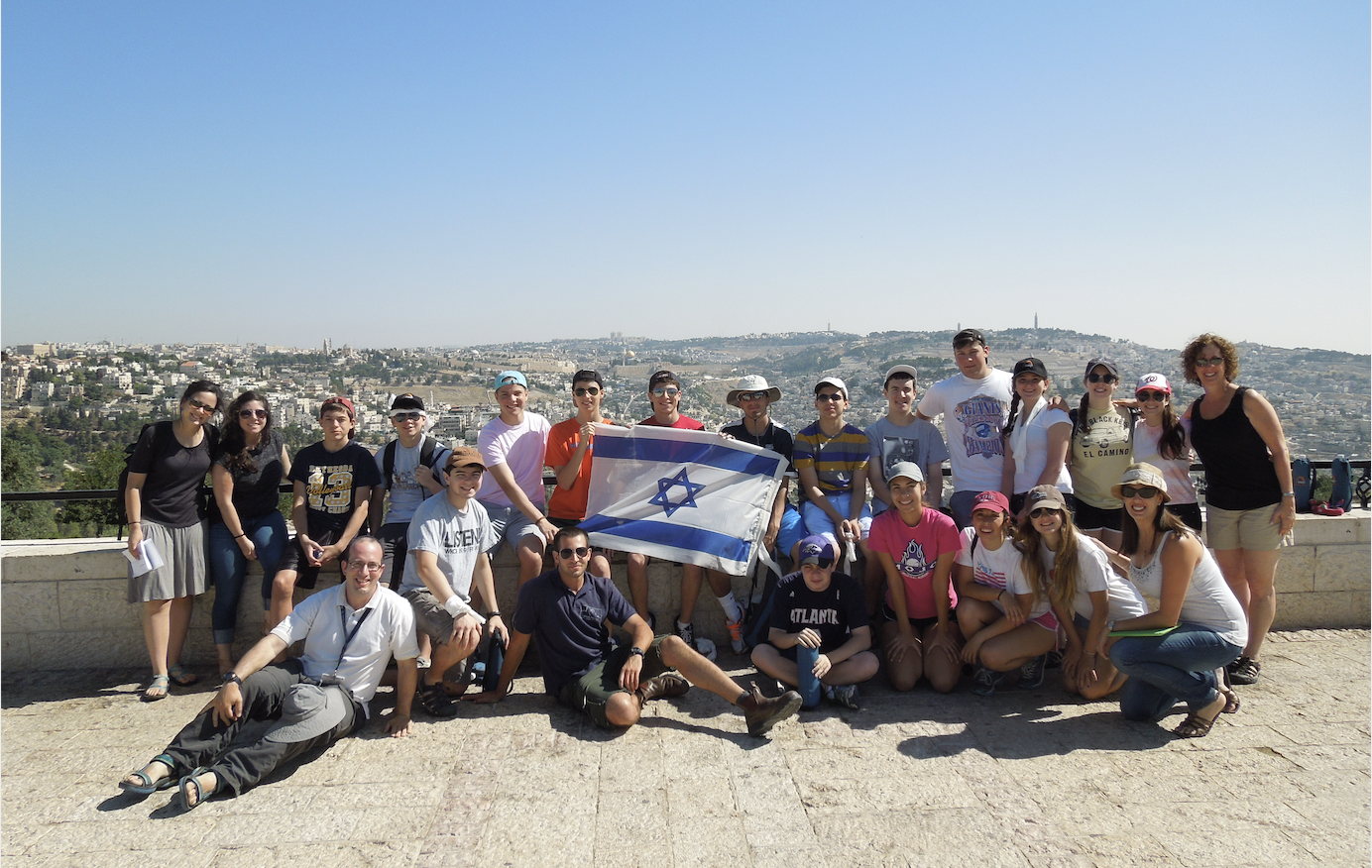 A Message From The Israel Engagement Committee
Affirming our Commitment to Israel and the World
Upcoming Events | Video Archives
We are very excited to share with you some plans in the making to affirm our commitment to Israel through a new Israel Engagement Initiative at Adas—one where we can live up to our congregation's potential as a leader in the Jewish world. We can and must find ways to model a new way of bringing disparate views and narratives together, where we can inspire others to live not at arm's length from Israel, but together—with all our differences—in a relationship of love and respect for one another and for Israel.
Together we'll learn, listen, discuss, grow, experiment and experience—all in service of deepening our individual and congregational relationships with Israel.
L'Shalom,
Rabbis Aaron Alexander and Lauren Holtzblatt, Senior Rabbis
---
Masorti, Investing In A Homeland for All Jews Campaign
Dear Adas Israel,

When Israel declared independence 75 years ago, its founders envisioned a homeland for all Jews, wherever they are and however they may practice their Judaism. Today, we know that a strong, vibrant Israel can help facilitate a strong, vibrant Jewish community worldwide. Our collective investment in religious freedom across Israeli society is also an investment in the strength, growth, and perpetuity of the global Jewish people.

Our Greater Washington Jewish community is committed to strengthening Israel's dual identities as a democratic country for all its citizens and as the homeland for ALL Jewish people. As we celebrate Israel's milestone 75th year of independence, we must also grapple with the knowledge that these core ideas are under threat in Israel.

At Adas, we are honored to join Greater Washington synagogues of all streams partnering with The Jewish Federation to raise crucial funds to support organizations in Israel working to further religious freedom for all Jews, and to ensure that all Jewish Israelis can practice their faith in ways meaningful to them. Federation will match individual gifts up to $500 from a $150,000 matching funds pool. All gifts including the match will be divided among organizations in Israel working to further religious freedom for all Jews and ensure access to options for religious practice across Israel. These organizations include Itim, Masorti, and Israel Movement for Progressive Judaism. Individual contributions will be matched and the total money distributed based on the movement affiliation of the donor.
Together, we can help ensure Israel continues to represent the true diversity of the Jewish people.
Here is Adas Israel's unique fundraising link for the Investing in a Homeland for All Jews campaign.
Thank you for joining us in this effort. We are so pleased to be partnering with you.
Rabbis Holtzblatt and Alexander, Senior Rabbis
Beth Heifetz, President
Toni Bickart, Adas Past President & Current Masorti Foundation Board Member
Arnie Podgorsky, Adas Past President & Current Masorti Foundation Board Chair
Dennis Yedwab, Chair, Israel Engagement Committee
The Oslo Legacy:
Thirty Years On with The Israel Policy Forum
Marking 30 years since the signing of the first Oslo agreement and the start of the Israeli-Palestinian peace process, this special evening will offer reflections on the past, analysis of the current moment, and a vision for the future. Featuring: Aaron David Miller, Joel Singer, and Ghaith al-Omari. Moderated by Susie Gelman.
Raising our Voices in Protest & Solidarity with Shalom Hartman Institute
A Tishrei Teach-In with learning and discussion on the urgent questions facing Israeli democracy and society.
As Israelis struggle to uphold a Jewish democratic state, join Hartman scholars and a community of learners on Wednesday, September 20 for a Tishrei Teach-In, a full day of learning and discussion during this reflective season of the High Holidays.
Step into the Hartman virtual beit midrash and join more than a dozen faculty and fellows of the Institute's Kogod Research Center in Israel and North America as we grapple with the urgent questions facing Israeli democracy and Israeli society right now.
Book Club with Rabbi Aaron Alexander (Virtual)
Deepening Our Connection to Israel: Listening to the Voices and Stories of our Land and Our People | Register Here
Thursday at 12pm - December 7, February 22, 2024 and April 11
Picking up on the first two years of this book club, we'll continue our deep, engaging, and respectful conversations. We'll meet on three occasions (virtually) to discuss fiction, non-fiction, and our own lives. While this series is in some ways geared to those who participated in the book club over the past two years, all are welcome to join.
How do we love Israel? with Rabbi Shira Stutman
In person on Tuesdays 7-8:30 pm on 11/14, 11/28, 12/5, 12/19, 1/9, 1/23, 1/30
Registration Coming Soon
For those Jews who love Israel but choose not to live there, how do we best support Israel from afar? Do we marinate in the dream or face the complexity of statecraft? Where we have critiques, do we voice them aloud or keep them to ourselves? Does it matter if we're speaking only to Jews or to the general public? How/do we critique other Jews who have different opinions than we do? What is our goal and what is our role?
Over the course of seven gatherings, a small group will meet to discuss, argue about, reflect, cry, laugh, and build on these questions and many more.
This group will be formed around individuals who have lots of Israel experience, knowledge and passion, but want to engage productively with those who embody deeply different narratives. Group size limited.
Crossroads and Connections: Collections of the National Library of Israel
Home to the intellectual and cultural treasures of Israel and the Jewish people worldwide, the National Library of Israel (NLI) has recently embarked on a visionary journey of renewal, including a wide range of initiatives to expand its collections and make the Library's resources available to audiences across the globe. As part of this initiative, and in celebration of Israel's 75th anniversary year, Dr. Raquel Ukeles will share highlights from 101 Treasures of the National Library of Israel, a new book published by NLI. Treasures selected from this book are part of a traveling exhibition of high quality images that represent a unique story of cultural and religious creativity in Israel both historically and today. Join Dr. Ukeles as she takes us on a journey through these remarkable treasures. Dr.
Raquel Ukeles is the Head of Collections at the National Library of Israel. She is responsible for the overall development of all the Library's collections and for digital, cultural, and educational initiatives based on the collections. Holding a doctorate from Harvard University with a concentration on Islamic and Jewish studies, Raquel has published and taught on a wide array of subjects related to comparative Jewish and Islamic traditions and on historical currents that shape Israeli society.
This program is presented in special partnership with The Jewish Federation of Greater Washington - Israel at 75
Yom Hazikaron and Yom Haatzmaut at Adas:
Stories of '48
Adas Israel will be hosting a Beit Cafe evening of Israel Tastings, music/singing and personal reflections from our members who will present–in storyform–their diverse memories of 1948 and the critical years that followed. This event will also be livestreamed to our website here.

Join Adas Israel for a special evening of remembrance and celebration as we commemorate Yom Hazikaron and Yom Haatzmaut, two important days in the history of Israel.
Netanyahu Redux: Causes and Implications of Israel's Election with Rob Satloff and Rabbi Holtzblatt
Click Here to Watch the Full Zoom Recording
Rabbi Holtzblatt engages Rob Satloff, Executive Director of The Washington Institute for Near East Policy in a conversation about the Israeli Election (2022). What led to this moment? Why does it matter? What's next? How might we, as an American Jewish community, process these events? And, what could it mean for our communities?
Gadeer Kamal Mreeh: "The Incredible Potential of Israel's Rich Mosaic and Complex Society"
Gadeer Kamal Mreeh discusses Israeli society from her own authentic point of view as an Israeli Druze woman, specifically the social resilience, uniqueness, potentials, and challenges. In April 2019, Gadeer Kamal Mreeh made history by being elected into the Knesset as a member of the Blue and White party, as the first Druze woman. In 2021, Kamal Mreeh became the Jewish Agency's first Druze emissary to the U.S. Based in Washington D.C. Join us on Shavuot as we welcome Kamal-Mreeh to Adas as our keynote speaker.
Can the Trump Peace Plan Lead to Peace?
with Dr. Robert Satloff
On February 5th we welcomed Dr. Robert Satloff, Executive Director of The Washington Institute for Near East Policy, to the Biran Beit Midrash.
Click the video on the left for a playback of his talk on the Trump Peace Plan. "Three years in the making, President Trump has unveiled his blueprint for Israeli-Palestinian peace. At its core, the plan envisions Israel retaining all of its existing settlements and controlling about 30 percent of the West Bank, with the Palestinians potentially creating an independent, demilitarized state on the balance of the land."
Mon, October 2 2023 17 Tishrei 5784