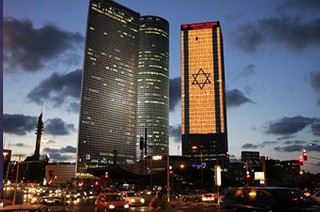 A Message From The Israel Engagement Committee
Affirming our Commitment to Israel and the World
We are very excited to share with you some plans in the making to affirm our commitment to Israel through a new Israel Engagement Initiative at Adas—one where we can live up to our congregation's potential as a leader in the Jewish world. We can and must find ways to model a new way of bringing disparate views and narratives together, where we can inspire others to live not at arm's length from Israel, but together—with all our differences—in a relationship of love and respect for one another and for Israel.
Together we'll learn, listen, discuss, grow, experiment and experience—all in service of deepening our individual and congregational relationships with Israel.
L'Shalom,
Rabbis Aaron Alexander and Lauren Holtzblatt, Senior Rabbis
Israel Engagement
---
Participate in Upcoming Israel Events & Policy Conferences in DC!
Adas Israel's Israel Engagement Committee encourages all members to deepen their involvement with Israel. In the coming months, three leading American Jewish organizations concerned with Israel policy will be having major conferences right here in DC. Take these opportunities to learn and act – whatever your perspective or background!
JStreet National Conference
October 26-29, 2019 Register Here

Join thousands of pro-Israel, pro-peace leaders and advocates and make your voice heard in Washington, DC. Rabbi Alexander will be atttending.
At the conference you will learn about what's going on in the region from world-class experts, strategize with innovators and activists working to solve the conflict, connect with other committed supporters from around the country and join us as we send a strong message to Congress.
Wed, May 22 2019 17 Iyyar 5779