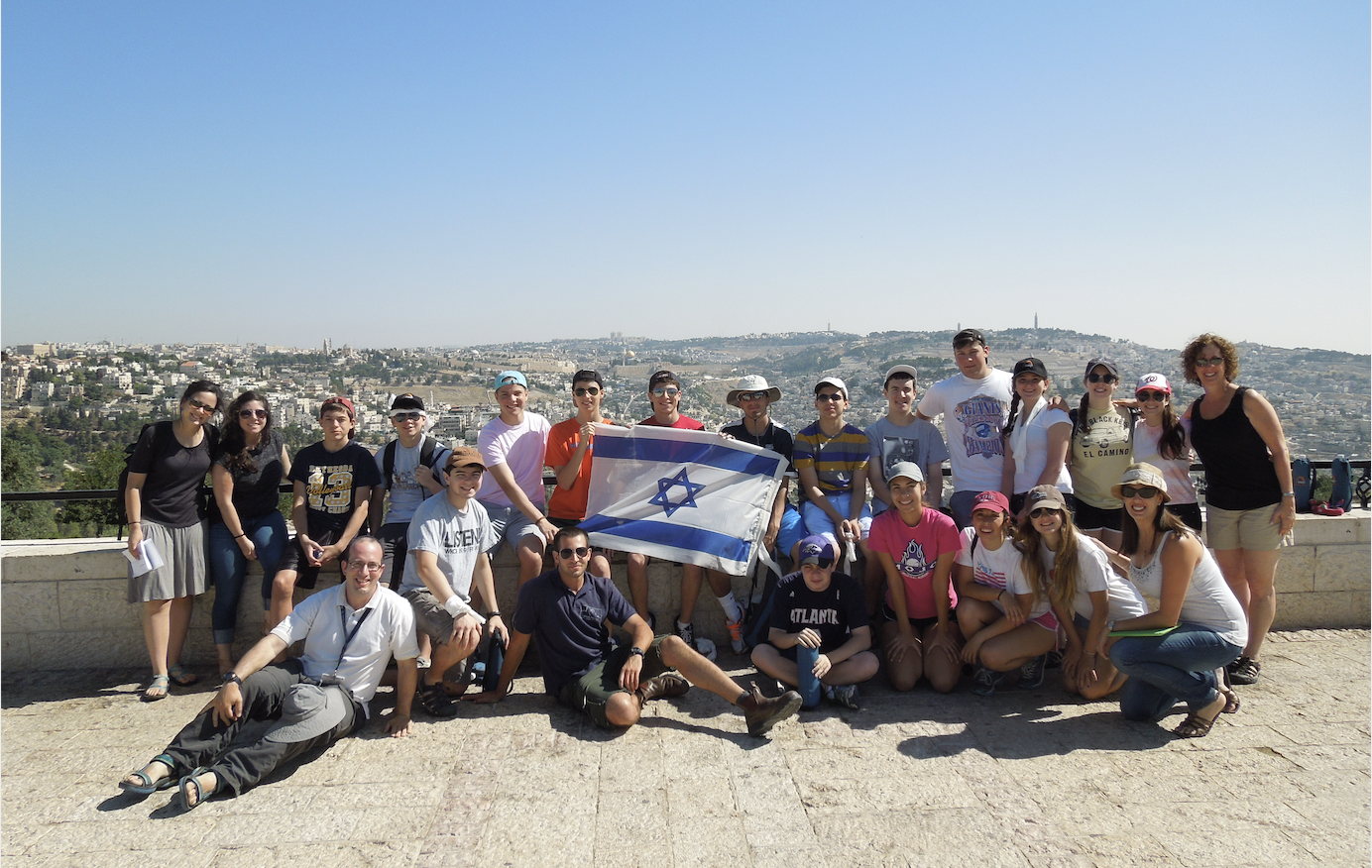 A Message From The Israel Engagement Committee
Affirming our Commitment to Israel and the World
We are very excited to share with you some plans in the making to affirm our commitment to Israel through a new Israel Engagement Initiative at Adas—one where we can live up to our congregation's potential as a leader in the Jewish world. We can and must find ways to model a new way of bringing disparate views and narratives together, where we can inspire others to live not at arm's length from Israel, but together—with all our differences—in a relationship of love and respect for one another and for Israel.
Together we'll learn, listen, discuss, grow, experiment and experience—all in service of deepening our individual and congregational relationships with Israel.
L'Shalom,
Rabbis Aaron Alexander and Lauren Holtzblatt, Senior Rabbis
---
Participate in Upcoming Israel Events
The Adas Israel Israel Action Committee has planned an array of offerings for this spring. We will delve into three core aspects of Israel- Land (Eretz), People (Am) and State (Medinah), as well as celebrate and mark essential days on the calendar with meaning and music.

Overview of Latest Elections in Israel, with Dr. Robert Satloff
April 11 at approximately 9:45am (after 9:00am Morning Minyan)
Dr. Robert Satloff, Adas congregant and Executive Director of the Washington Institute for Near East Policy, will give an overview of the latest elections in Israel, with Q/A to follow. Dr. Satloff's expertise includes "U.S. policy, public diplomacy, Arab and Islamic politics, Arab-Israeli relations, U.S.-Israel relations, peace process, Middle East democratization."

Land (Eretz): Housing program jointly sponsored by Adas Social Action Committee
April 11 at 10:00am
Click Here to Register
​​​​​​Click Here to Join Live

In the early years of the state, Israel prioritized the provision of public housing, mainly to accommodate the waves of immigrants in the '50s and '60s. According to Israel's Ministry of Housing, 22 percent of all housing at the end of the 1970s was public. In the mid-80s, with major economic reform, the government cut back on public housing, offering only a meager amount for immigrants from Ethiopia and then the former Soviet Union. In recent years, that percentage has dropped to 2.5 percent, falling below even that of the United States with 4.3 percent, and far below the 12 percent average in Europe.

Join us on Sunday, April 11 at 10am for Lev Aran, a social change organizer with New Israel Fund's public housing efforts, and a coordinator of the Public Housing Forum, in discussion with Adas member Ilana Preuss, founder of Recast City and author of the forthcoming book Recast Your City, to hear about front-line efforts to ensure that everyone has the right to the housing they need, whether in Israel or in Washington, DC.

Lev Aran is the NIF/Shatil Northern Social Change Organizer for Housing and Health. Lev has worked in this position for the past six years, organizing activists, and establishing NGO partnerships with local councils, committees, and community centers, while coordinating the Public Housing Forum. He has worked with Shatil since 2006 as the coordinator in several fields, including immigrant organizations, social justice, and housing and planning. In the past, Lev served as Director of the Institute for Community Enrichment for Preschool Education and as a Knesset aid drafting bills.
Community development expert, Ilana Preuss, brings her 25 years of experience in housing, transportation, and economic development to the discussion. Born in Israel, raised in the Zionist youth group, Young Judaea, Preuss worked in environmental planning in Israel after college, and then returned the U.S. to work in the federal and nonprofit worlds of community reinvestment. Preuss is a member of Adas Israel Congregation and has lived in the DMV since she was 6.

April 13-15
Yom HaZikaon & Yom Ha'aztma'ut (Marked in Morning/Evening Minyan with Special Prayers and Readings)
April 14 at 7:00pm
Musical Moments @ Home Series in celebration of Yom Ha'atzmaut with Zvika Sharabi (Live on the Adas Facebook page), leading us in some of our all-time favorite Israeli music.
April 17 (Shabbat morning) at 9:30am
Shabbat service infused with Inspiration for the Masorti Movement in Israel.

National Yom Ha'atzmaut Celebration: Co-sponsored by Adas Israel Congregation
April 14 at 8:00pm
Click Here to Register
Click Here to Learn More

Communities from across the country will gather for Israel's 73rd birthday!
Join us for music from Craig Taubman and Dganit Daddo, Israeli dancing, Stories of Israel, and more.
For Yom Ha'atzmaut, we're supporting IsraAID, an incredible Israel-based NGO which responds to humanitarian crises worldwide. From supplying masks to refugees to restoring safe water supplies after a cyclone, they are focused on rapid response to crises as well as long term community recovery and healing. Their community first approach ensures affected communities rebuild stronger and is an incredible example of the power of Israel in the world as a force for Tikkun Olam.

People (Am): Israel's Changing Collective Identity with Professor Fred Lazin (Ben Gurion University) and Dr. Carmel Chiswick
April 25 at 11:00am
Click Here to Register
Click Here to Join Live

The Israel of today is far different from the country of Ben Gurion. Tech start-ups and right-wing nationalists have replaced the kibbutz and Labor Zionists. The ultra-Orthodox control religious institutions and religious conflict between Jews intensifies. Knowing the real Israel and understanding the complex challenges it faces are essential for those who cherish her.
Professor Lazin will present on his academic study of this topic, and our very own Dr. Chiswick will then join him in conversation.

State (Medina): Unpacking the Abraham Accords —Co-Sponsored with AJC
May 9 at 11:00am
(Details forthcoming)
Video Archive: Can the Trump Peace Plan Lead to Peace? with Dr. Robert Satloff
On February 5th we welcomed Dr. Robert Satloff, Executive Director of The Washington Institute for Near East Policy, to the Biran Beit Midrash.
Click the video on the left for a playback of his talk on the Trump Peace Plan. "Three years in the making, President Trump has unveiled his blueprint for Israeli-Palestinian peace. At its core, the plan envisions Israel retaining all of its existing settlements and controlling about 30 percent of the West Bank, with the Palestinians potentially creating an independent, demilitarized state on the balance of the land."
Sat, April 17 2021 5 Iyyar 5781