Our Vision
Adas Israel seeks to create a unique, shared space where we can discover what it means to be human and to be part of a sacred community. Through the medium of Judaism, we foster moments that celebrate the joy and wonder…
• of being alive
• of being connected to the world
• of feeling amazed by life
• of being awed by God
• of finding intimacy & connection in the presence of each other
In that joy and wonder, we seek to travel the path of sacred action, kindness, and repairing the world.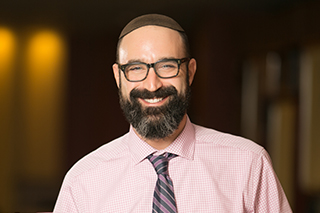 A Greeting From Rabbis Holtzblatt and Alexander
Hello! We want to take this opportunity to introduce ourselves and to tell you about our wonderful community at Adas Israel Congregation. We are a vibrant, dynamic, multi-generational synagogue that offers access to Jewish life and community for people of all backgrounds.
For almost 150 years, Adas Israel Congregation has been a flagship synagogue in American Jewish life, and that tradition of leadership and excellence continues today in an atmosphere of depth, warmth and welcome. The greatest strength of Adas Israel is the community itself. Our synagogue members care about each other and about what goes on here. We care about having meaningfully Jewish experiences and work together to ensure each of us has multiple entry points to those moments. We also care about the wider world and appreciate how our location in Washington provides unique pathways for social impact.
At Adas Israel Congregation, we draw from the wisdom of the Torah for insight and strength in all that we do. Every service, every class, every program, and every meeting at Adas Israel is filled with potential for connection—to Torah, God, each other, and the world.
Adas Israel Congregation is a place for us all to come home and to celebrate the joys of Jewish life together. We very much look forward to meeting you and to answering any questions you may have. We look forward to seeing you here!
L'Shalom,
Rabbis Lauren Holtzblatt & Aaron Alexander
Our History and Values
Founded in 1869
Adas Israel ("the community of Israel") was founded in 1869 by a group of immigrants from Europe who sought to maintain traditional Jewish observances in the context of the modern American community. They conducted their earliest services in a small loft above a carriage factory near the U.S. Capitol.
Eventually, they joined the Conservative movement and created a synagogue that is unique in its blend of tradition and innovation. In 1876, President Ulysses S. Grant attended the dedication of Adas Israel's first permanent house of worship. That building, at 3rd and G Streets, N.W., is a Jewish museum. Adas Israel has been at its present location since 1951.
Strength in Leadership and Diversity
Today, Adas Israel is the largest Conservative synagogue in Washington. Often described as a "congregation of congregations," the diversity of our membership is one aspect of our strength.
We are proud of the influence our congregation has achieved because of our distinguished leadership and the quality of our activities, which broadly extend from the religious and cultural to active concern for the poor and homeless in the Washington area. We note with pride the number of community organizations that are led by our congregants.
We celebrate our diversity and our inclusive values, and everyone is welcome to join us to participate in the joy of Jewish communal life.
A World of Values
Because of our location in the heart of the nation's capital, our pulpit has long encouraged the expression of a wide range of viewpoints. Adas Israel was the first synagogue in the United States to be addressed by Dr. Martin Luther King, Jr. and the Dalai Lama. Other distinguished speakers have included Israeli Prime Ministers Golda Meir, Yitzhak Rabin, Presidents Obama, Nixon, and Ford, Senator Robert F. Kennedy and Vice Presidents Hubert Humphrey and Albert Gore.
Today Adas Israel remains a socially-conscious congregation whose contributions bespeak the highest values which our tradition teaches. Above all, Adas Israel aspires to perpetuate Judaism, to enrich the lives of our members, to celebrate Conservative Judaism at its creative best, and to bring Jews closer to God.

A Tradition of Innovation for Over 140 Years

Adas. The very name of our synagogue, inspired by Torah, means "congregation" as well as "community," suggesting both our traditional roots and our contemporary mission. Since its founding in 1869 in Washington, D.C., Adas Israel has continued to evolve and expand as a congregation, as a community, and as an active congregational citizen of the national capital area. We value diversity in our members, in our services, and in our programs, while treasuring gifts of community and continuity.

Israel. Long before there was a State of Israel, there was Klal Yisrael – the Jewish people. Today, we remain conscious that we are indeed Adas Israel – at once an individual community of Jews and a part of the whole of Israel – by helping to support the State of Israel and Jewish communities worldwide.
Bet haknesset. As a house of assembly, we constitute a vibrant Conservative synagogue, brimming with formal and informal opportunities to come together as a congregation. Throughout the Jewish year, we meet to pray, to celebrate, to serve, to study, to express our spirituality, to welcome newcomers – and to enjoy good company and good food at a kiddush or oneg shabbat .

Bet t'filah. As a house of prayer, we offer a wealth of traditional and innovative opportunities to worship under the rubric of egalitarian Conservative Judaism. These include Shabbat and holiday services with our rabbis and hazzan; daily minyanim; diverse congregant-led Shabbat services, as well as special services for young people, singles, families, and adult learners.

Bet midrash. As a house of study – the historic center of Jewish life – Adas Israel takes learning seriously and joyfully. Here, too, the range of options is extraordinary, including entry-level pathways for adults embarking on Hebrew and Jewish literacy, sophisticated study with our rabbis and visiting scholars, and ongoing self-led study groups. For our children, we create a full and varied educational environment with a nursery school, religious school, and creative youth and family programs.

Kehilla. As a community, we are here for each other. In times of joy as well as sorrow, we reach out with the help of Jewish tradition to celebrate, to commemorate, to comfort. The mitzvah of gemilut chasadim – performance of worthy deeds – offers us ways to care for and support our fellow members, to give and derive strength and courage at difficult times. The mitzvah of tzedakah – giving of ourselves to others through social action – provides us tangible opportunities to serve those in need and to affirm our interconnectedness with those around us. The mitzvah of tikkun olam – repair of the world – reminds us of our ethical purpose as Jews, which is nothing less than to help perfect the world under the rule of God.

Mon, October 2 2023 17 Tishrei 5784