Tikkun Olam/Social Action
Tikkun Olam / Social Action Teams
Adas Israel's Social Action Committee is made up of teams focused on some of the issues facing us today: Poverty/Homelessness/Housing Team, Climate Action Team, Lev B'Lev ("Heart to Heart," which works against hate), Racial Justice Working Group, and the Refugee Response Team. The SAC is committed to the essential Jewish value of tikkun olam, and guided by the Pirkei Avot 2:21: ""You are not obligated to complete the work, but neither are you free to desist from it." Please join us! Contact SAC Chair Brad Brooks-Rubin or SAC Communications Chair Liz Scheier with questions or to figure out which initiative interests you most.
Digital Divide Team
The Adas Digital Divide Team was created in response to the shortage of equipment and internet access for DC students at the beginning of the pandemic. The group has worked closely with our partners at WIN regarding increased broadband access and with Digital Equity in DC Education to improve access and enable students to link remotely to their classrooms. Moving forward, we will explore the possibility of internet access/broadband being considered a public utility, available to all. Interested? Contact Margie Siegel.
Poverty/Homelessness/Housing Team (PHH)
The DC Metro area contains one of the highest rates of homelessness in the US. The Poverty/Homelessness/Housing Team (PHH) works to address the broader causes of homelessness, poverty, and illiteracy and foster equal opportunity for all of our neighbors through both community organizing and direct service. We partner with local community organizations including So Others Might Eat, N Street Village, Friendship Place, Reading Partners, Washington Interfaith Network, and the Coalition for Non-Profit Housing and Economic Development. Interested? Contact Jamie Butler or Dan Baum.
Uyghur Crisis Response Team
Since 2015, more than a million members of the Uyghur ethnic minority have been imprisoned in Chinese internment camps. Many have been killed, used as forced labor, or raped and/or sterilized. It is time for the Jewish community to raise its voice and act on its pledge that "never again" will a marginalized people be the victims of genocide. The Adas Uyghur Crisis Response Team is working to increase awareness of this ongoing human atrocity and provide support to the Uyghur community in the DC region. You can find resources and opportunities to get involved here. Interested? Contact Karen Guberman, Nechama Liss-Levinson, or Eli for more information.
Refugee Response Team
The Refugee Response Team (RRT) works with local and national organizations to help refugee families in the DMV. Adas volunteers have co-sponsored a Syrian refugee family, furnished apartments for three refugee families, and mentored recently-arrived immigrant families. For information about our coalition and advocacy efforts, contact Liana Brooks-Rubin. For information about our Syrian family efforts, email Amy Golen or Liana Brooks-Rubin. For more information about the IRC Family Mentorship Program, please contact Sarah Karlin-Smith.
Climate Action Team (CAT)
Preserving the earth for ourselves, our children and our grandchildren is a Jewish value. Adas Israel's Climate Action Team (CAT) works within our own congregation to take action in our homes, our synagogue, and our communities, and looks to join local advocacy campaigns for climate action in the DMV. Interested? Contact Philip Henderson.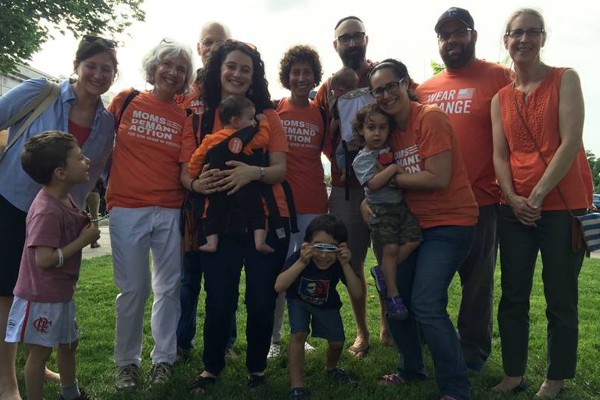 Gun Violence Prevention Team (GVP)
The Gun Violence Prevention (GVP) team is dedicated to addressing the crisis of gun violence in Washington, DC, particularly in Wards 7 and 8. We partner with local organizations such as the TraRon Center and with faith-based organizations to work on issues around community safety and building relationships with, and bringing healing to, gun violence survivors. We work with advocacy organizations focusing on local efforts like Moms Demand Action DC to advance proven violence intervention efforts, and we work to connect personally with families affected by gun violence through ties to the Office of Neighborhood Safety and Engagement. Interested? Contact Lois Fingerhut.
Kehilah Multiracial Engagement Project (KMEP)
To more accurately reflect our mission, we are renaming the Racial Justice Working Group: it will now be called the Kehilah Multiracial Engagement Project (KMEP). This name more clearly describes our goal of working towards a truly inclusive Adas community, and a truly inclusive larger Jewish community. In the coming year, KMEP will focus on building our community's collective self-awareness so that we can all understand how unconscious biases and assumptions can unintentionally manifest in comments and actions – microagressions – that can make Jews who do not identify as white feel othered or excluded. KMEP will seek to inspire inquiry, reflection and introspection with regards to our own biases and identities. KMEP will also examine our community's perspectives and feelings on race and racism within American society. To achieve these goals, we will host discussions and trainings, and invite experts in privilege and identity within the Jewish community as well as community organizations more broadly. If you're interested in joining us in this work please reach out to Lauren Queen or Stephen Horblitt.
Lev B'Lev
A joint effort of Hesed and the Social Action Committee, Lev B'Lev ("Heart to Heart") aims to counter the rise of hatred in our society by extending radical compassion to people of all faiths who have been targeted by hate. To get involved with our speaker series, letter writing, interfaith initiatives, and vigils and rallies, please contact Bruce Charendoff, LBL Chair.
Wed, July 28 2021 19 Av 5781