Tikkun Olam/Social Action
Tikkun Olam / Social Action Teams
Adas Israel's Social Action Committee is made up of teams focused on some of the issues facing us today: Poverty/Homelessness/Housing Team, Climate Action Team, Racial Justice Working Group, and the Refugee Response Team. The SAC is committed to the essential Jewish value of tikkun olam, and guided by the Pirkei Avot 2:21: ""You are not obligated to complete the work, but neither are you free to desist from it." Please join us! Contact SAC Chair Brad Brooks-Rubin with questions or to figure out which initiative interests you most.
Affordable Housing and Homelessness Team (AHH)
Cities across United States, including the DC Metro, have an affordable housing crisis. DC also has high rates of chronic individual homelessness. The Affordable Housing and Homelessness Team (AHH) works to address the broader causes of homelessness and the lack of affordable housing and fosters equal opportunity for all our neighbors through both community organizing and direct service. We partner with local community organizations including So Others Might Eat, N Street Village, Friendship Place, Washington Interfaith Network, and Feed the Family Pantry. We actively support affordable housing in DC and particularly in Ward 3, partnering with the Washington Interfaith Network and neighborhood churches and synagogues. During the pandemic, we are partnering with Adas Israel's Hesed Committee to prepare and deliver food for our partners in need. We are exploring approaches and opportunities to be more directly engaged on homelessness related to advocacy and programming. Interested? Contact Jamie Butler (jgb3611@gmail.com) or Abby Volin (abby.volin@gmail.com) or Brad Brooks-Rubin (barubin10@hotmail.com).
Afghan Crisis Response Subcommittee
We've recently formed an Afghan Crisis Response Subcommittee to support refugees from Afghanistan. There will be refugees resettling in the DMV, and they'll need immediate help including meals, home goods and general assistance through their transition, and longer term help including legal assistance, tutoring, and mentoring. We'll also be providing calls to action to support beneficial policies related to this issue. If you're interested in learning more or volunteering, please visit the Adas Social Action website or email us at AdasAfghanResponse@gmail.com.
Uyghur Crisis Response Team
The Uyghur Crisis Response Team works to increase awareness of the Chinese government's genocidal actions against the 12 million members of the Uyghur ethnic minority. We currently organize monthly demonstrations at the Chinese embassy, joining with other DC area synagogues to keep awareness strong. We've sponsored several educational programs, including a national webinar and an international Uyghur-Jewish Passover Seder. We also advocate for governmental and business actions to counter this abuse of human rights, including a letter to President Biden signed by over a hundred Jewish communal leaders. Our team supports the local Uyghur community, through encouraging mental health professionals to join the Uyghur Wellness Initiative to provide pro bono counseling to Uyghur refugees, and developing partnerships with local Uyhgur businesses. We are also mentoring B'nai Mitzvah students, understanding that, as Jews, we cannot be silent in the face of genocide. To get involved, please contact Nechama Liss-Levinson at lisslev@verizon.net or Karen Guberman at krguberman@gmail.com.
Refugee Response Team
The Refugee Response Team will build on our work over the past six years supporting resettlement of local refugee families, as well as assistance with asylum-seekers crossing the southern border. Our work this year will have a three-fold focus: First is ongoing support of local organizations, congregations and individuals sponsoring refugee families from Afghanistan and other areas. With our broad network of volunteers and connections to resources, we will continue to provide transition needs including meals, home goods and general assistance, as well as longer term help with legal support, tutoring, mentoring and response to urgent needs. Second, we will continue to answer calls for action to help the many migrants being bused to DC from Texas. We have formed partnerships with groups providing direct support and will further supply resources and volunteers, as needed. Finally, watch for announcements of programs to keep our community updated on the status of refugee and asylum policy, the impact this has on real people fleeing violence and in search of safety, and opportunities for advocacy. For more information on assistance with migrants arriving by bus to DC, please email Oz Papados at opapados@gmail.com. To join or learn more about initiatives to welcome and support refugees or for general questions, please contact AdasRefugeeResettlement@gmail.com.
Climate Action Team (CAT)
We are exploring the many opportunities for the Adas community to take action in our synagogue and in our homes and communities to reduce the pollution causing climate change, including the goal of zero waste. If you are interested in getting involved or leading this effort, please contact Rabbi Aaron Alexander at Rabbi.Alexander@adasisrael.org.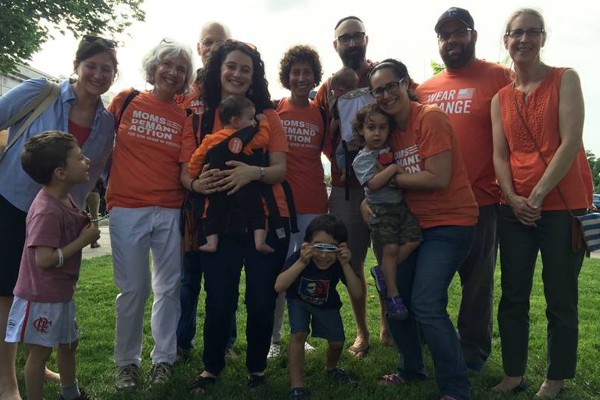 Community Safety
The Community Safety team focuses its efforts on violence prevention in DC. We partner with the Washington Interfaith Network (WIN) and its faith-based organizations that are engaged in community safety and gun violence prevention efforts, particularly in Wards 7 and 8. Our efforts are tied closely to the WIN Public Safety Research group co-chaired by Ryane Nickens, founder of the TraRon Center and member of the WIN strategy team and Delonte Gholston, pastor Peace Fellowship Church. Our efforts are focused on juvenile justice, police reform and accountability, mental health outreach and violence interrupters with the aim of sending our recommendations to the WIN congregations. We will continue to educate ourselves in what local and national experts consider effective means of gun violence prevention. In addition, the Community Safety team continues to support the mission and vision of the TraRon Center (traroncenter.org) and working with young children and families affected by gun violence. In addition, our team recognizes that educational inequity is a root case of violence, and so we also partner with Reading Partners DC (readingpartners.org/location/washington-dc/) To get involved, contact Lois Fingerhut, loisafingerhut@gmail.com.
Kehilah Multiracial Engagement Project (KMEP)
We bring diverse groups of Adas members together to engage in open, honest dialogue about our identities, histories, and the ways that understanding and integrating race and confronting racism in our own community and more widely are intricately linked to our own liberation as Jews in the United States, and the world. In 2022, we have been doing this by:
Offering a space in which Jews of Color discuss their shared experiences inside and outside of the synagogue.
In partnership with Bruce Charendoff and Lauren Queen co-leading Antiracism circles, committed to exploring our own assumptions and biases around race and Judaism.
Exploring paths to more fully transform our own community and connect to transformative efforts linking antiracism and Jewish practice, that are active across the Jewish community.
If you are interested in getting involved, please contact Toreno Herbert at torenoherbert1991@gmail.com.
Direct Service Team
The Direct Service team works together to help coordinate the collection of items at Adas for many different partner organizations. This includes both seasonal drives (winter coats for SOME, winter warmth and backpacks for Friendship Place, books for Reading Partners) as well as ongoing partnerships with local organizations year round (International Rescue Committee for local refugee families, Feed the Family Pantry, Capital Kosher Pantry, etc). To learn more or get involved, please contact Chana Engel or Oz Papados.
Reproductive Justice Team
The Reproductive Justice Team provides a forum to learn about, and advocate for, a Jewish response to the loss of the constitutional right to abortion and to other reproductive health matters. Guided by our values and the lens of reproductive justice, and in collaboration with other organizations, we plan to act to address barriers to the full range of reproductive care that affects the lives and autonomy of marginalized people in DC, MD and VA and across the nation. The team is housed within the Adas Israel Congregation's Social Action Committee and collaborates closely with the NCJW MD Action Team. For more information or to join the team, please email rjatadasisrael@gmail.com.
Inclusion Task Force
The inclusion task force is the newest addition to the SAC. We work on issues of disability access and justice within Adas as well as in our wider DMV community. Internally, we strive to strengthen Adas' inclusion efforts, always working diligently to grow Adas into a warm and welcoming community for all. Externally, we work alongside our SAC partners on campaigns of particular interest to the disability community. These include but are not limited to issues of accessible housing, literacy for children with disabilities and more. We typically meet quarterly. We also work on inclusion Shabbat which occurs in February at Adas each year to coincide with Jewish Disability Awareness, Acceptance and Inclusion Month. We are always looking for more folks to join our burgeoning group. Please contact Rabbi Lauren Tuchman at rabbi.lauren.tuchman@gmail.com if you are interested in learning more or joining this committee.
Mon, October 2 2023 17 Tishrei 5784