Hillelujah (University of Pittsburgh)
Hillelujah is a Pittsburgh-based, collegiate, Jewish a cappella group. We are a co-ed pluralistic group based in Hillel Jewish University Center of Pittsburgh. Since our founding in 2015, we have aimed to bring together college students from across the city to celebrate music together. We performed in Kol Haolam in 2017, and are excited to be here again tonight.
Hooshir (University of Indiana)
Hooshir is Indiana University's premiere co-ed Jewish a cappella group. Throughout the year, Hooshir travels around the country performing at synagogues, competitions, and Jewish community centers. We sing a mix of pop, Israeli pop, and Jewish Sacred Music. Hooshir is thrilled and grateful to be back at Kol HaOlam this year. Born in 2006, Hooshir was created to perform at the White House's Hannukah celebration. We have been celebrating and sharing our love for Jewish music ever since.
Jewop (University of Wisconsin)
Jewop, founded in 2008, is the University of Wisconsin Madison's culturally Jewish a cappella group. Our goal is to spread and celebrate Jewish culture by performing a wide range of song selections, from liturgical prayers to pop songs performed by Jewish artists. Given that our group is comprised of both Jewish and non-Jewish members, we explore new facets of Judaism and challenge each other to grow in doing so. As part of UW-Madison's Jewish community, we participate in events at our campus' Hillel. Jewop is a co-ed group and has participated in Kol HaOlam before, placing in 2013 and 2014 and winning in 2016. Our group has also won other awards, including Best Beat Boxer, Crowd Favorite, and Best Original Arrangement.
Ketzev (Johns Hopkins University)
Ketzev is Johns Hopkins' only Jewish a cappella group. We were founded in 1997 as a co-ed group to celebrate Jewish culture, and we sing a combination of pop music in Hebrew and English. We often sing at Hillel or at other Jewish events on campus as well as going to synagogues around the northeast. We have participated in Kol HaOlam for multiple years in a row, and we have always loved performing with all the other groups!
Koleinu (Princeton University)
Koleinu is a co-ed a cappella group at Princeton University. Since 1993, we have been performing a mix of traditional, liturgical and pop music at the many arches of Princeton University, the Center for Jewish Life, and various events in the local community. Our members come from a wide variety of musical and religious backgrounds, but have a common love of having fun and singing with each other.
Manginah (Brandeis University)
Manginah was founded in 1994 at Brandeis, as the University's first (and only!) Jewish co-ed acappella group. Over the years, Manginah has become a cornerstone of Jewish life on campus, enriching Jewish life with our music. We are so excited for the opportunity to participate in Kol HaOlam!
Mezumenet (University of Maryland)
Mezumenet is the University of Maryland's only all-female Jewish a cappella group. Founded in December 2008 by four young women who studied and sang together in Israel, Mezumenet brings an eclectic mix of music to the Maryland community and to the surrounding areas. The name Mezumenet has two meanings: the first comes from the Hebrew word meaning "to invite," while the second refers to the prayer that Jewish women recite before the blessing after meals. Mezumenet's repertoire ranges from traditional Jewish melodies to current Israeli pop and contemporary radio tunes, all rounded out by our unique Mezumenet parodies. Now ten years old, Mezumenet has released three albums: Mezmerized, Mezzin' Around, and Mezcellaneous. After competing at Kol HaOlam for the past several years, we are so excited to be back!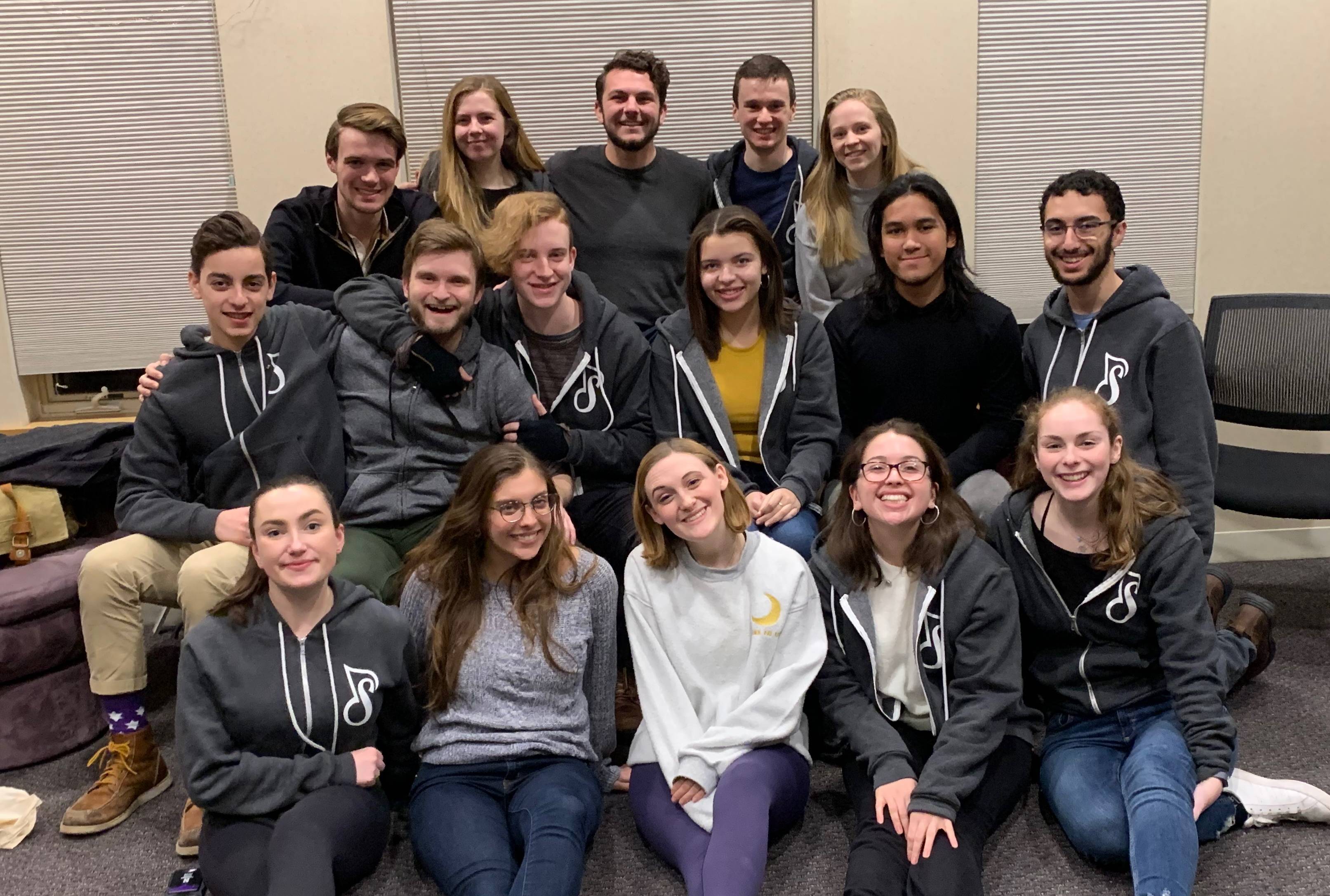 ShireiNU (Northwestern University)
ShireiNU a Cappella, founded in 2009, is Northwestern University's premiere Jewish a cappella group. ShireiNU is a co-ed group of students who represent a wide variety of interests and identities, but who all love to make music and enrich both the Jewish community and the community at large through entirely student-arranged music. As a Fiedler Hillel student group, ShireiNU brings both Jewish and non-Jewish musicians together to learn about and become a part of Northwestern's vibrant Jewish community. The group sings a mix of Jewish liturgical music, Hebrew pop, and American pop, and we can be found performing around Northwestern's campus, in the greater Chicagoland area, on tours in various major U.S. cities, and at Kol HaOlam, where we have brought home second- and third-place prizes in the last two years.

...andspecial performance by last year's winner Ani V'Ata!!
Ani V'Ata (New York University)
We are NYU's premiere, and only, Jewish a cappella group. We perform at galas, charity events, bars and bar-mitzvahs around New York City. We are so excited to be back at Kol HaOlam after winning the competition last year. Since then we released an EP on Spotify called Piece By Piece. We would like to thank everyone for coming out and wish the best of luck to all the groups competing.
Thu, July 18 2019 15 Tammuz 5779