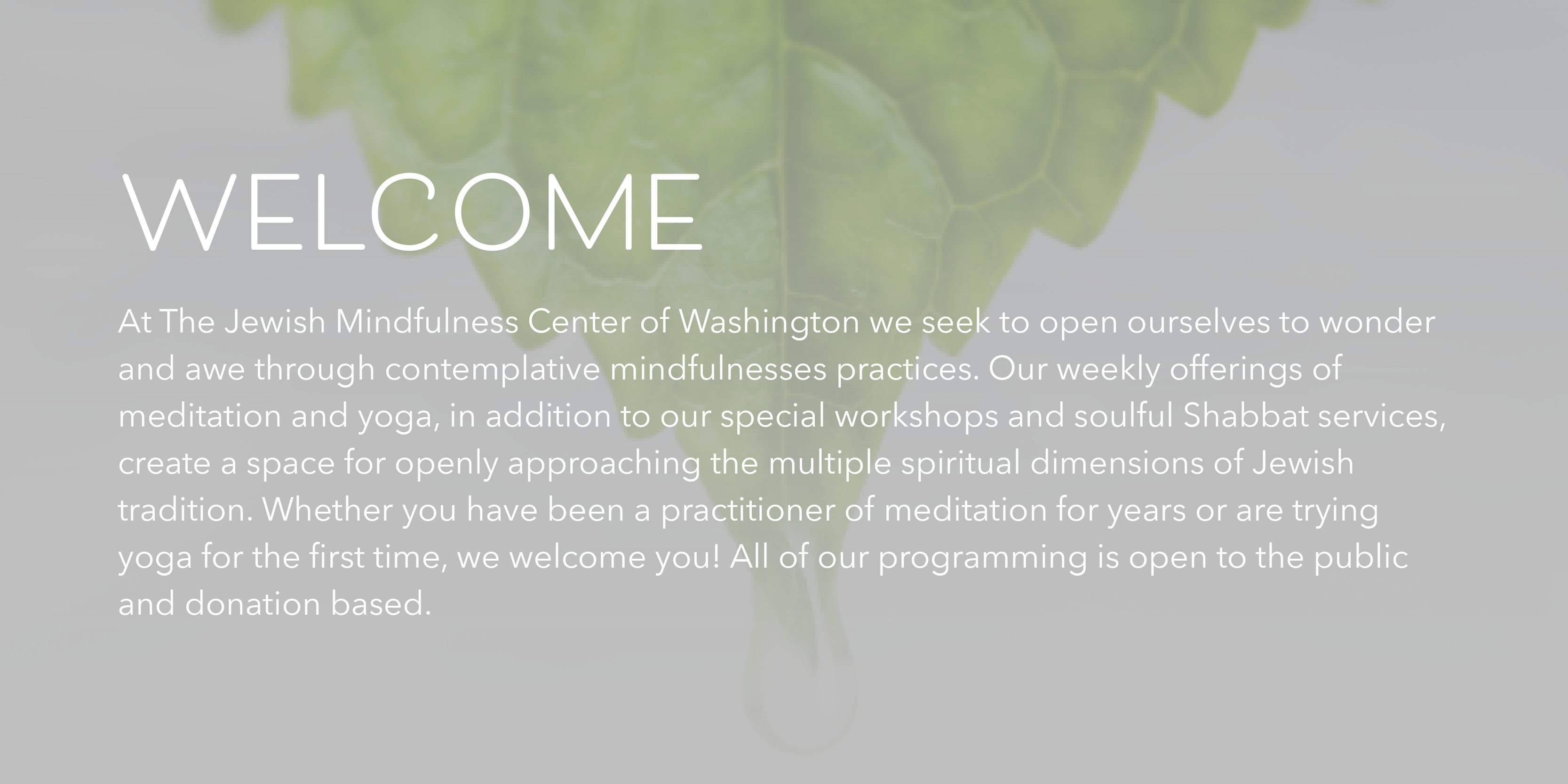 UPCOMING ANNOUNCEMENTS
---
JMCW February Retreat
Tikkun Olam for the Body: Restoring the world within

Monday, February 18th (President's Day), 9:00am - 6:00pm Register Here

Pearlstone Retreat Center in Reisterstown, MD
In the depth of winter nature turns inward toward a season of quiet cultivation and tending. Our bodies mirror these cycles, and in turn, long for extra care as the days shorten and darkness falls around our shoulders. Join us for this signature Jewish Mindfulness Center of Washington retreat at Pearlstone Retreat Center when we will immerse ourselves in the contemplative practices of yin yoga, guided meditation, mindful discussion and reflective journaling. Working
from the outside in, we will bathe ourselves in the healing balm of tikkun olam for the body, a gentle process of using stillness and reflection to restore the world within. This special daylong retreat will be led by JMCW Director Alesandra Zsiba and senior faculty member Yael Flusberg. Follow the link to learn more and register.

Caregivers Workshop

Tuesday, February 26th, 7:30pm - 9pm Register Here

In this special evening workshop with Rabbi Lauren we will gather in sacred community to honor caregivers of all kinds. Join us in making space for those who create space for others. Throughout our evening together we will explore guided teachings and meditations, mindful discussion and simple, self-applied acupressure techniques. Registration is limited, sign up now!

Intro to Jewish Mindfulness Mini Series

Sundays 3/10, 3/24, 3/31, 4/7 @ 1pm - 3pm Register Here
What is Jewish mindfulness, anyway? Our tradition is vast and dynamic, filled to the brim with mindfulness gems and contemplative practices waiting to be uncovered. Our newly designed introductory series will introduce participants to a wide array of practices including alternative text interpretation, contemplative Jewish meditation and yoga, embodied Kabbalah, chanting and niggunim, and much more. This unique series offers participants a deep dive into Jewish mindfulness through the eyes of our beloved faculty. Each session in this 4-part series will be taught by a different member of our exceptional faculty. Registration opens soon! For questions or to have your name put on the early sign up list, please email Alesandra.Zsiba@adasisrael.org.

Rosh Chodesh: Celebrating the New Moon

Led by Alesandra Zsiba & Core JMCW Faculty
Monthly from 7:00pm - 9:00pm

This workshop offers women of all ages and bodies an invitation to come together for a nourishing evening of Jewish yoga and mindfulness practice. Jewish tradition teaches that our bodies are deeply in sync with the lunar cycle, and if we drop in and listen, the timeless, embodied rhythms of Rosh Chodesh will seep to our surface. We will immerse in a lunar yoga practice followed by a guided discussion. This month's theme has yet to be set. For those who would like to schedule an immersion in the Adas Community Mikvah post practice, please reach out directly to Mikvah Director here.


DATES & REGISTRATION (click a date to register):
December 11| January 8 | Canceled - February 5 | March 5
April 2| May 7 | June 4 | July 2

Return Again to Shabbat
Presented by the Jewish Mindfulness Center of Washington
With Rabbi Lauren Holtzblatt, Rabbi Aaron Alexander & the Return Again Band
Join us for a reflective journey into the power of Shabbat. Featuring seasoned musicians and a spiritual, ecstatic excursion into prayer & song. Followed by a festive Israeli tapas-style feast:

DATES & REGISTRATION (click a date to register):

October 12 | November 9 | December 14 | January 18, 2019 (MLK)
February 8 | March 8 | April 12 | May 10 | June 14
ONGOING OFFERINGS
---
Morning Awakening

Tuesdays at 9am
Come join JMCW for an uplifting 45 minutes of mindful prayer and song as we start the day together. Morning Awakening is a new take on the traditional Jewish morning service. Start your Tuesday with a dose of mindfulness, only at JMCW. Led by Rabbi Lauren Holtzblatt.

Yoga Vinyasa Lunar Flow

Wednesday's at 6:30pm
Our weekly Jewish Yoga practice offers a home to those who wish to explore embodied spirituality. This class seeks to awaken and stimulate the senses through a full mind/body exploration of asana. Drawing inspiration from Mussar, Kabbalah, and the wisdom of Jewish thinkers, this class reinterprets "Jewish Yoga" weekly. *Mats and props are provided.* Led by JMCW Faculty

Meditation Weekly Sit

Wednesday's at 7:30pm
Each week we come together for a community sit. Our time is marked by explorations of meditation techniques, guided teachings, and silent sits. No experience necessary, all are welcome. Our community is open to beginners and experienced practitioners alike. Drop-ins welcome. Led by JMCW Faculty

Wise Aging - New Cohort!

Led by Janice Mostow and Betsy Strauss
Wise Aging is an exploration of aging well and wisely through a Jewish lens. The Wise Aging Adas group will meet once a month on Sunday mornings to learn, share experiences, and acquire skills to sanctify the moments in time that make up this stage in our lives. Wise Aging sessions are based on resources developed for the Institute for Jewish Spirituality by Rabbi Rachel Cowan and Dr. Linda Thal, primarily Wise Aging: Living with Joy, Resilience, and Spirit.
deepen your practice
---
Feast for the Soul: A 40-Day Worldwide Spiritual Practice Intensive

Join the Feast!
Join tens of thousands of people who, for 40 days from January 15th - February 25th, commit to intensifying their heartfelt spiritual practice. When you do, your resilience, your peacefulness, and your connectedness to everyone who calls this planet home will increase. Who you are and how you live creates a ripple effect. For guided meditations specific to Jewish mindfulness search the feast's online database for Rabbi Diane Elliot's 10 meditations on the Kabbalistic Sefirot.

Romemu Yeshiva - Summer 2019

February 1st Deadline to Apply
Learn More!
Launching in the summer of 2019, Romemu Yeshiva will welcome its first cohort, a dynamic group of young Jewish adults pursuing an egalitarian course of intensive spiritual study and practice of Jewish pathways for self-transformation. Romemu Yeshiva combines rigorous text study, deep prayer, and Jewish mindfulness-based practices to inspire participants' profound transformation as individuals and as members of the Jewish and human communities.

Purple Honey Podcast

Listen Here
Tune in and listen to the first episodes of Purple Honey created by JMCW community member, ritual maker, and personal chef, Jodi Balis. Purple Honey creates a digital gathering space for female voices to explore how Jewish wisdom and feminine spirituality bring sweetness to our everyday lives. The first two episodes feature JMCW faculty member Rabbi Sarah Tasman and creator of At the Well, Sarah Waxman.Eisenberger, and Shir Yaakov Feit.Holtzblatt.

Adas Community Mikvah: Immerse & Cleanse

Book Now!
One goal of mindfulness is to find moments of alignment, where body, mind, and soul are all engaged. Mikvah is a powerful Jewish ritual through which we can experience this alignment. Many people are able to achieve a harmony of their being in a single Mikvah immersion. Others establish a regular practice of Mikvah, akin to yoga or meditation, in which they experiment with different ways of immersing and find the ones that bring them closest to Oneness. Some have a weekly Mikvah practice, others come monthly, seasonally, or yearly. For more info visit www.adasisrael.org/mikvah.
Fri, February 22 2019 17 Adar I 5779