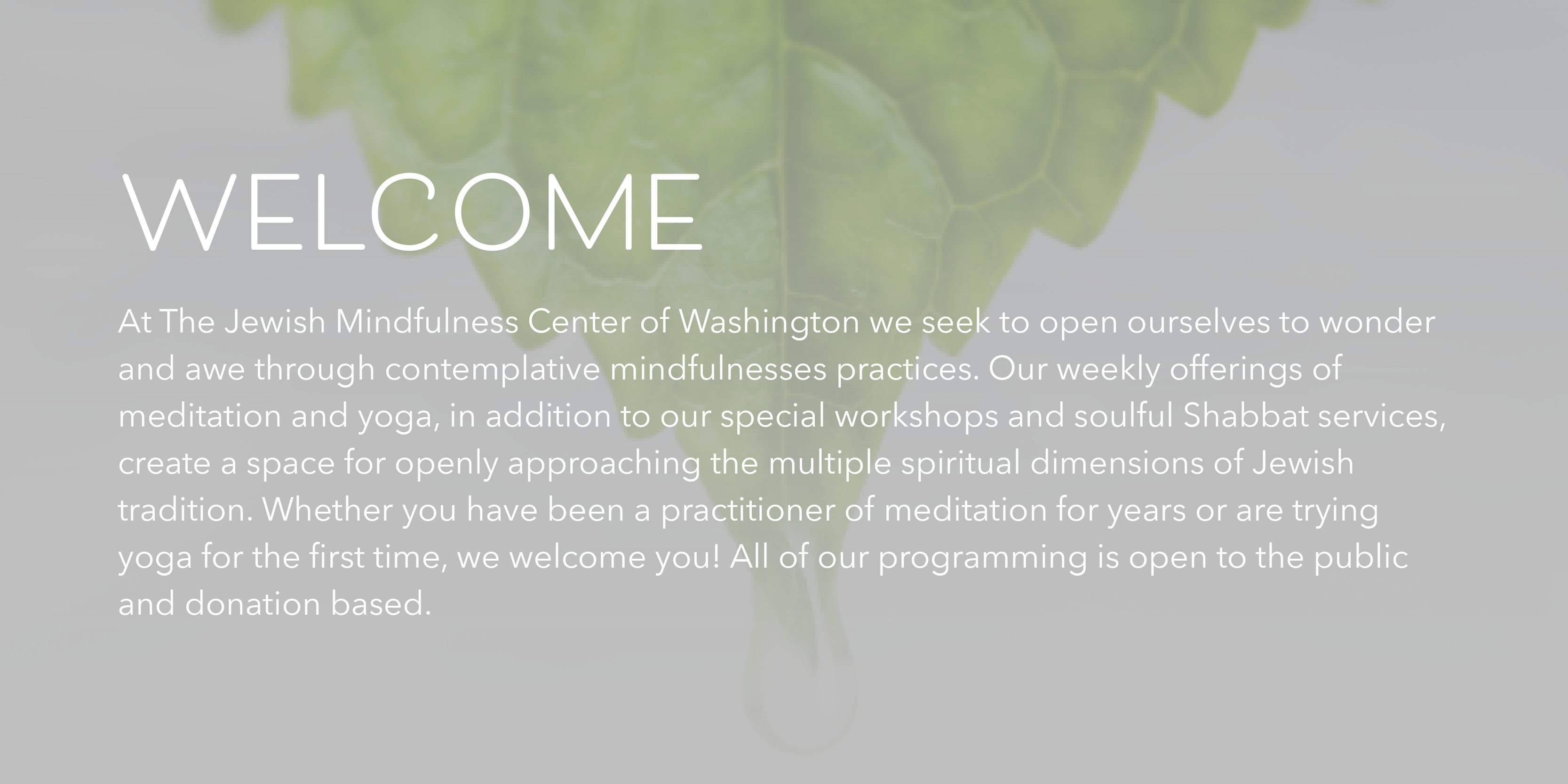 Rosh Chodesh: Celebrating the New Moon
Tuesdays, 7:00pm - 9:00pm
Led by Core JMCW Faculty
Women of all ages, experiences and identifications are invited to join together for a nourishing evening of Jewish yoga and mindfulness practice. Jewish tradition teaches that our bodies are deeply in sync with the lunar cycle, and Rosh Chodesh calls us to listen to these timeless, embodied rhythms. Following the asana practice, those who wish may stay for a discussion circle inspired by At the Well. The mikvah will also be open for immersion post practice. Please register for this special workshop on the JMCW Adas webpage.
*Co-sponsored by the Adas Community Mikvah.
DATES & REGISTRATION (click date to register):
April 17, June 12, July 10, August 14
Return Again to Shabbat
With Rabbis Holtzblatt, Alexander & The Return Again Band.
The Shabbat experience you cannot miss! Join us during the second Friday night of the month. In the style of our innovative outdoor Kol Nidra Service, this is a reflective journey into the power of Shabbat. The lively, soulful service features seasoned musicians and a spiritual, personal excursion into prayer and song. A festive community Shabbat dinner follows. Join as we dance, sing, and discover the deep shabbat within us all.
DATES & REGISTRATION (click a date to register):
February 9 | March 9 | April 13 | May 11 | June 8
Kabbalah & Yoga Series
Sundays, 11:00am (April 22, April 29, & May 6)
Led by Rabbi Ben Shalva
Rabbi Ben Shalva returns to JMCW this spring with his signature course Kabbalah & Yoga. This 3-part series incorporates the wisdom of Kabbalah with the practice of yoga. Join us and experience first-hand the exhilarating fusion of ancient Jewish mysticism with ancient yogic practice. When harnessed, yoga can be a transformative vehicle for understanding the deep wisdoms embedded in Kabbalah. Please register for this special workshop series here.
Meditation @ JMCW
Each week we come together for a community sit. Our time is marked by explorations of meditation techniques, guided teachings, and silent sits. No experience necessary, all are welcome.
Weekly Sit
Wednesdays, 7:30pm-8:30pm
Led by a rotating roster of JMCW faculty
Sign up for our newsletter and get more information about who is leading each week.
Yoga @ JMCW
Our weekly Jewish Yoga classes offer a home to those who wish to explore embodied spirituality. These classes seek to awaken and stimulate the senses through a full mind/body exploration of asana. Drawing inspiration from Mussar, Kabbalah, and the wisdom of Jewish thinkers, this class reinterprets "Jewish Yoga" weekly. *Mats and props are provided.
NEW! Morning Awakening Restorative Yoga
Tuesdays, 10:15am-11:30am
This slow restorative yoga class is a beautiful compliment to Morning Awakening or a nourishing stand alone offering. Beginners welcome!
Led by Alesandra Zsiba
Vinyasa Lunar Flow
Wednesdays, 6:30pm-7:20pm
This slow-paced 50 minute class offers a beautiful opportunity to stretch and strengthen before our weekly JMCW meditation sit. All levels welcome!
Led by a rotating roster of JMCW faculty
Vinyasa Solar Flow
Sundays, 11:00am-12:15pm
This heat building vinyasa flow practice cycles through different weekly themes and intentions. Check our facebook group page for weekly focus updates. All levels welcome!
Led by Sarah Levant
Please email Alesandra Zsiba with questions.
Morning Awakening
Tuesdays at 9am
Come join JMCW for an uplifting 45 minutes of mindful prayer and song as we start the day together. Morning Awakening is a new take on the traditional Jewish morning service. Start your Tuesday with a dose of mindfulness, only at JMCW. Led by Rabbi Lauren Holtzblatt.
Bodies of Water: Honoring Our Jewish Bodies
Tuesday, April 10th at 6:30pm
Led by Naomi Malka, Roni Zelivinski & Rabbi Sarah Tasman *Sponsored by the Adas Community Mikvah
www.Bodies-Of-Water.org
Join us for "Bodies of Water," an award-winning program that introduces you to Mikvah as a path to body positivity from a Jewish perspective. Framed along with other healthy practices like mindful eating and Jewish yoga, this experience is a very special way to explore how Mikvah is relevant in a modern Jewish life. We will watch a demonstration immersion by someone in their bathing suit, explore different ceremonies for Mikvah use, learn simple ways to bless our food and get a taste of Jewish yoga. Everyone is invited, including kids ages 10 and up. Please indicate if you need any accommodations or if you have any food allergies or sensitivities. For more information, contact Naomi Malka.
Fri, April 20 2018 5 Iyyar 5778