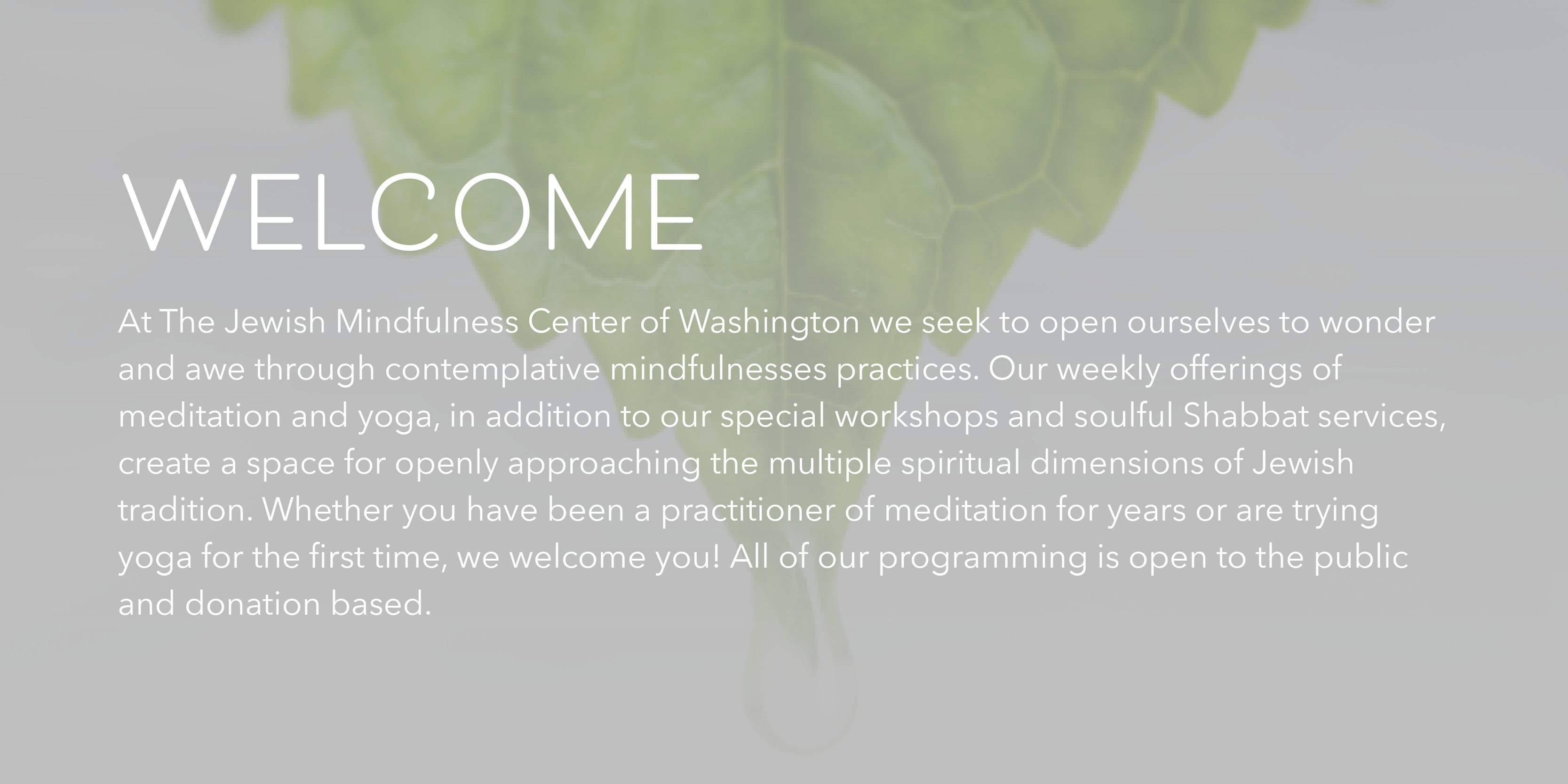 UPCOMING ANNOUNCEMENTS
---
Rosh Chodesh: Celebrating the New Moon

Led by Alesandra Zsiba & Core JMCW Faculty
Monthly from 7:00pm - 9:00pm

This workshop offers women of all ages and bodies an invitation to come together for a nourishing evening of Jewish yoga and mindfulness practice. Jewish tradition teaches that our bodies are deeply in sync with the lunar cycle, and if we drop in and listen, the timeless, embodied rhythms of Rosh Chodesh will seep to our surface. We will immerse in a lunar yoga practice followed by a guided discussion. This month's theme has yet to be set. For those who would like to schedule an immersion in the Adas Community Mikvah post practice, please reach out directly to Mikvah Director here.


DATES & REGISTRATION (click a date to register):
December 11| January 8 | February 5 | March 5
April 2| May 7 | June 4 | July 2

Return Again to Shabbat
Presented by the Jewish Mindfulness Center of Washington
With Rabbi Lauren Holtzblatt, Rabbi Aaron Alexander & the Return Again Band
Join us for a reflective journey into the power of Shabbat. Featuring seasoned musicians and a spiritual, ecstatic excursion into prayer & song. Followed by a festive Israeli tapas-style feast:

DATES & REGISTRATION (click a date to register):

October 12 | November 9 | December 14 | January 18, 2019 (MLK)
February 8 | March 8 | April 12 | May 10 | June 14
ONGOING OFFERINGS
---
Morning Awakening

Tuesdays at 9am
Come join JMCW for an uplifting 45 minutes of mindful prayer and song as we start the day together. Morning Awakening is a new take on the traditional Jewish morning service. Start your Tuesday with a dose of mindfulness, only at JMCW. Led by Rabbi Lauren Holtzblatt.

Yoga Vinyasa Lunar Flow

Wednesday's at 6:30pm
Our weekly Jewish Yoga practice offers a home to those who wish to explore embodied spirituality. This class seeks to awaken and stimulate the senses through a full mind/body exploration of asana. Drawing inspiration from Mussar, Kabbalah, and the wisdom of Jewish thinkers, this class reinterprets "Jewish Yoga" weekly. *Mats and props are provided.* Led by JMCW Faculty

Meditation Weekly Sit

Wednesday's at 7:30pm
Each week we come together for a community sit. Our time is marked by explorations of meditation techniques, guided teachings, and silent sits. No experience necessary, all are welcome. Our community is open to beginners and experienced practitioners alike. Drop-ins welcome. Led by JMCW Faculty

Wise Aging - New Cohort!

Led by Janice Mostow and Betsy Strauss
Wise Aging is an exploration of aging well and wisely through a Jewish lens. The Wise Aging Adas group will meet once a month on Sunday mornings to learn, share experiences, and acquire skills to sanctify the moments in time that make up this stage in our lives. Wise Aging sessions are based on resources developed for the Institute for Jewish Spirituality by Rabbi Rachel Cowan and Dr. Linda Thal, primarily Wise Aging: Living with Joy, Resilience, and Spirit.
deepen your practice
---
Hazon Meditation Retreat

December 23 - 30, 2018 (Falls Village, CT) More Info Here
Isabella Freedman Jewish Retreat Center

This silent meditation retreat is an opportunity to slow down and explore life's deepest truths in a warm andsupportive Jewish environment. Participants are guided through a daily schedule that includes several hours of sitting and walking meditation, as well as soulful musical prayer (davennen'), supportive group sessions, and optional yoga. These components work together to support body, mind, heart, and spirit, and to create conditions ripe for rest and discovery. This week of silence, awareness, and insight will be led by Rabbi Jay Michaelson, Beth Resnick, Miriam Eisenberger, and Shir Yaakov Feit.Holtzblatt.

Adas Community Mikvah: Immerse & Cleanse

Currently Closed for Renovations!

As you may have heard, the Adas Israel Community Mikvah is going to be renovated this fall! When itis finished, we will have a fully accessible space that both parallels the esthetic of the main floor of our synagogue and that reflects the experience of transition that this ritual represents. The new look will convey warmth, nature and calm. The renovation should be completed by the middle of December, so please stay tuned for further updates. For our regular users, we have arranged for access to Mikvah Chaim (at Ohev Shalom) on 16th Street during this time. Please be in touch Mikvah@adasisrael.org.
Fri, December 14 2018 6 Tevet 5779