High Holy Day Preparations & Immersion
Spirited 5783 High Holy Day Prep, Experiences, and Learning
Prepare yourself for the High Holy Days with deep and meaningful Torah study, song, story, and experiences. We will gather together as a community to challenge ourselves to think deeply about how to create meaningful change and growth during the Season of Awe.
Community Learning Groups with MakomDC
Tuesday, September 13 at 7:30pm
Click Here to Register

Join one of these concurrent sessions to study texts with Rabbis Alexander, Holtzblatt or Yolkut in a fellow Adas' member's home. Choose from Fort Totten, Cleveland Park, and Chevy Chase/Bethesda. Space is limited. *Address provided once you are signed up.
Returning and Reawakening with Adas Clergy and MakomDC
Tuesday, September 20th at 7:30 pm
Please Join us IN-PERSON for this class. Livestream available here.

Join Rabbis Holtzblatt, Alexander and Yolkut at Adas Israel for an evening of niggunim, study and conversation in the Biran Beit Midrash as we explore texts that move us into the heart and head space of the Days of Awe.
Outdoor Selichot Service
Saturday, September 17 at 8:30pm
Join us In Person in the Adas Parking Lot
Click Here to Download the Selichot Booklet
This tradition invites us to open ourselves up to the essential work of the High Holy Days: the process of repair and return, of acknowledgement and longing. Please join Adas clergy and your community for a one-of-a-kind evening of personal reflection through song and text.
Lulav and Etrog Order Form
Click Here to Order by September 23

We encourage you to order your Lulav and Etrog set in preparation for the festive observance of the Sukkot holiday. Pick-up will be available in the Adas lobby off of Quebec Street on the following days:
Friday, October 7 from 8am - 3pm
Sunday, October 9 from 8am - 3pm
Community Tashlich Experience
Rosh Hashanah Day 1, Monday, September 26
Family Tashlich: 12:30pm, Community Tashlich: 4:30pm, Meet on the Connecticut Ave. Plaza

Click Here for a Self Guided walkthrough of Tashlich
On the First Day of Rosh Hashanah, there is a special ceremony where we traditionally go to an ocean, stream, or river to pray and throw breadcrumbs into the water. This serves to symbolically release the things we wish to let go of and set our intention for the coming year.
Dip in the Mikvah
Prepare Yourself for the Days of Awe
For millennia the Jewish community has used the Mikvah as a profound spiritual ritual. For moments of deep joy, transition, loss and so much more the living waters of this beautiful space have given people moments of calm, healing, reflection, introspection, peace and wholeness. One of the most sacred times to use the Mikvah is during the Jewish month of Elul , in the 30 days leading up to the High Holidays. This is one way to prepare for the sacred season - take a few moments in these living waters to set the intention for your own spiritual growth and commitment in the New Year ahead. All are welcome.
Feel free to make use of this incredibly beautiful holy space and book an immersion (with or without a guide) in the month of Elul (we have added extra hours to accommodate for additional appointments) - mikvahcalendar.as.me/schedule.php or contact Rabbi Yolkut at rabbi.yolkut@adasisrael.org.
Being Present in Body and Soul through Meditation and Song
Led by Susan Barocas & Michelle Buzgon
Yom Kippur Day - October 5 at 4:30pm, HaMakom Tent
Calming our bodies and minds, opening our hearts and awakening our spirits through mindful practices can help us move into the new year refreshed, alert and enthusiastic. Join Susan Barocas and Michelle Buzgon late in the afternoon on Yom Kippur, as we concentrate on the sounds and rhythms of our breath, guided meditation and melodic singing to deepen our sense of reflection, well-being and ability to accept the joys and sorrows of each year of our lives. Open to all, whether new to mindful meditative practice or experienced.
The Stars Are Shining on My Head: A Sukkot Community Discussion with JMCW lead by Amy Golen & Ellen Winter
October 12 at 7:30 in the Adas Sukkah
Click Here to Register
With Rabbi Alan Lew z"l as our teacher, we will discuss sections of his classic book, This Is Real And You Are Completely Unprepared: The Days of Awe as a Journey of Transformation. This volume follows the spiritual calendar from Tisha B'Av to Sukkot. This is our third year reading together a chapter from this classic and wise meditation on the High Holidays. Our discussion this year will focus on Sukkot and opening ourselves up to living with joy, even in vulnerable times. Rabbi Lew continues to be one of the leading voices in Jewish spiritual practice and his insights can guide us on the meaning of the High Holiday journey, especially during personal and communal challenges. The complete book is inspiring and can be easily purchased online; note there is an updated paperback edition. If you would prefer a shorter read, here is a link to some relevant portions for our discussion, including the Epilogue: The Stars Are Shining On My Head: Sukkot.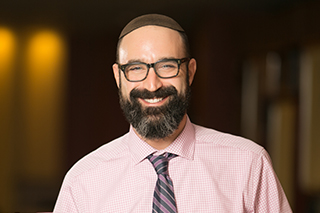 Rabbi Alexander has written several responsa (legal opinions) for the Conservative Movement's Committee on Jewish Law and Standards, special for this Holiday season amidst a pandemic.
Fri, October 7 2022 12 Tishrei 5783