Happy Hanukkah!
Sunday, December 18, 2022 - Monday, December 26, 2022
This year, Hanukah begins Sunday evening, December 18th. As you celebrate the holiday, may your homes be bright with happiness, joy, and light. We hope you will join us for an array of Adas happenings and community events throughout the Festival of Lights including Hesed cookie baking, a family Hanukkah party, community Shabbat oneg, and more. Chag Hanukkah Sameach! חג חנוכה שמח
Family Hanukkah Hesed Event
Family Hesed Event on Sunday, December 11 @ 1pm
Register to cook here!
Click Here to Download the Recipe To Make From Home
Please join us for a special family Hesed cooking event on Sunday, December 11, from 1 – 3 PM. It's time to make HANUKKAH COOKIES!
We invite families with children to join us for a fun afternoon of baking and decorating yummy Hanukkah cookies to be distributed to people who are sick, elderly, juggling a new baby or just need a little pick-me-up. This event will fill up fast so sign up soon! Children must be accompanied by at least one adult per two children ages 4-8 and one adult per three children 8 and older.
*Please note: For safety reasons, masks will be required for this event.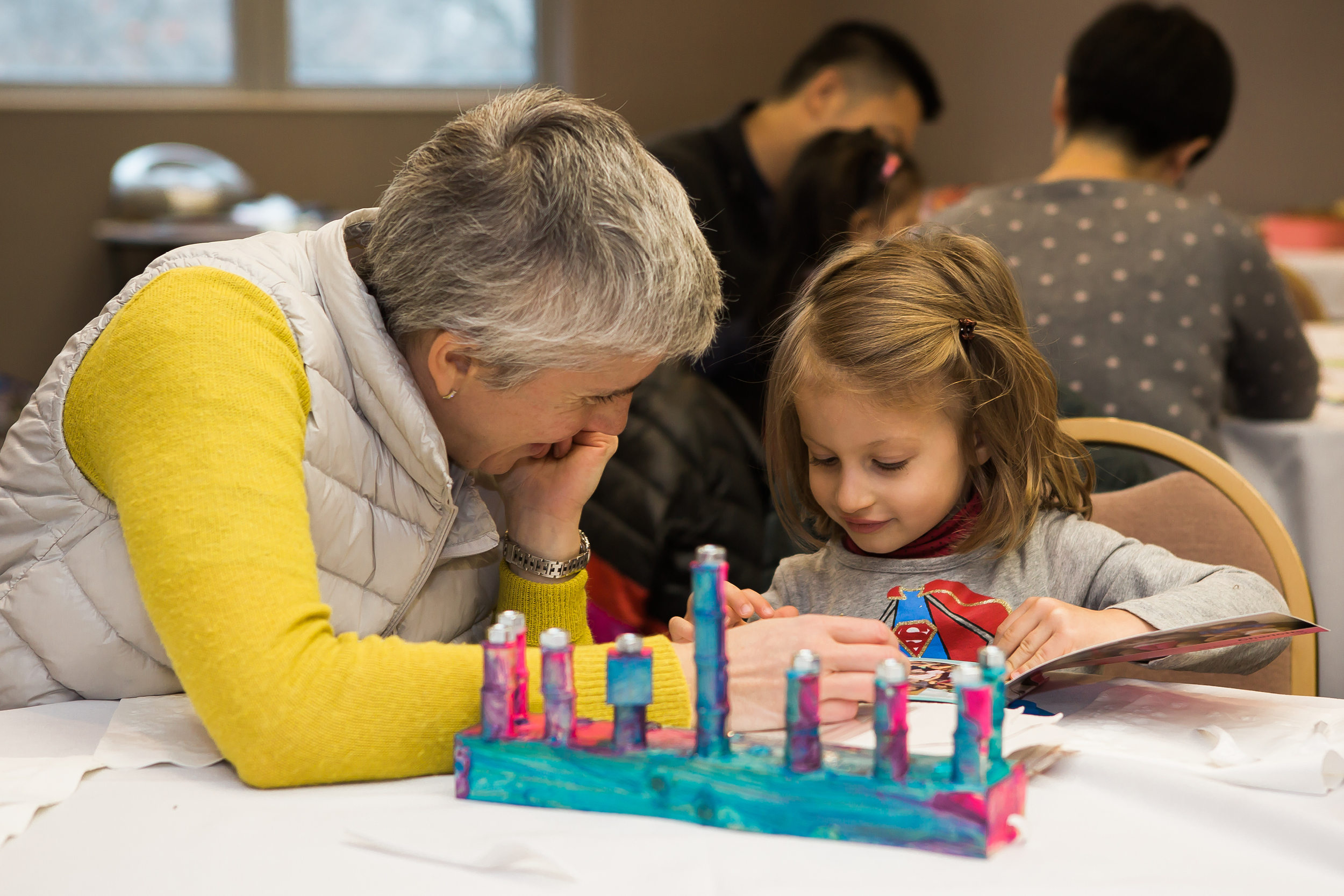 Family Hanukkah Party
Sunday, December 18 at 9:30am
Join us for a morning filled with latkes, music, and plenty of Hanukkah fun! Open to all Adas families.
Teen Hanukkah Party
Saturday, December 17 at 6pm
Join us at the National Zoo for a Zoo Lights Hanukkah celebration! We'll meet at the Connecticut Ave entrance to the Zoo at 6pm and after spending some time exploring Zoo Lights, we'll walk over to Woodley Park for a backyard bonfire.
Community Shabbat Service, Kabbalat Shabbat and Hanaukkah Oneg
Friday, December 23 at 6:00pm
Celebrate the 6th night of Hanukkah here at Adas! We will feature a community candle lighting, a festive Kabbalat Shabbat with Cantor Arianne Brown, and a fun singalong of all your favorite holiday songs, followed by some tasty oneg treats.
Hanukkah at the Gift Shop
Because of special holiday closings this year, please note the following Gift Shop schedule:

Monday, December 12, 9:30 am-3:00 pm & 6:00-8:00 pm
Tuesday, December 13, 9:30 am-3:00 pm & 6:00-8:00 pm
Sunday, December 18, 9:30 am-3:00 pm
Monday, December 19, 9:30 am-3:00 pm & 6:00-8:00 pm

If these hours are not convenient, please email us and we'll try our best to accommodate.
Candle Lighting at Union Market with Rabbi Sarah Krinsky
Wednesday, December 21 at 6:30pm
Click to Learn More
Join Rabbi Sarah Krinsky, Moishe House, and various Jewish organizations throughout Washington DC on Neal Place during Chanukah for a Menorah Lighting. Lighting will start at 6:30pm and each event is open to the public.
Suburbia will be serving hot wine and other hot drinks.
Oh Gaydel Gaydel Gaydel Chanukah Happy Hour
Tuesday, December 20 at 6:00-9:00 PM
As You Are Bar - 500 8th St SE | Click For Tickets
Light up the night when you celebrate Chanukah with other LGBTQ Jews (and our friends) at As You Are Bar in Eastern Market for mingling, drink specials, and candle lighting.
Join GLOE - GLBTQ Outreach & Engagement at the Edlavitch DCJCC, Bet Mishpachah, Nice Jewish Boys DC, Nice Jewish Girls, The Den Collective, Capital Qvellers, GatherDC, Washington Hebrew Congregation, Adas Israel, Sixth & I, and PJ Library of Jewish Federation of Greater Washington for this traditional annual gathering of the local LGBTQ Jewish community.
---
Daily Minyan During Hanukkah
Morning minyan with Hallel and Torah reading will meet in person as well as on zoom during Hannukah. Evening minyan will meet only on zoom. Please see the daily minyan page for links.

Light the Han
ukkah Menorah
Click here to listen to a recording of the Hanukkah blessings
Place the Hanukkah Menorah in a conspicuous place in your home. The lights should be kindled as soon as possible after nightfall with all members of the family present. Any members of the family, including children, may kindle the Hanukkah lights. Light the "Shamash" candle first. On the first evening of Hanukkah, one candle is lit, which is placed on the far right of the Menorah, as you face it.
Blessing over the Candles
Barukh atah Adonai, Eloheinu, melekh ha'olam, asher kidishanu b'mitz'votav, v'tzivanu l'had'lik neir shel Chanukah. (Amein)
Blessed are you, Lord, our God, sovereign of the universe Who has sanctified us with His commandments and commanded us to light the lights of Hanukkah. (Amen)
Blessing for Hanukkah
Barukh atah Adonai, Eloheinu, melekh ha'olam, she'asah nisim la'avoteinu bayamim haheim baziman hazeh. (Amein)
Blessed are you, Lord, our God, sovereign of the universe, who performed miracles for our ancestors in those days at this time (Amen)
Shehecheyanu (first night only)
Barukh atah Adonai, Eloheinu, melekh ha'olam, shehecheyanu v'kiyimanu v'higi'anu laz'man hazeh. (Amein)
Blessed are you, Lord, our God, sovereign of the universe, who has kept us alive, sustained us, and enabled us to reach this season (Amen)

Wed, March 22 2023 29 Adar 5783